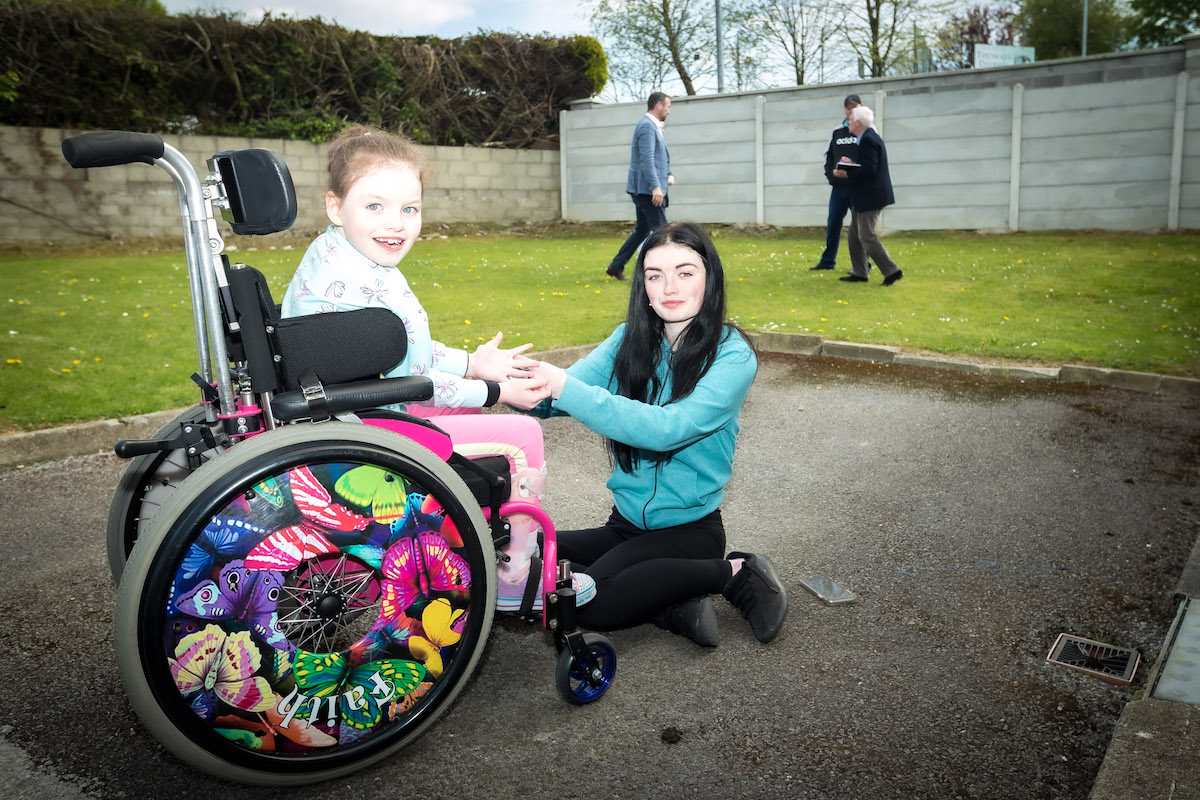 Cliona's Foundation and Conack Construction create 'Faiths Garden' to make a little girl's dreams come true
Faiths Garden – Faith and Lydia Browne look forward to enjoying summer in their new garden. Picture: Keith Wiseman.
Conack Construction partnered with Cliona's Foundation to construct a suitable outdoor space for Faith Browne, who uses a wheelchair
A safe garden for our children to play during fine weather is something many of us are lucky enough to take for granted. This is not the case for one family in Mallow, Co. Cork, whose lives face tough daily challenges as a result of their daughter Faith's life limiting condition.
Faith Browne, aged 9, was born with cerebral palsy, epilepsy and hearing loss. She had a cochlear implant in 2015 and travelled to the USA in 2017 for neurological surgery. In January 2022, she had major reconstructive surgery for hip and foot socket problems. Faith is immobile, requires regular physiotherapy and relies on her brightly decorated wheelchair with its butterfly adorned wheels to get around. Limerick based charity Cliona's Foundation developed a special relationship with the Browne family, having previously supported them with their many non-medical expenses. Cliona's also arranged for some members of the Cork Senior Women's Football team to visit Faith in 2021 as part of the Cliona's/GPA partnership.
Recently, Faith fell on the concrete ground that's in their large back yard. This incident and the fact that Faith will always have on-going health challenges prompted her mother Lisa and father Dave to investigate closing off a small area at the back of their house for Faith to enjoy outdoor space without the fear of getting hurt. Lisa contacted Cliona's Foundation for advice on how they could make this happen, the family had been prepared to sell their car to cover the costs.
Cliona's Foundation is a unique national organisation providing financial support for families who are caring for a child with a life-limiting illness. The foundation was set up by Brendan and Terry Ring following the death of their daughter Cliona from an inoperable brain tumour in 2006, aged 15. Cliona's have provided financial support to over 1,050 families across the island of Ireland. Cliona's believe that no family should suffer financial distress while caring for a seriously ill child.
Cliona's reached out to Conack Construction, who had previously expressed their interest in supporting Cliona's to ask for their support and were thrilled when managing directors Tom O'Connor and Kieran Cusack immediately came to the rescue.
Conack have very generously agreed to donate their resources to build a beautiful, safe garden area for Faith. An emotional visit between the Conack's project team, Cliona's and Faith's family last week sealed the deal. The plans are now underway with Conack and their designers, Healy & Partners Architects. Conack is aiming to have Faiths Garden ready for her and her family to enjoy this Summer.
Conack is one of Ireland's leading construction firms, delivering recognisable and essential projects that are helping to shape our built environment. Conack has become one of the fastest growing firms in the construction industry over the last decade.
Speaking from Faith's house in Mallow, Tom Conack said, "We at Conack are over the moon to be able to utilise our experience and contacts for such a worthwhile cause. Having met Faith, her mam Lisa, dad Dave, and her sister Lydia I am humbled by their strength and resilience. From myself, Kieran and the entire team at Conack I would like to thank Cliona's for bringing us into the fold on Faiths Garden.
Faith is immobile, requires regular physiotherapy, she relies on her brightly decorated wheelchair with its butterfly adorned wheels to get around, she attends school at St Joseph's in Charleville and loves getting on the bus every morning which collects her at the front gate.
Despite her limitations, challenges and regular medical appointments Faith is a bright and bubbly young girl, who meets everyone with a smile and has fun at every opportunity. She lights up every gathering she attends.
Co-Founder of Cliona's Foundation Terry Ring was delighted to be at Faith's family home for the meeting with Conack and said, "I am absolutely thrilled to be a part of this wonderful and exciting project Faiths Garden for such a deserved little girl, I commend the team at Conack for their extraordinary generosity and I am so looking forward to seeing the finished garden. I am sure that it will be spectacular. This is something very special."
Cliona's Foundation expects at least 200 families will apply for financial assistance this year and will need to raise a minimum of €500,000 to meet these applications. To learn more and to help please visit clionas.ie. Cliona's recently released a documentary series called 'Ireland's Forgotten Families' which is available on Virgin Media Player.
For any Suppliers and Subcontractors that wish to get involved, please contact Seán Walsh or Paula Shinners of Conack at [email protected] & [email protected]
For more stories on Clionas Foundation go HERE
For more info on Clionas Foundation go HERE