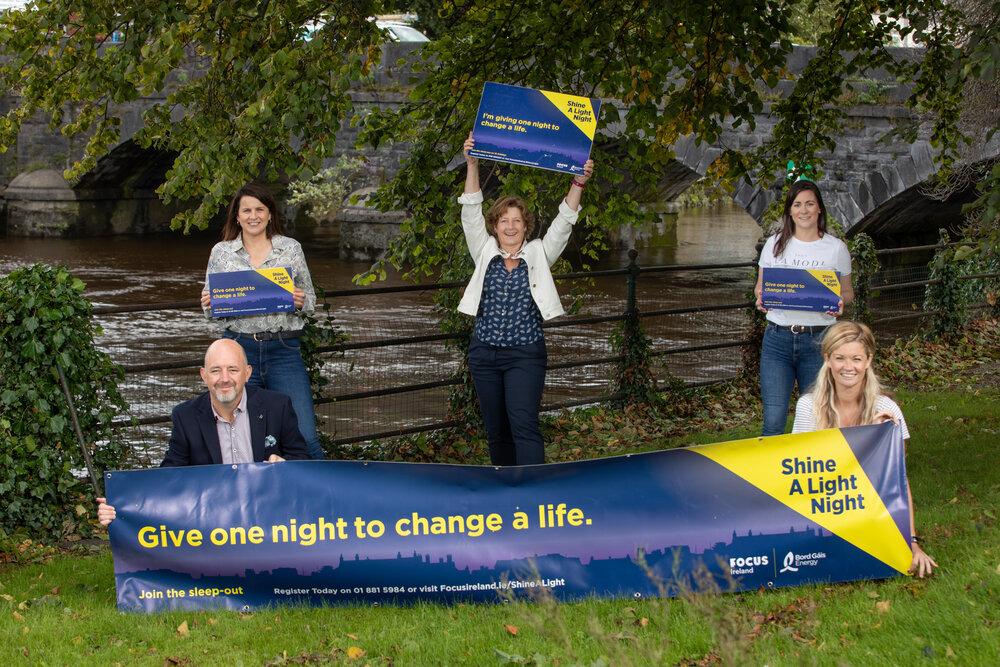 Shine A Light Night 2020 calls on the people of Limerick to sleep-out in the fight against homelessness 
Focus Ireland Shine a Light – Aoife Sheehan, Mairead Cummane and Kate McGrath, Focus Ireland, were pictured with Desmond O'Sullivan, Optel Group, and Jill Cousins, Director The Hunt Museum, at the launch of Shine A Light Night 2020 at The Hunt Museum
Shine A Light Night 2020 calls on the people of Limerick to sleep-out in the fight against homelessness
This year's Shine A Light Night is calling on people all over Limerick, across the Midwest and nationwide to sleep out for one night and raise funds to help Focus Ireland's vital services as the number of homeless adults in the Midwest stands at 291. Focus Ireland is proud to continue its partnership with Bord Gáis Energy who will again sponsor the charity's flagship fundraising campaign.
On the night of October 16th, as well as asking business leaders to sleep out again to help the cause, Focus Ireland wants individuals to sign up and sleep out in their gardens or homes to help raise crucial funds. As always, since the event began in 2015, companies around the Midwest can also sign up to support the initiative by pledging to fundraise and sleep out at their workplace.
Safety is paramount and in light of the COVID-19 pandemic, Focus Ireland is working to ensure the safety of all participants and staff. The charity is prepared to host a fully virtual Shine a Light Night should government guidelines suggest doing so.
Focus Ireland and Bord Gáis Energy are aiming to raise €1.3 million in 2020 to support people experiencing homelessness in Limerick and across the country.
Speaking at the event, Kate McGrath of Focus Ireland Limerick said: "Focus Ireland works tirelessly with people in Limerick experiencing homelessness to help them secure their home or to ensure they leave homelessness for good. We also work extensively across the area of prevention to make sure many other families and individuals never become homeless in the first place.
"In the coming months ahead, the support of organisations, such as our sponsors Bord Gáis Energy, is crucial in making a success of fundraising events like Shine A Light Night which will raise vital funds for our services across the country."
New figures published today show the number homeless in July rose slightly to 8728. Focus Ireland has warned of potential bigger increases in the coming months and has called on government to reintroduce the eviction ban and rent freeze to protect people fully during Covid-19. pic.twitter.com/jdwaJM7B8C

— FocusIreland (@FocusIreland) August 28, 2020
To date, Shine A Light Night has raised over €5.3m for people experiencing homelessness in Ireland. In 2019, this support enabled Focus Ireland to help over 14,200 people.
Dave Kirwan, Managing Director, Bord Gáis Energy said: "Looking back following a challenging few months, Bord Gáis Energy has never been prouder of our partnership with Focus Ireland. The team in Focus Ireland in Limerick worked in very difficult circumstances to help move 23 households into long-term homes during March, April, May and June as well as supporting some of the most vulnerable people in our society daily. We are as committed as ever in supporting Focus Ireland to help end homelessness and increase support for those who are on the brink of losing their home.
"We will be sleeping out on Shine A Light Night and we are asking every one of you across Ireland; businesses, families and individuals to join us this October in giving just one night to sleep out in your gardens, living rooms, workplace or at an organised sleep out in solidarity with people who face homelessness every day"
For further information contact Aoife Sheehan, Limerick Area Fundraising and Marketing Executive for Focus Ireland.
To register to participate in Shine A Light Night 2020, click HERE
For more stories on Focus Ireland, click HERE