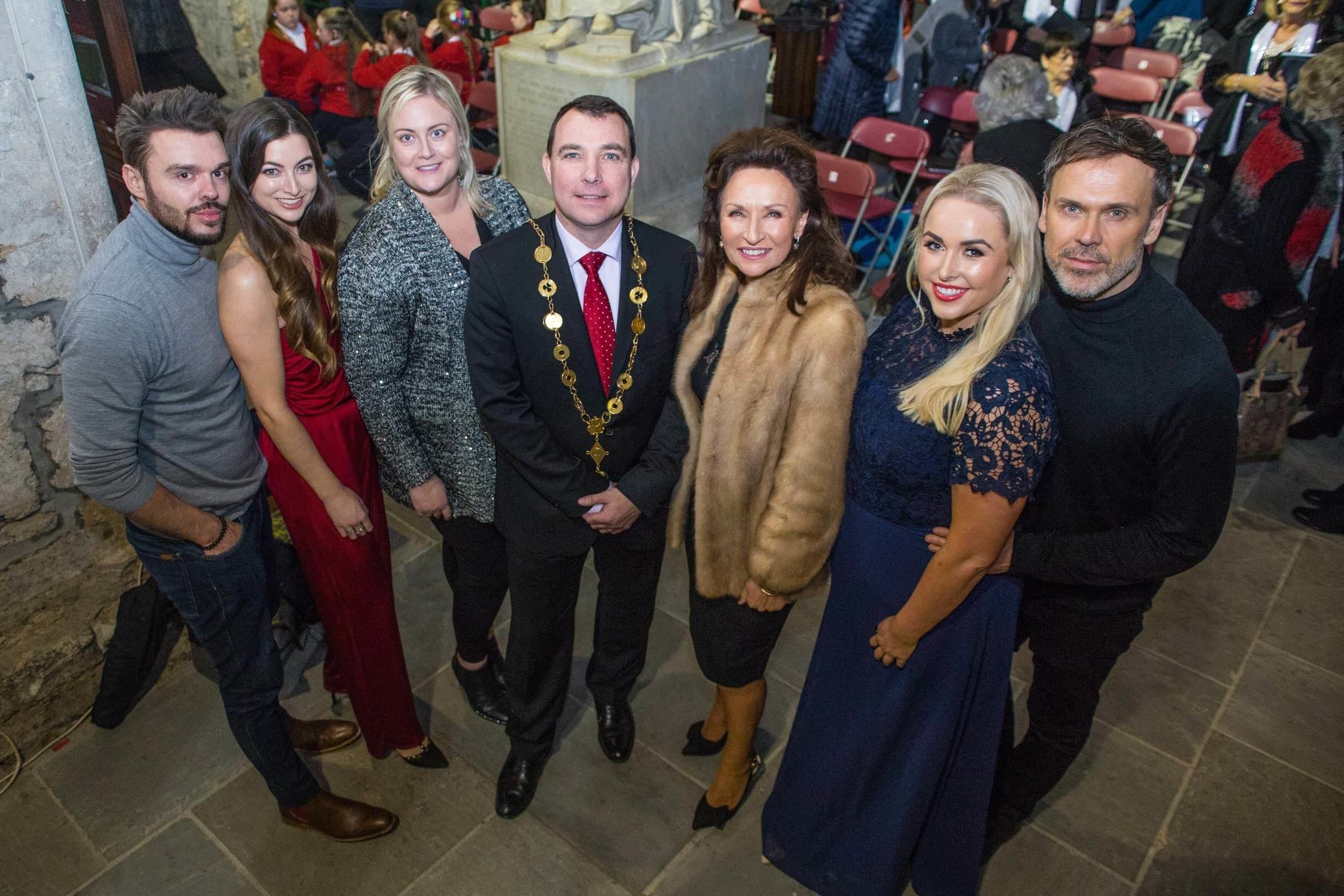 PHOTOS: Focus Ireland Thanksgiving Choral Concert celebrates 20 years of fighting homelessness in Limerick 
Focus Ireland Thanksgiving Choral Concert celebrates 20 years of fighting homelessness in Limerick. Patrick McLoughney, Meghann Scully, Triona O'Connor, Focus Ireland Limerick Services Project Leader, Mayor James Collins, Celia Holman Lee, Sinead O'Brien, and Richard Lynch, ilovelimerick. Pic: Cian Reinhardt/ilovelimerick
Focus Ireland Thanksgiving Choral Concert celebrates 20 years of fighting homelessness in Limerick
Focus Ireland has been challenging homelessness and changing lives in Limerick since 1998. To mark the Focus Ireland 20th anniversary in Limerick City and County, the charity held a Focus Ireland Thanksgiving Choral Concert at St. Marys Cathedral and the event was a rousing success! The evening raised 3,000 euros.
Fantastic way to end the @FocusIreland 20th anniversary thanksgiving choral concer when everyone decided to join in, well done to all who performed! What a success✨ @richanthon @CeliaHolmanLee @jamesjcollins @U_G_C_L #ilovelimerick #lovelimerick #lovinlimerick pic.twitter.com/CLqVcmJsYP

— #LimerickTilliDie (@ilovelimerick) November 24, 2018

Focus Ireland Ambassador Celia Holman Lee hosted the event. Cllr James Collins, Mayor of Limerick City and County was the guest of honour joined by Meghann Scully of SPIN South West who presented the musical acts.
Well-known and much loved local performers gathered at the cathedral to sing their hearts out in aid of Focus Ireland and all the support that has been provided to the community in Limerick over the last 20 years.
Performing on the night was the hugely popular soprano Sinead O'Brien accompanied by Tenor Derek Moloney, Unity Gospel Choir Limerick, Mary Immaculate College Community Choir, Cantette Children's Choir, Parteen NS Choir, and St. Marys NS Choir.
The acts literally sang the roof off of the course culminating in a free for all with audience members including Celia Holman Lee, Richard Lynch and Mayor Collins joining the gospel choir and other acts on stage for a rendition of 'Oh Happy Day' from the movie 'Sister Act'.
There was something for everyone's musical tastes on the night and complimentary refreshments were provided by Mr Taits Café. A prize draw with some seriously superb spot prizes donated from local businesses closed the evening.
By taking part in the concert, performers and supporters helped Focus Ireland to provide continued support to Limerick families at risk of homelessness, and help those already directly impacted.
Focus Ireland Ambassador Celia Holman Lee said, "It breaks my heart to see the number of homeless children continue to rise. To be given an opportunity to raise awareness and much-needed funds so we can challenge this crisis is something that I feel very passionate about. As I am both a mother and a grandmother, my family means more to me than anything else in the world. We have to protect all families and ensure that all children in this country feel safe and secure."
.@FocusIreland 20th anniversary Choral concert has officially begun here at St. Marys Cathedral!⭐️ #ilovelimerck #lovelimerick #lovinlimerick pic.twitter.com/MX5E9Fqbl1

— #LimerickTilliDie (@ilovelimerick) November 22, 2018

Rebecca Reynolds, Focus Ireland National Fundraising Initiatives Manager added: "Thanks so much to all who took part in making the anniversary event such a resounding success! We are so grateful to the musical acts, for Tait House for providing refreshments, to our ambassador Celia, to Meghann our superb MC for the night, to Mayor James Collins, to Richard Lynch and his ilovelimerick team for covering our event and to St Mary's Cathedral for their amazing venue. The spirit of the Limerick community is second to none and we applaud the people of Limerick for coming out to support our anniversary."
For more information on Focus Ireland, go here
For more stories on Focus Ireland, go here
Picture: Cian Reinhardt/ilovelimerick