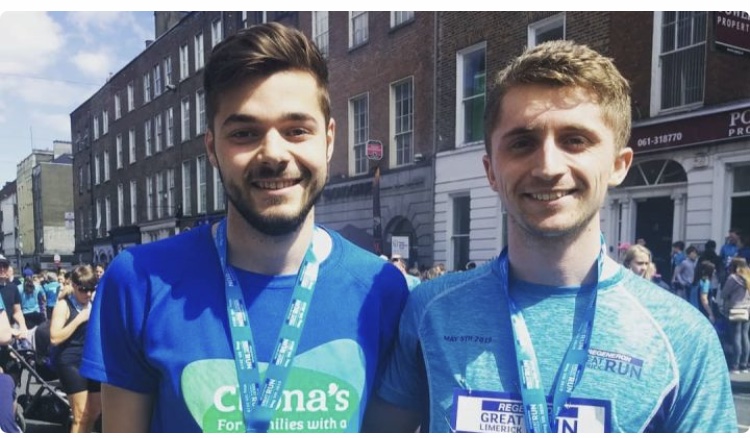 Limerick man Frank Hanly will be taking part in this year's Great Limerick Run in aid of Cliona's Foundation  
Frank Hanly (on left) pictured above will be taking part in the Great Limerick Run 2021 along with a number of his friends to raise funds for Clionas Foundation
Limerick man Frank Hanly will be taking part in this year's Great Limerick Run in aid of Cliona's Foundation
By I Love Limerick Correspondent Jade Crowe
Limerick native Frank Hanly, along with a number of his friends will be picking up their running shoes this May Bank Holiday weekend to partake in the Great Limerick Run 2021 in honour of Cliona's Foundation.
This year's Great Limerick Run 2021 will be taking place virtually from May 1 – May 3.
There is something on offer for every participant in this year's Great Limerick Run with options including a virtual marathon, a 20 Mile, a half marathon, 10 miles, 10km and 5km run. Participants can complete their chosen distance at their own comfort over the three-day virtual event.
The eleven charities that are included in this year's event are Focus Ireland, ADAPT, St. Vincent De Paul, Breast Cancer Ireland, Limerick Animal Welfare, Pieta House, Saoirse Addiction Treatment Centre, Cliona's Foundation, Limerick Hospice, Limerick Suicide Watch and the Samaritans.
The charity that Frank has chosen to represent in the Great Limerick Run is Cliona's Foundation.
Cliona's Foundation is a national charity with their office in Limerick that provides financial assistance to parents of children with life-limiting or chronic complex care needs across Ireland to help with the non-medical expenses related to caring for their child.
Kind-hearted Frank hopes to support the charity via his GoFundMe link considering the very tough year that the charity has faced.
Speaking on the event, Frank said, "With the Great Limerick Run coming up on the May bank holiday weekend, myself and a number of my friends will be running in aid of Cliona's Foundation. In what has been a very tough year for all involved, the Foundation has continued to provide a wonderful service for those who are most in need of it. Please try and support by giving whatever you can, to allow the fantastic members of this organisation to continue to make a difference."
All of us at I Love Limerick would like to wish Frank the very best of luck as he takes on the Great Limerick Run 2021 for Cliona's Foundation.
To donate to Franks' GoFundMe Page, go HERE
For more information on Cliona's Foundation go HERE
To register for the Great Limerick Run 2021 go HERE
For more stories on Clionas Foundation go HERE