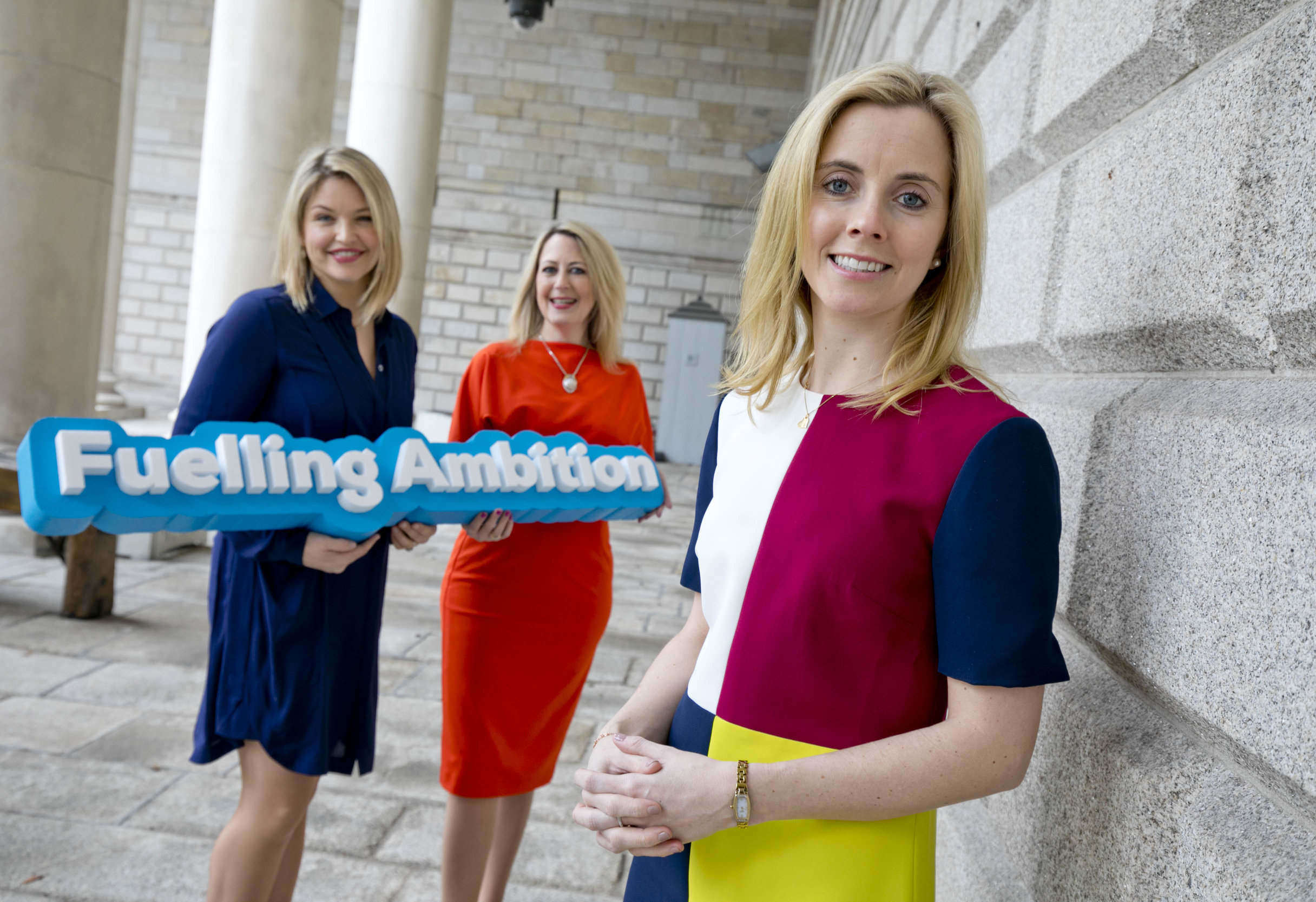 Enterprise Ireland and Network Irelands Lead and Succeed Fuelling Ambition Roadshow for female entrepreneurs in Limerick
Pictured to launch the 'Lead and Succeed' Fuelling Ambition Roadshow for female entrepreneurs was from left Helen Smyth, Head of Sales, Facebook, Sarita Johnston, Female Entrepreneurship Manager, Enterprise Ireland and Roseann Heavey, President, Network Ireland.
Photo Chris Bellew /Fennell Photography.
Enterprise Ireland and Network Irelands Lead and Succeed Fuelling Ambition Roadshow for female entrepreneurs in Limerick
Enterprise Ireland and Network Ireland, in partnership with the Entrepreneurs Academy, continue their Fuelling Ambition Roadshow for female entrepreneurs at the Savoy Hotel in Limerick on Thursday, 19 April.
'Lead and Succeed' is the theme of the roadshow which aims to encourage, support and drive the ambition of female entrepreneurs nationally by showcasing thriving Irish businesswomen and entrepreneurs.
The Limerick event is one of a series of free-to-attend events taking place across the country during March and April.
Following the success of last year, the roadshow will include a Leadership Masterclass and an Elevator Pitch competition with a cash prize package sponsored by Facebook worth €2,000 at each location, as well as additional prizes worth up to €1,000 including, 10 sessions with Enterprise Ireland Mentors and attendance at Enterprise Ireland's Excel at Export Selling training programme and Annual membership of Network Ireland.
Speakers at the Limerick event will include Sharon O'Dwyer, Greentech Plastics and Tara Dalton, Ex Stokes Bio.
Launching this year's roadshow, Sarita Johnston, Female Entrepreneurship Manager, Enterprise Ireland said, "Supporting female entrepreneurs in achieving their global ambition is a key objective for Enterprise Ireland and the Fuelling Ambition Roadshow is an important initiative in reaching out to women regionally to tell them about the supports available and to encourage them to 'lead and succeed' in business. More than one in three start-ups supported by Enterprise Ireland last year through our Competitive Start Fund and High Potential Start-Up programmes were female-led – this compares to one in ten start-ups in 2012. We are very encouraged by this upward trend but want to see more women starting their own businesses and successfully scaling existing businesses. We look forward to meeting and connecting with them during this year's Fuelling Ambition Roadshow."
President of Network Ireland, Roseann Heavey said "We are delighted to join forces with Enterprise Ireland for the annual roadshow. Our mission continues to be to drive, support and encourage our members to push themselves outside of their comfort zones constantly. I know there will be many looking forward to the very popular pitch competition at the event, but the fact that we have a masterclass organized as well as vital tips from experienced female entrepreneurs promises to be a very exciting couple of weeks for us all."
Participants at the Limerick roadshow will hear from experts and successful female entrepreneurs who will share their experiences and insights on the road to business success. Representatives from Enterprise Ireland, the LEOs, and Network Ireland will be on hand to discuss the wide range of supports available to female entrepreneurs and those thinking of starting their own businesses. The events also provide an opportunity to network with like-minded entrepreneurs and business people.
The roadshows are free of charge to existing and potential entrepreneurs and businesswomen. To avoid disappointment, booking is strongly advised.
Full details and booking information are available at www.enterprise-ireland.com/fuellingambition.
Enterprise Ireland is the Irish Government agency that works with Irish enterprises to help them start, grow, innovate and win export sales in global markets. Enterprise Ireland partners with entrepreneurs, Irish businesses, and the research and investment communities to develop Ireland's international trade, innovation, leadership, and competitiveness. In this way, it supports sustainable economic growth and regional development and helps create and sustain employment in Ireland.
Network Ireland is a progressive, dynamic organization for professional women of all walks, supporting the professional and personal development of women. With key pillars of Leading, Supporting and Collaborating, the organization has developed both a reputation and a quality distribution system for ideas and information. Network Ireland has 11 branches around the country, with over 600 firms represented nationally. Branches include Dublin, Louth, Cork, Limerick, Tipperary (North), Kildare, Galway, Mayo, Wicklow, Waterford, and Kilkenny. They hold monthly meetings in each location.
The Entrepreneurs Academy is a national entrepreneur development organization that has trained and supported 30,000 start-ups and small businesses. Our vision is to build leadership capacity in microenterprise and SMEs, especially within female-led enterprises. The aim is to impact upon programme participant's leadership skills and create some strong leaders and role models.
For more stories on the Fuelling Ambition Roadshow go here.
For more info on Enterprise Ireland go here.
For more info on Network Ireland go here.