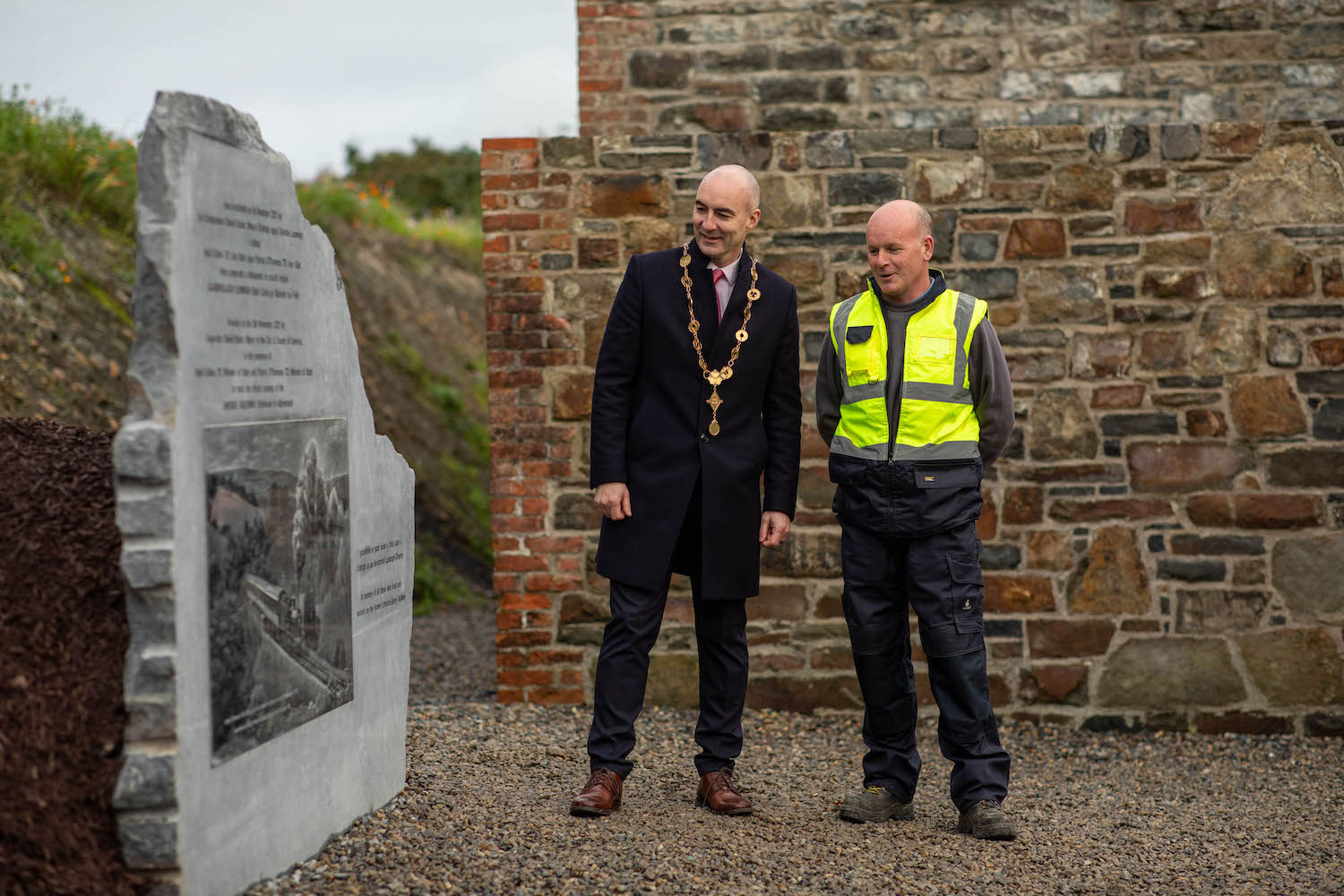 Minister Heather Humphreys has allocated an additional €600,000 in funding for Limerick Greenway
Funding for Limerick Greenway – Daniel Butler, Mayor of the City and County of Limerick and John Guina, Limerick Greenway staff at the launch of the Limerick Greenway. Picture: Sean Curtin/True Media
Minister Heather Humphreys has allocated an additional €600,000 in funding for Limerick Greenway
By I Love Limerick Correspondent Ann Mc Donald
Minister for Community and Rural Development Heather Humphreys has confirmed the allocation of an additional €600,00 in funding for Limerick Greenway.
The funding comes from the Rural Development Fund, and the Old Railway Station in Ardagh and the Abbeyfeale Hub are two of the 27 projects across the country that will receive a total of €21.5m from the fund.
The project will develop plans to renovate heritage buildings and sites adjacent to the Limerick Greenway and aims to provide improved visitor services and experiences for the public and visitors along the greenway.
The funding follows an already huge investment on the Greenway in other communities including Templeglantine, Barnagh, Newcastle West and Rathkeale.
"Over 250,000 people have visited the Greenway and this has made a huge impact on the county. This investment will further enhance the visitor experience in both Ardagh and Abbeyfeale and it will make a big difference to both local areas," he said.
? Rural Funding ?

✅ €21.5 million for 27 major regeneration projects

✅ Old buildings to be repurposed into remote working hubs, enterprise and community spaces

✅ Strong focus on tackling dereliction and attracting people back to Rural Ireland #OurRuralFuture pic.twitter.com/Whs0o9xa9X

— Heather Humphreys (@HHumphreysFG) January 6, 2022
"On the Abbeyfeale side, we saw recently further investment to get the Greenway completed to the county bounds at Kilmorna, and Kerry County Council are making great progress on the Abbeyfeale to Listowel leg, with further work towards Tralee and Fenit. This will put Abbeyfeale at the centre of a major tourism hub.
"We have had really positive media feedback on the Greenway from international, national and of course local sources, and the feedback from the users of the Greenway itself is phenomenal.
"I have spoken to Minister Heather Humphreys on this recently and she told me she would like to visit the project in the near future and see if for herself. I hope to be able to arrange that shortly."
Minister and Local TD Niall Collins welcomed this funding saying, "This latest allocation of funding is a further demonstration of our Government's commitment to developing our top-class Limerick Greenway."
For more about the Limerick Greenway go HERE
For more stories about the Limerick Greenway go HERE