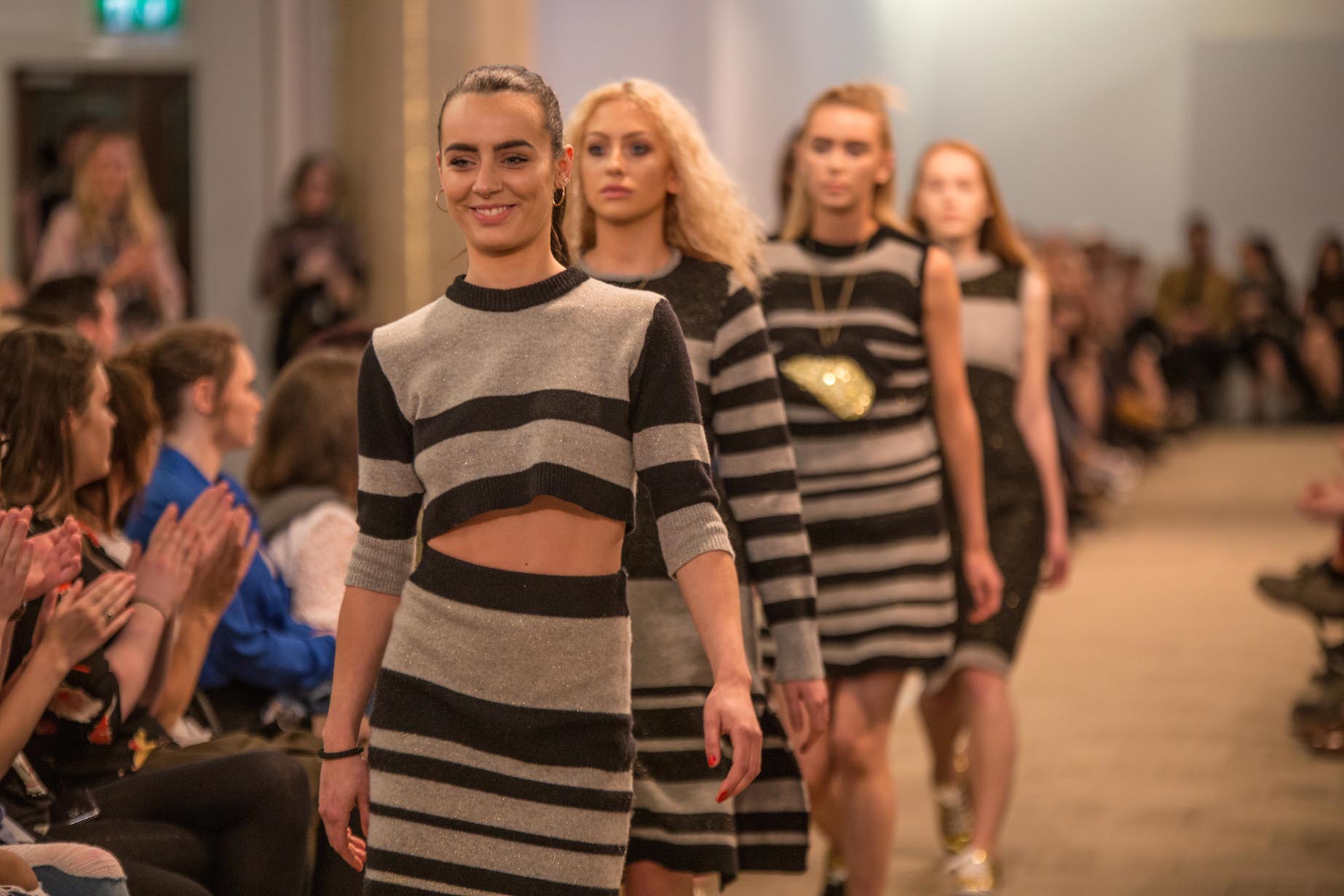 Limerick School of Art and Design Knitwear Textile graduates showcase 13 collections in first ever Graduate Show
Showcasing collections as the LSAD Graduate Show Photo: Cian Reinhardt/ilovelimerick
Limerick School of Art and Design Knitwear Textile graduates showcase 13 collections in first ever Graduate Show
Limerick School of Art and Design's Inaugural Fashion Knitwear and Textile Graduate Show saw 13 collections on display to a packed house to raise funds for Limerick Suicide Watch.
Introduced just four years ago, this year sees the first ever group of students to graduate with a BA in Fashion Knitwear and Textile Design.
The show was produced by the students of LSAD and LIT Clonmel, working together ensuring the first ever FKT Graduate Show was characterised by energy and edge. Digital Animation Production and Creative Multimedia students made their mark in this fashion debut accompanying each of the 13 designer's unique collection with incredible graphics and animation.
Fashion Knitwear and Textile Programme Leader Mairead Neil, says, "The FKT class of 2017 are true innovators who are unafraid to push the boundaries of knitwear planting this craft firmly in the 21st century. Traditional techniques such as machine knitting, crochet, macramé, embroidery, and needle-felting along with Shima knit technology were explored and incorporated into their work creating a vibrant show full of colour, texture and contemporary fashion bringing cutting-edge Fashion Knitwear and textile design back to Limerick City!"
The event raised vital funds for a very worthy cause. The Limerick Suicide Watch crew, based at Unit 3 of The Tait Centre on Dominic Street, patrol the 4 bridges of Limerick City. Their aim is to help people in distress or who may be feeling suicidal. Operating 4 nights a week, the Limerick Suicide Watch operated 16 nights in a row over Christmas and are proud to report of 10 successful interventions during this period. The LSW team consisting of 47 volunteers are very impressed by the generosity of the people of Limerick to date in their donations.
For more on Limerick School of Art and Design click here
For more on Limerick Suicide Watch click here
For more on Limerick Institute of Technology click here
For more on the Limerick Fashion click here