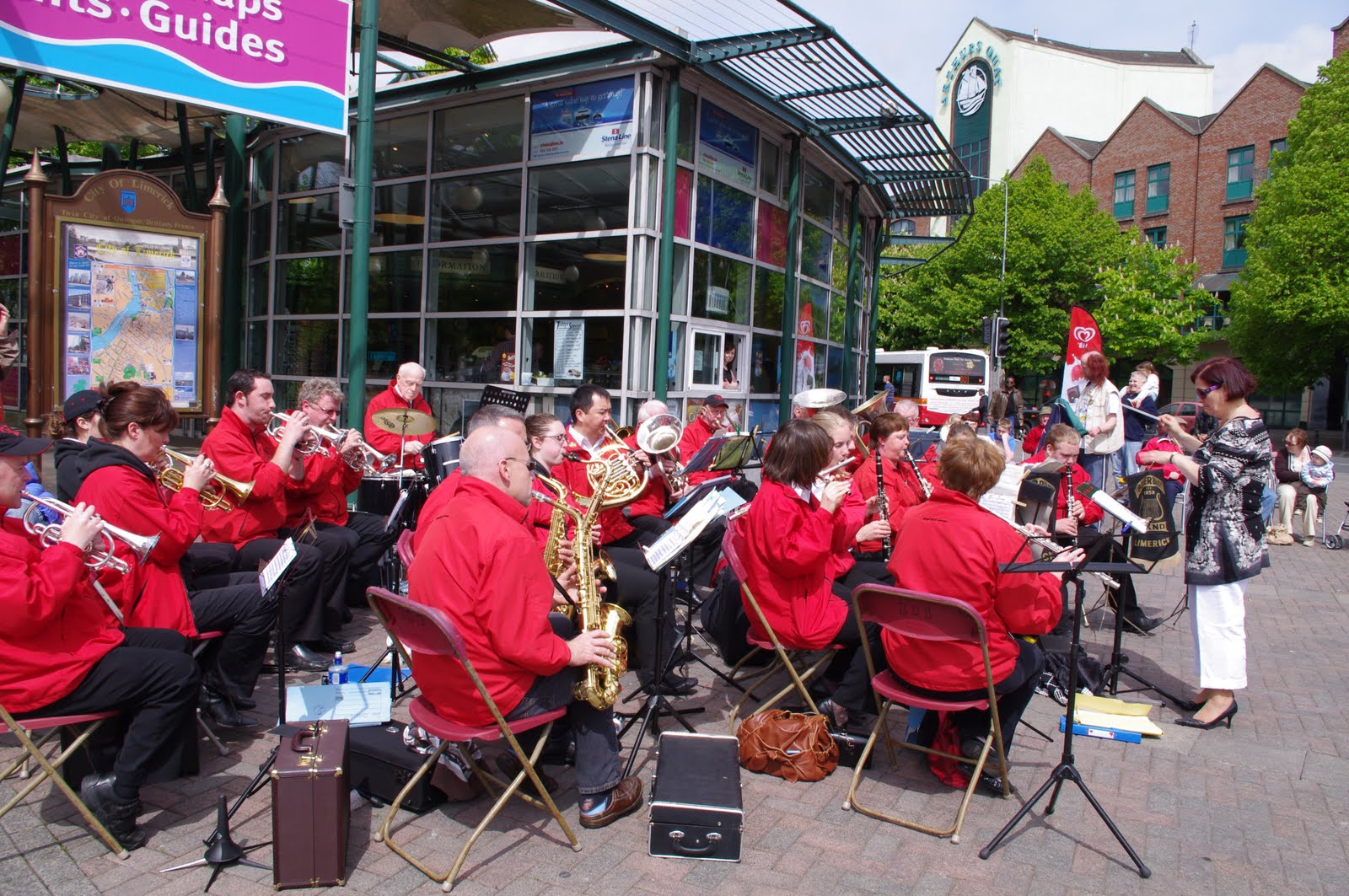 Guiding Limerick Through Covid19 proposals include events to support businesses and increase footfall
Guiding Limerick Through Covid19 – Various street performers and bands who have been supported to perform across the city in a variety of locations include the Boherbuoy Brass and Reed Band (photo taken before social distancing). Picture: Munster Business
Guiding Limerick Through Covid19 proposals include events to support businesses and increase footfall
Band recitals, outdoor yoga, a craft market and a regatta are some of the events taking place in Limerick in the coming weeks to help attract more people into the city centre part of the proposals guiding Limerick Through Covid19.
As part of Limerick City and County Council's plan to support businesses post Covid-19, the Council's Tourism Culture and Arts Department launched the Animate Your Street Outreach grant scheme calling on local groups, businesses and communities to propose creative ways to use urban public spaces safely and support family friendly activities this summer.
Since the call was opened 14 applications have received funding support for activities or events.
Activities and animations supported by Limerick City and County Council include:
The food and craft market in the Potato Market taking place each Saturday throughout August
the Limerick Boat Club Regatta
Outdoor yoga classes in the People's Park
Series of performances in August by aerial circus performance company Fidget Feet
Visitors to the city should keep an eye out for various street performers and bands who have been supported to perform across the city in a variety of locations including:
Crooning in the Park
The Boherbuoy Brass and Reed Band
The Redemptorist Centre of Music Concert Band
The Downtown Dixieland Jazz Band
A proposal for an outdoor Art Exhibition of local artist's work on the railings of the People's Park has also received support.
County-based applications supported include a mural and treasure hunt in Pallasgreen.
In addition, the Panoramic Wheel has returned to Limerick, artist Mark Cronin has installed a 3D optical illusion Hopscotch Mural in Arthur's Quay Park, while a temporary street spectacle took place in the city to support the reopening of Hotels and Restaurants.
Decorative lighting has been installed in the trees on Bedford Row and Thomas Street to help create an even more pleasant atmosphere for outdoor diners of the restaurants located in this area.
Pop-Up Movies in the Park have been facilitated to show three movies in the Peoples Park on Saturday 22 August.
Applicants awarded funding to date have received notice of their grant awards, however this is subject to organisers capacity to proceed safely in line with national guidelines.
The current restrictions under Phase 3 of Ireland's Roadmap for reopening, state that no more than 200 people are currently allowed to gather outdoors when conducted in line with public health advice.
Phase 4 of Ireland's Roadmap for reopening society and business is due to commence on 10 August, subject to government approval.
Aoife Potter Cogan, Festivals and Events with Limerick City and County Council said: "All applicants should be commended for their can-do spirit and enthusiasm; we understand that the current situation changes daily and makes it very difficult to plan. We will however continue to work with activity organisers to support them to deliver their proposals safely."
The funding scheme was established to support activities from mid-July until the end of August and funding is limited. Therefore, the scheme will close to applications on Friday 7 August.
For all events and what to do in Limerick, click HERE
For more stories on Covid19, click HERE