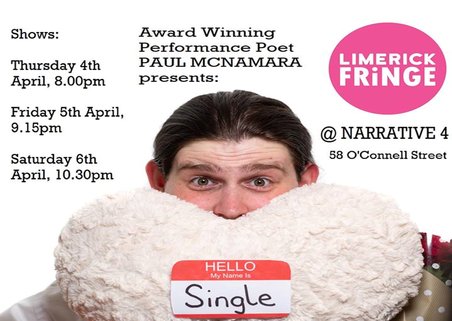 Limerick's Paul McNamara returns to Limerick Fringe with his new show Hello My Name is Single
Award-Winning poet Paul McNamara presents Hello My Name is Single at Limerick Fringe
Limerick's Paul McNamara returns to Limerick Fringe with his new show Hello My Name is Single
Limerick's own Paul McNamara (former Poetry Ireland Slam Champion and Two Time All Ireland Slam Runner-up) returns to Limerick Fringe with his new show Hello My Name is Single. After last year's success with Quarter Life Crises (Galway Fringe Spoken Word Award 2018) Paul returns with a new play written while working as Dromineer Literary Festival/Nenagh Art's Centre Writer in Residence. The show was also helped in its development through working with the wonderful Belltable Playwriting Group. The play combines theatre, poetry and comedy (which Paul promises is even better than it sounds).
Hello My Name is Single is a comedic look at dating and being in a relationship. Paul uses performance poetry and comedy to discuss dating and love. After having trouble finding a girlfriend, Paul's grandmother (who doesn't want him to die alone) sets him up on Tinder where he goes on a slew of fast paced dates with some eclectic characters (including a socialite, a farmer's daughter and worst of all… an American). Paul tries to find love and fun while still slightly longing for Sarah, the girl next door. With his granny breathing down his neck to settle down Paul attempts and sometimes fails to deal with confidence, loneliness, love, friendship and the horrors of tinder to try and find some way to be happy.
After taking part in last year's Limerick Fringe Festival, Paul was delighted to return again this year. Paul says "getting to see such a variety of work from so many great and passionate artists is incredible. The energy and excitement around Limerick Fringe is inspiring. Once last year's festival finished all I wanted to do was go again next year." Last years show, Quarter Life Crises, ran at Limerick Fringe, Galway Fringe and was brought back to Galway for a funded show for Galway Culture night. Paul's Poetry has been featured everywhere from RTÉ Radio 1's Morning Show and Poetry Show to TV3's Ireland's Got Talent to festival Indiependence in Cork and many stages, venues and festivals in between. However, there is nothing like performing in front of a hometown crowd.
Directed by Ronan Deegan (A Tempest; A Play in One Act with a Play with Five acts in it) and Produced by Treasa O'Rorke (Actress; The Suppliant Women, Dublin Theatre Festival).
Shows:
Thursday 4th April, Narrative 4, 8.00pm
Friday 5th April, Narrative 4, 9.15pm
Saturday 6th April, Narrative 4, 10.30pm
To purchase tickets, click here.
To read more stories about Limerick Fringe, click here.