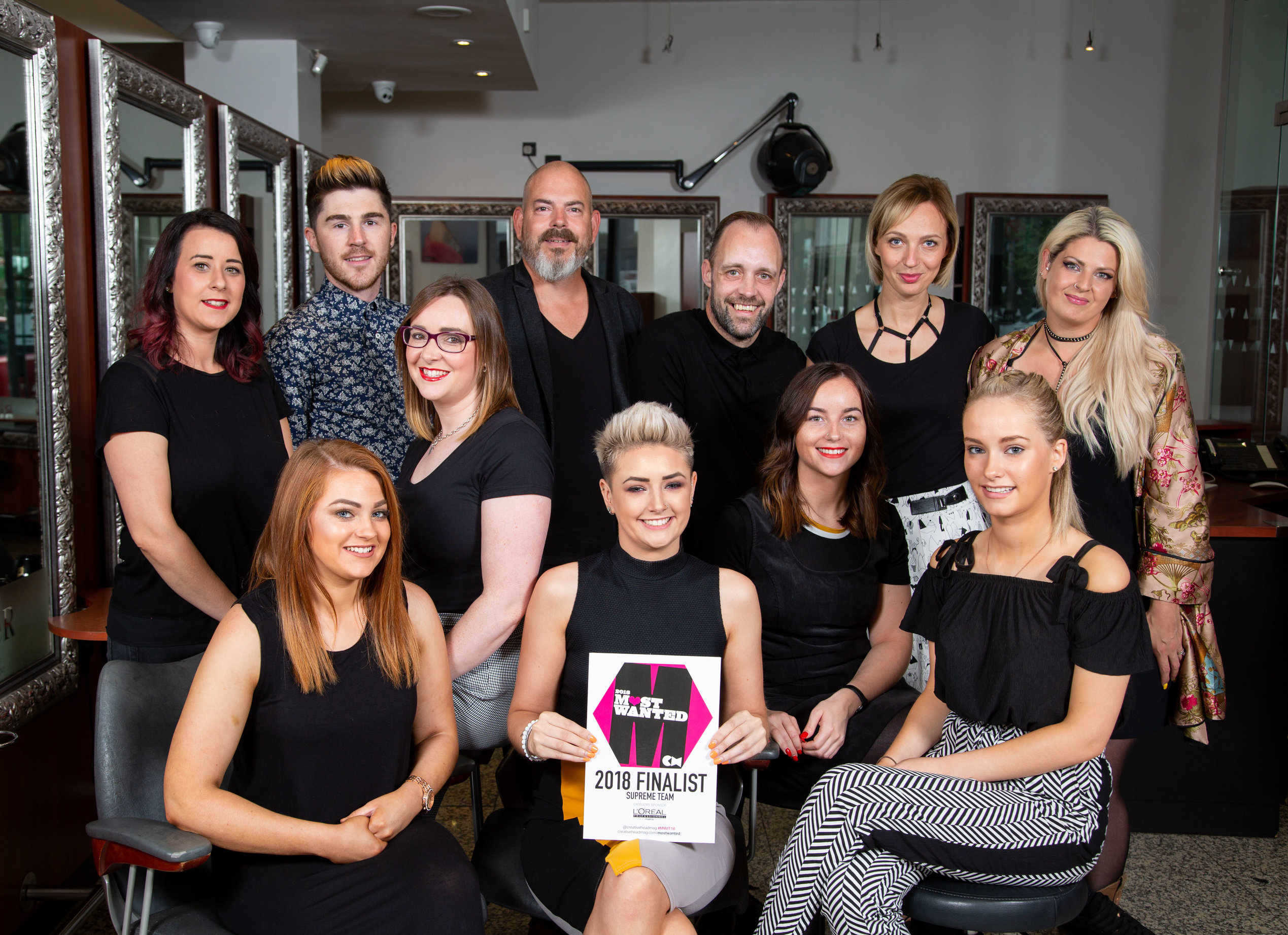 Limerick River Hair Studio of Hugh Campbell Hair Group goes through the finalist of the Most Wanted Awards
Hugh Campbell Hair Group is in the finalist of the Most Wanted Awards. River Hair Salon, Limerick, back row standing left to tight, Judith, Paudie, Niall, James, Giedre and Amanda front row seated left to right, Marita, Ciara, Caroline, Rhiannon and Courtney. Picture: Alan Place
Limerick River Hair Studio of Hugh Campbell Hair Group goes through the finalist of the Most Wanted Awards
River Hair Studio, Hugh Campbell Hair Group in Limerick are celebrating after beating off stiff competition to secure a place in the finals of the prestigious Most Wanted Awards, presented by leading industry magazine, Creative HEAD.
Established in 2001, Most Wanted recognises the most accomplished names and teams in British and Irish hairdressing – the awesome talents collectively making our hair industry the envy of the world. Most Wanted 2018 is presented by Creative HEAD magazine in association with category sponsors Alfaparf, American Crew, BaByliss PRO, Bumble & bumble, Cloud Nine, Joico, L'Oréal Professionnel, Paul Mitchell, Redken, Revlon Professional, TIGI, Treatwell and Wella Professionals. The competition is open to UK- and ROI-based professional hairdressers and salons. Creative HEAD is the leading magazine for the UK and Irish hairdressing industry, with a portfolio of exciting editorial and event concepts, including seasonal trend bibles Runway and Paint, The It List Awards, hair and fashion networking club The Coterie, LFW party The Fash Bash, business networking event Salon Smart, the Big Hair Do, and the consumer hair website, Layered.
Having showcased exceptional skill and ambition, River Hair Studio proved to be a front-runner in the category Supreme Team being one of only 5 Irish salons gaining a coveted place at the Most Wanted Grand Final on Monday 3 September at London's iconic Natural History Museum. Here, comedian Katherine Ryan will preside over an occasion that sees over 600 glamorous A-Listers from the worlds of hair, fashion, beauty and the media come together for a night of Most Wanted celebration.
The Most Wanted Awards comprise of 14 categories recognising creativity and success across a multitude of disciplines, from customer service to commercial innovation. This year's entries were judged by panela of experts, including hair heavyweights Sam Burnett, Ken O'Rourke and Nicky Clarke OBE, Get the Gloss managing director, Gemma Bellman, Harper's Bazaar beauty director, Katy Young and the beauty and lifestyle director of Vogue, Jessica Diner.
So, what awaits the Most Wanted victors? Alongside the hairdressing industry's greatest seal of approval – a Most Wanted Trophy – the champions will also receive a year's worth of profile-boosting editorial coverage in Creative HEAD and its associated titles, websites and events, resulting in worldwide recognition.
Past winners have gone on to represent global brands, lead Fashion Week teams from London to New York and work with the world's most coveted designers.
"Our Most Wanted awards salute the hair professionals who inspire, shape and influence not just the hairdressing industry, but also consumers' lives. There will be an impressive level of 'clout' on display at the Grand Final, and we're very happy to be able to showcase such great talents" said Catherine Handcock, Publisher, Creative HEAD.
For more information on Hugh Campbell Hair Group, go here
For more stories on hair salons in Limerick, go here