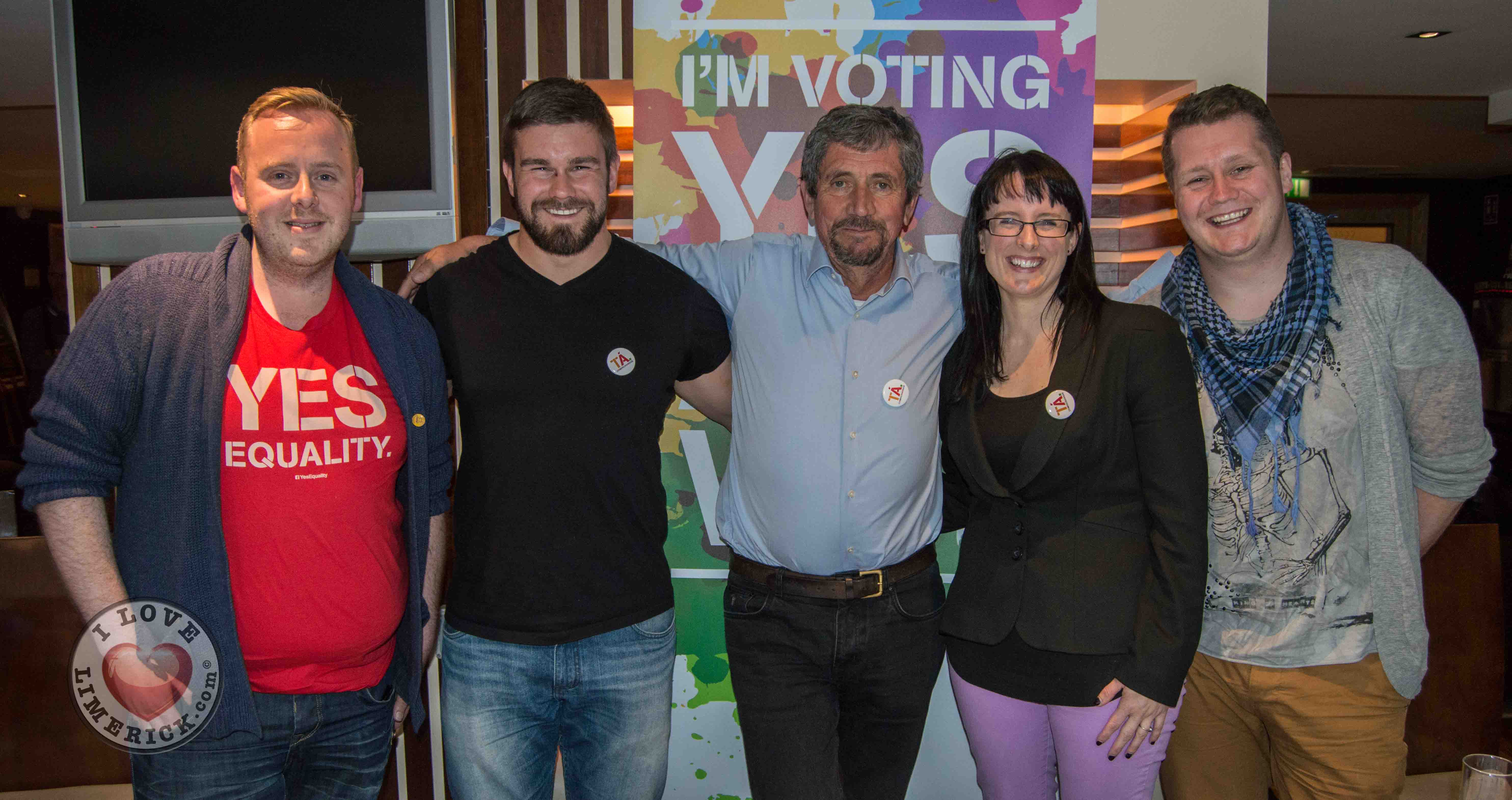 Im Voting Yes Ask me Why? Campaign holds discussion on why people will be voting Yes on May 22
Pictured above are guest speakers: David Cuddihy, Duncan Cassey, Charlie Bird, Karen Sugrue and Patrick Mc Elligott. Picture and article by Billy Butler for I Love Limerick  2015.
On Thursday the 30, April, the "Im Voting Yes, Ask me Why?" Campaign was held in the George Boutique Hotel. This was a discussion on the upcoming vote for Marriage Equality with guest speaker Charlie Bird. Along with Charlie, there were four other guest speakers, David Cuddihy, Duncan Cassey, Karen Sugrue and Patrick Mc Elligott.
Im Voting Yes Ask me Why? event encouraged people to give their opinion on why they are voting yes on May the 22. Patrick Mc Eliigot, guest speaker and Chairperson of Pride Limerick, hopes that the yes vote gets through on May the 22 because he "wants young people to be accepted for who they are and that they can be encouraged to find themselves".
Duncan Casey, Rugby star, believes that people should not be judge on their race, gender or sexual orientation but on their own unique personality. He hopes that the votes gets through as he would wish to see any friends, family, fellow rugby players, referees or mangers, marry whomever they wish to marry.
As well as the guest speakers giving their opinions, people attending were also given the opportunity to give their reasons on why they support the yes vote. Many speakers believe that the yes vote would give the youth a bright future, that it would support kids and make every one of them feel accepted in society, no matter what.
The discussion received great support and showed the backing that the yes vote has from people with various different backgrounds. Charlie Bird finished off the discussion by saying that "we are living through history". It is us that can shape the future and it will be up to us to secure equal rights on May the 22. So be sure that you are registered for the referendum as the 5 of May is the final day to get registered. If you are unsure if you are registered you can check on www.checktheregister.ie. If you believe in equality, then be sure to vote Yes on May the 22.
You can check YesEquailty Limerick on Facebook here.
You can read more on Equality here.
Pictures taken by Billy Butler for I Love Limerick 2015. All Rights Reserved