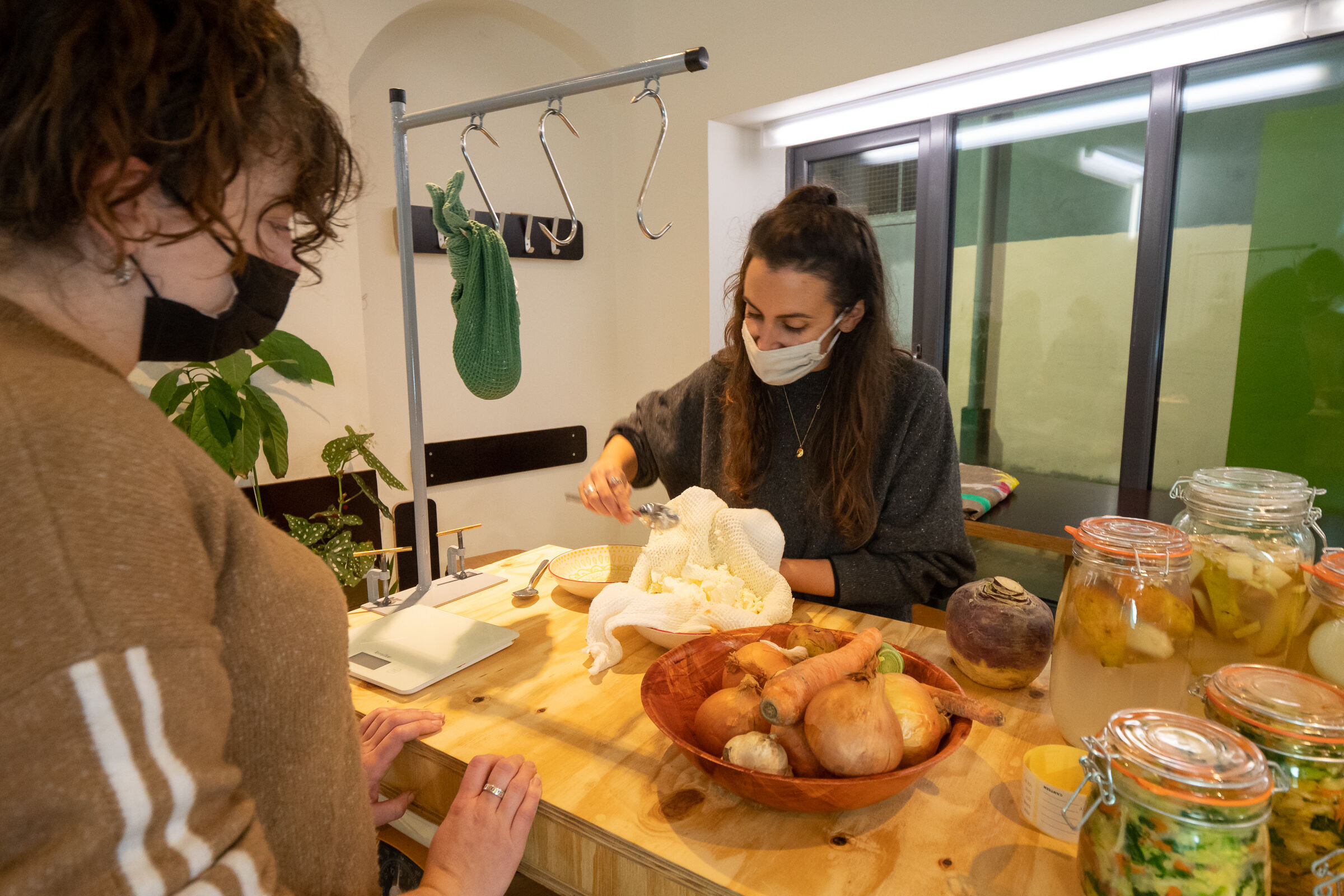 Ines Neto dos Santos returns to Limerick for the final phase of her residency with EVA International
Ines Neto dos Santos returns to Limerick for the final phase of her residency with EVA International
Ines Neto dos Santos returns to Limerick for the final phase of her residency with EVA International
Ines Neto dos Santos returns to Limerick for the final phase of her residency with EVA International, as part of the Magic Carpets Creative Europe programme.
During a residency which has taken place over November and December 2021, Ines Neto dos Santos has been working with curator Niamh Brown (EVA International Creative Producer), developing workshops with local communities from the Limerick School of Art and Design and café Canteen, to explore fermentation as a metaphor for collaborative practices, community living and autonomy.
FERMEN-TOUR // Limerick pursues these ideas through a new fermentation station, fabricated and hosted at the Limerick School of Art and Design. The mobile station has been designed to move from place to place, and to be activated through workshops, knowledge exchanges and communal meals. During this final phase of the residency Inês will be designing a menu in collaboration with the team at Canteen to accompany the fermentation products for a communal meal amongst all participants.
Curator, and Creative Producer of EVA International, Niamh Brown says: "It's been a pleasure to explore Limerick's food culture through Inês' project FERMEN-TOUR // Limerick, and so insightful to think about how fermentation correlates to sustainability, well-being and collaboration, through food production and consumption. I'm delighted that despite all the ongoing challenges over the pandemic that we've been able to deliver this project, and to have worked directly with participants in Limerick."
The final phase of Inês Neto dos Santos' 'FERMEN-TOUR//Limerick' project, which culminated in 2 meals with workshop participants from @LSADatTUS and @wearecanteen! Inês worked with curator Niamh Brown, developing fermentation workshops as part of her #MagicCarpets #EVA residency! pic.twitter.com/QxfGs6EjjN

— EVA International – Biennial of Contemporary Art (@eva_Limerick) December 7, 2021
This presentation marks the final project of EVA's participation in the 4 year-long "Magic Carpets" platform, supported by Creative Europe, which has created opportunities for emerging artists to embark on artistic residencies with communities across Europe.
Director of EVA International, Matt Packer says: "EVA's involvement in the The Magic Carpets platform over the past 4 years has connected us with 14 other cultural organisations across Europe, each that work to engage contemporary art within their local community contexts. Together with organisational partners, we have been able to initiate international artist residencies for Irish artists Siobhán Ní Dhuinnín and Mary Conroy, while also hosting international artists here in Limerick; such as Vera Mota, Bora Baboci, Anca Benera & Arnold Estefan, and Inês Neto dos Santos."
About EVA International
EVA was founded by artists in 1977 and it remains one of the longest running visual arts
organisations in Ireland, with a history of working with some of the world's most influential curators, including: Merve Elveren (2020/2021) Inti Guerrero (2018), Koyo Kouoh (2016), Bassam El Baroni (2014), Annie Fletcher (2012), Hou Hanru (2008), Katerina Gregos (2006), Dan Cameron (2005), Zdenka Badovinac (2004), Salah M. Hassan (2001), Rosa Martínez (2000), Jan Hoet (1994), Gloria Moure (1993), and Saskia Bos (1990).
Inês Neto dos Santos Biography
Inês Neto dos Santos is a multi-disciplinary artist currently based in London. There, she completed an MA in Visual Communication at the Royal College of Art (2016) and a BA in Graphics and Illustration at the London College of Communication (2013). Neto dos Santos' practice stands between performance and installation, using food, people, and spaces as metaphors and prompts for discussion and conversation. Her work focuses on ideas around sustainability, narrative, collaboration, and togetherness. Neto dos Santos' teaches, writes, and cooks as part of her art practice, in order to inform her work in a variety of ways. Recent group shows and projects include Expedition Empathy, Walk&Talk arts festival, Azores (2019); Tender Touches, AMP Gallery, London (2019); Darlings of the Underground, Subsidiary Projects, London (2019); Matérias Primas, PADA Studios, Barreiro (2018); Should I Stay or Should I Go, Barbecho, Madrid (2018); Art Night Party, Phillips, London (2018); A Toolkit for the Future, V&A Museum and Arcade East, London (2018). In 2019, Neto dos Santos was artist in residence at Villa Lena, Tuscany.
About Magic Carpets
EVA International is among 15 European cultural organisations partnered in a 4 year-long Creative Europe project titled 'Magic Carpets', led by Kaunas Biennial. Magic Carpets is a platform for emerging artists to travel to partner organisations in order to research and implement new projects together with local partners. Artistic and cultural interventions in different European and neighbouring cities have been taking place over a 4 year period.
For more information on EVA International see HERE
For more stories on EVA International go HERE