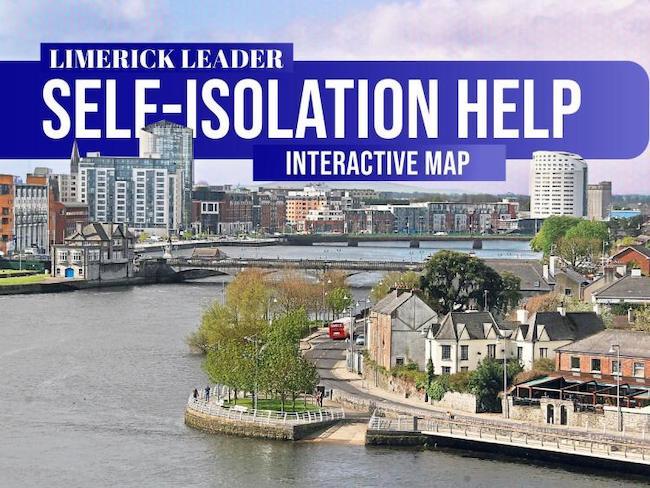 Limerick develops an interactive map that connects isolated people and volunteers during Covid-19 outbreak
Thumbnail image for the interactive map developed to help people combat Covid-19 in Limerick.
Limerick develops an interactive map that connects isolated people and volunteers during Covid-19 outbreak
By I Love Limerick Correspondent Sophia DiBattista
Recent online efforts have given birth to an interactive map that connects volunteers with self-isolated people during the coronavirus threat currently sweeping the nation.
The Limerick Leader's Fintan Walsh and Liveable Limerick's #VirtualMeitheal campaign have collaborated on this project together for the benefit of Limerick's citizens. The map itself presents viewers with people, organisations and businesses available to the public during this crisis. Fintan's Twitter handle is @FintanYTWalsh.
Liveable Limerick, found on O'Connell Street in Raheen, is a movement that aims to better Limerick through improvements in education, community spirit and inclusion. Their website outlines five values of long-term ambition, desirability and fun, inclusion, people-focused and valuing heritage to make Limerick a more liveable place.
Local communities and volunteers are offering services to isolated individuals such as running errands, collecting groceries, dropping off medications, helping in IT and technology, assisting in the general welfare of Limerick's people and much more.
The map is easy to navigate, making it convenient for those not used to handling digital media. Anyone is able to use this at any time, and it is updated with more and more volunteers by the day.
Thumbnail images appear over the location of your choice. The volunteer's name and contact information is shown along with their availability, listing whether they can pick up food, medical supplies, give general assistance or even care for pets.
Limerick Your Community of Family, Friends and Neighbours Needs You To Volunteer To Help ➖Go To https://t.co/N8siE6x2ms Sign Up with Name, Email, Phone Number And Message of How You Can Help #StrongerTogether #CommunitySpirit #VirtualMeitheal pic.twitter.com/7z3g6XHtFm

— Liveable Limerick (@LiveableLimk) March 17, 2020
This interactive map will help push forward the initiative for social-distancing while allowing people to have a sustainable lifestyle.
Limerick as a community are focusing on creating a brighter future in the midst of this terrible pandemic. It is helpful to approach every situation with caution and consideration for others to fight back against Covid-19.
So far, the number of cases in Ireland have jumped up to 292 cases on Tuesday, March 17. It is vital to continue hygienic practices such as washing hands and coughing into shoulders, even with the amount of cases increasing.
Dr. Tony Holohan, Chief Medical Officer, Department of Health, discussed the importance of these practices saying, "The behaviours we adopt in the next 7 days will form the template for how we interrupt the spread of this virus over the coming months."
"We need to sustain social distancing, respiratory hygiene and these new ways of behaving if we are to succeed in minimising the threat posed by Covid-19," he added.
To visit the Limerick Live website, click here.
For more information on the interactive map, click here.
For more stories on Covid-19 efforts, click here.