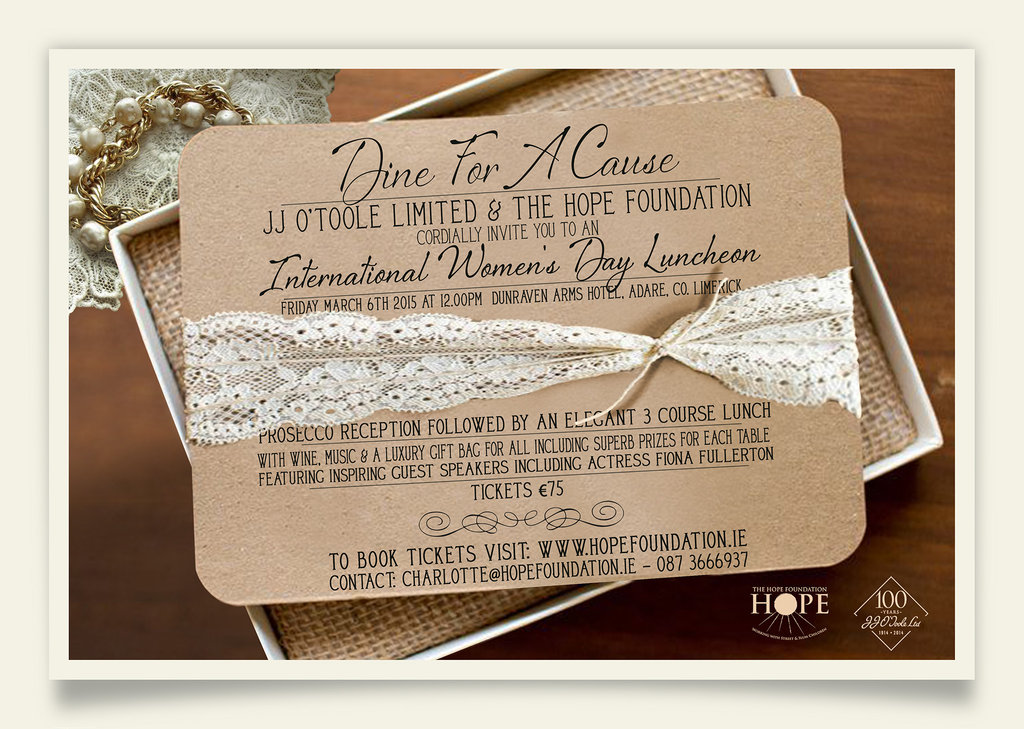 Former Bond Girl Fiona Fullerton to host International Womens Day Luncheon in aid of Hope Foundation
The Hope Foundation will host a unique 'International Womens Day Luncheon' on Friday the 6, March. The event will be hosted by Former Bond girl Fiona Fullerton in the Dunraven Arms Hotel, Adare, Co. Limerick.
London based actress, author and businesswoman Fiona Fullerton will join Hope Founder and Hon. Director Maureen Forrest along with managing director of JJ O' Toole Ltd Vicki O' Toole as guest speakers at the International Women's Day event.
Fiona Fullerton is perhaps best known for her role as KGB spy Pola Ivanova in the 1985 James Bond film, A View to a Kill and as Alice in the 1972 film Alice's Adventures in Wonderland. Fiona now has her own property company which buys and manages flats, mainly in London.
Fiona has written on travel, beauty, celebrity, health, welfare, psychology, fame, business and property (buying, selling and letting) and was nominated for a British Press Award as 'Property Writer of the Year' for her work in The Mail on Sunday. Fiona will be most recently remembered for taking part in Masterchef 2013 and Strictly Come Dancing.
Speaking in advance of the event Fiona said 'My time with Hope in Kolkata changed my life. The work is amazing. I am delighted to continue to lend my support after my recent journey of HOPE. I look forward to meeting you all in beautiful Adare as we celebrate the women of the world who truly make a difference'
The Hope Foundation, celebrated 15 years of Hope last year and have partnered with Limerick packaging and design stalwarts JJ O'Toole Ltd who are now in their 100 year of business and are the main sponsors of the event. Hope now fund more than 60 projects touching the lives of 25,000 children who were born with few choices and very little hope. 
Sponsor and managing director of JJ O' Toole, Vicki O' Toole spoke of the inspiration behind the lunchen: 'I first met Maureen Forrest, founder of the Hope Foundation, at an event in Limerick last year. She and her charity completely overwhelmed me and literally 'had me at hello'!  As a result of this meeting, JJ O' Toole Ltd decided to sponsor the first Hope Foundation Charity luncheon to be held in Limerick.'
Maureen Forrest declared her gratitude at the overwhelming generosity shown by Limerick people over the years:
"We are so grateful to Vicki and JJ O' Toole Ltd as sponsors of what promises to be a wonderful day out. As women in 21 century Ireland, as we continue to move forward and rise through glass ceilings, continue as business leaders and drive global and local investments, we must keep in mind the girls and women around the world who are not as fortunate as us."
The event will begin with a Prosecco reception at 12pm, followed by an elegant three course lunch with wine, music and a luxury gift bag for all guests including superb table prizes. 
Tickets for the event are €75 with ALL proceeds from the ticket sales going to benefit the street children of Kolkata (formerly Calcutta) with whom The Hope Foundation work with on a daily basis. 
For more information on the event or to book a ticket or a table please contact Charlotte on 087 3666937 [email protected]
You can visit the Hope Foundation site here
You can like them on their Facebook here and follow them on Twitter here.
You can read more on The Hope Foundation here.