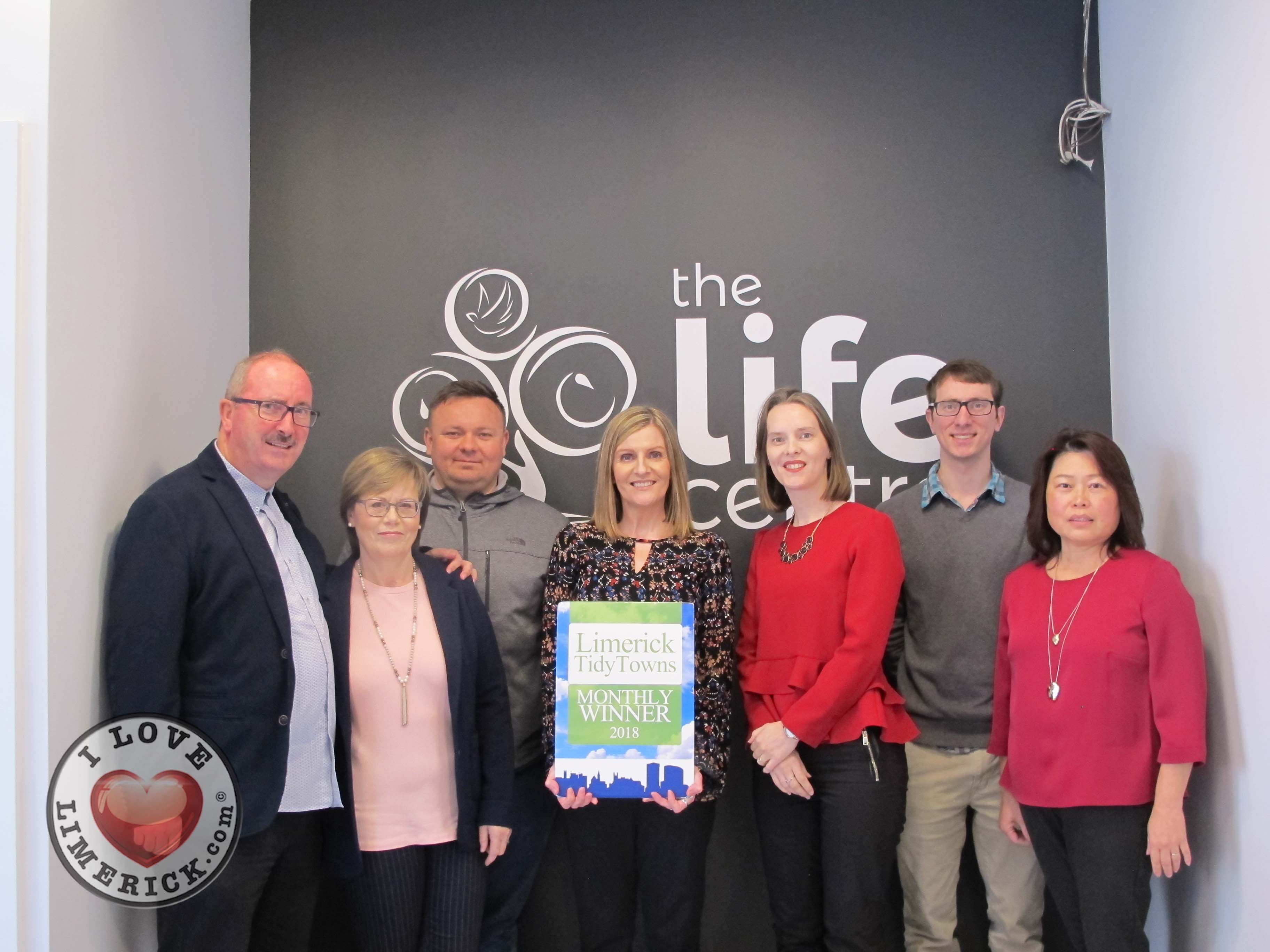 Limerick City Tidy Towns' Monthly Award for October 2018 won by The Irish Life Centre, Henry Street
Irish Life Centre on Henry Street is awarded Limerick Tidy Towns Monthly Award October 2018. Pictured are Kevin Fitzgibbon, Pastor, Breda Fitzgibbon, Secretary, Pawel Garbowski, Pastor of the Life Centre, with Maura O' Neil of Limerick Tidy Town, and Sarah Legge, Senior Leader, Matt Shepherd, Administrator and Janet Tan, Director from the Life Centre. Picture: Baoyan Zhang/ilovelimerick
Limerick City Tidy Towns' Monthly Award for October 2018 won by Irish Life Centre, Henry Street
Limerick City Tidy Towns have presented their monthly award for October 2018 to Abundant Life Christian Church for Irish Life Centre, their new base located at the former Smyths Toys store on Henry Street. Pictured at the property being presented with the award by Maura O'Neill of Limerick City Tidy Towns are Kevin Fitzgibbon Pastor, Breda Fitzgibbon Secretary, Pawel Garbowski Pastor, Sarah Legge Senior Leader, Matt Shepherd Administrator and Janet Tan Director.
Maura says "We love to see long-term vacant properties being occupied and rejuvenated, and Abundant Life's new home, Irish Life Centre has utterly transformed the former Smyth's Toys store which had become quite an eye-sore in this very prominent city centre location, especially in light of the redevelopment currently taking place with the Hanging Gardens site nearby. The property is now a highly attractive state of the art Christian Centre with an extremely high-quality finish, beautiful windows and signage, whilst maintaining and enhancing the original red brick exterior. However, while we are delighted with the physical appearance of the property, this award is also for the members of the Abundant Life congregation who have volunteered to help Tidy Towns on many occasions in the past, and who continue to do great work for the community in general as part of their Church's ethos and beliefs."
Abundant Life is a vibrant and growing Irish Pentecostal Church which started in 1995 and has been serving the city of Limerick ever since. They pride themselves in their welcoming multi-cultural Irish congregation with an emphasis on integration, participation and inclusion, with over 31 different nations being represented at their services on a regular basis. The current pastor is Kevin Fitzgibbon, an ordained Minister with Christian Churches Ireland, who has led the church since August 2003. Over the past 14 years, Abundant Life has grown steadily and has a reputation for passionate worship, friendliness, inspirational messages and generously serving the community in Limerick. For more information on their history, beliefs and services, visit their website www.abunlife.com, call them on 061 405023 or email [email protected].
Irish Life Centre is Limerick City Tidy Towns' tenth monthly winner for 2018, following St Michael's Rowing Club in January, Foot Solutions in February, La Fromagerie in March, Portleys Bar in April, Be Your True Self in May, Jack Mondays Coffee House in June, the Limerick City Council Parks Department in July, Flanagans Town House in August and Noonan Dental Care in September, and all are in with the chance of winning this year's overall prize at the Tidy Towns Group's annual event to be held early in 2019.
If you wish to volunteer with Limerick Tidy Towns they meet every Sunday morning at 11 am at the corner of Thomas Street and O'Connell Street (all year round), and on Wednesday evenings at 6 pm outside The White House Pub (summer months only).
For further details, you can like them on Facebook, follow them on Twitter, check their website www.limericktidytown.com or email [email protected]
For more stories on Limerick tidy towns, go here