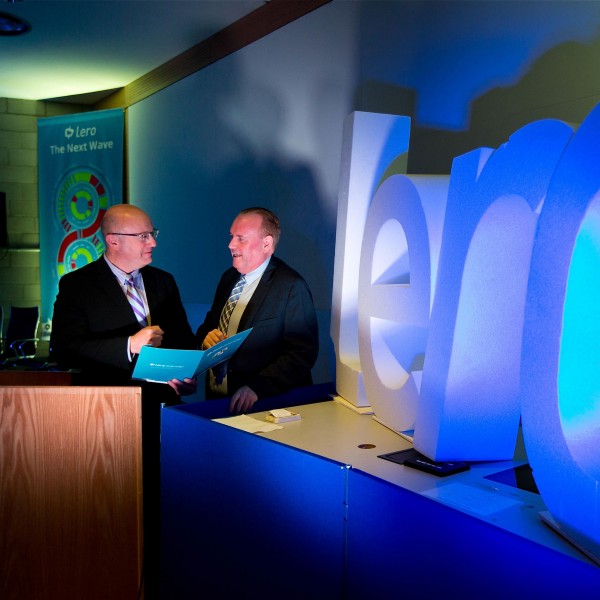 Multi-Million Euro investment in a research programme at the University of limerick for Irish Software Organisation Lero
Irish Software Organisation Lero: Professor Mark Ferguson at the launch of the event. Photo credit Sean Curtin. 
The University of Limerick has begun research in the Tierney building 2015 with the Irish software organization Lero. The Science Foundation of Ireland (SFI) has invested €46.4 million in the software research Lero programme which will see 90 PhD and 46 post-doctoral research positions created over the next 6 years.
The vice president of the University of Limerick, Mary Shire has warmly welcomed the opening of the Irish software organization Lero Research centre: "Lero is a critical part of the research ecosystem at UL and its close links with industry align well with our strategic focus on delivering excellent research with impact."
Lero's main objective is to connect leading Universities and IT's throughout Ireland to join them and create a unified approach for the software research development in Ireland. Ireland has become a very strong and leading country for software development.
The minister of education, Jan O'Sullivan sees the Lero investment as a step in the right direction: "The collaboration of the best academic brains from all the country's universities is unique in Ireland and rare worldwide". She went on to say: "This new investment in Lero is an important part of the national infrastructure that will help to attract and retain the world's leading technology companies in Ireland as well as providing access to a world class software research centre for over 1,000 indigenous tech firms."
The investment will see a great economical boost not only for Limerick city, but will entice future investors to invest their companies in Ireland. The director of Leroy, Mike Hinchey has stated that: "Attracting a leading European academic like Tiziana to Ireland is a major coup for Lero and the Irish software sector".
€32.6 million of the SFI's investment in the research programme has been aided support from the EU's structural funds. Industry is backing the investment with a contribution of €13.6 million. Lero hopes to expand its software engineering to include other features such as cyber security, cloud computing, medical devices and smart cities.
For more information about the Lero Ogranisation, click here.
For more information about the research in UL, click here.
Follow Lero on Twitter and on Facebook.
For further information about the photographer, Sean Curtin, click here.