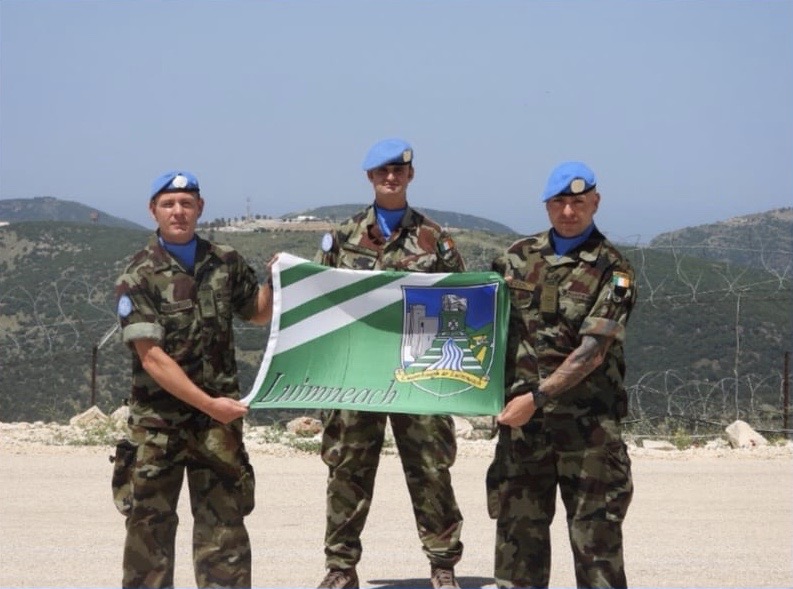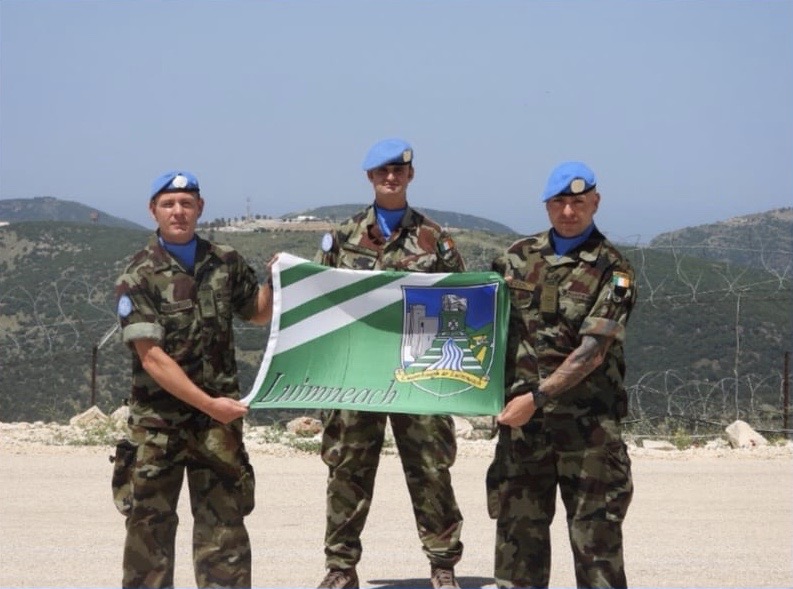 Irish soldiers fundraise in South Lebanon for Milford Hospice and other cancer support services
IRISHPOLBATT contingent: Private Jason Boyce, Sergeant Larry Power, and Corporal Shane McGrath, from Limerick, pictured in South Lebanon ahead of this weekend's gruelling fundraiser
We've saved our biggest biggest challenge til last. On 30 and 31 MAY 20, IRISHPOLBATT will complete two challenges for three charities @CorkARCcancer , @MilfordLmkCC and @HospiceMovement Check out the video for the details and visit https://t.co/vVU24Vr0ae pic.twitter.com/l3kzd8eB04

— Irish Polish Battalion – UNIFIL (@irishpolbatt) May 18, 2020
Irish soldiers fundraise in South Lebanon for Milford Hospice and other cancer support services
By I Love Limerick Correspondent Mary Doyle
Irish troops from Sarsfield Barracks in Limerick who have been deployed in South Lebanon since last November, are unable to return home at the planned date which was supposed to be this month, due to COVID-19 restrictions. Making the best of a bad situation, the 200 soldiers of the 115 IRISHPOLBATT contingent have decided to undertake an intense set of challenges over two days this weekend, to fundraise for cancer charities including Milford Hospice, Waterford Hospice and Cork ARC Cancer Support House.
The idea for this fundraiser was suggested by members of the Irish defence forces in Lebanon who have a personal connection to the charities involved. One of the organisers, Private Jason Boyce, who is originally from Limerick, suggested Milford Hospice as one of the beneficiaries as the centre is very close to his and his family's hearts as his aunt received palliative care and spent her final days there in 2008. With soldiers from all over the country involved, it will also offer them some focus and commitment as they await a new date in which they can return home to Ireland, which is now set to be at the end of June.
On Saturday, May 30, with the collaboration of their Polish colleagues, six members of the Irish Polish Battalion will run the equivalent of a marathon each, up Snake Hill – a grueling 500m hill in their compound. The combined height covered will equate to the same height as Mount Everest. Also on Saturday, five teams with 23 personnel in each will complete ten 1.1km laps each of their compound. This will equate to 253km covered per team.
On Sunday, May 31, an ENGCON loaded march will take place, involving members of the Engineer Contingent of the Battalion who will attempt to complete a 25km or a 40km March around their camp while carrying a weight of 14kg.
Corporal Shane McGrath from Limerick, who is one of the 200 Irish soldiers deployed in South Lebanon currently, said, "On Saturday, six members of the Battalion will run the distance of a marathon up Snake Hill and on the same day, five teams will complete ten 1.1km laps within their compound – the equivalent of 253km. The following day, members of the Engineer Contingent will take on the challenge of completing a 25km or 40km March within the camp, including up Snake Hill while carrying 14kg in weight. Everyone has had someone who has needed care in Hospices like Milford so the three charities are close to home with lots of people in the Battalion."
To donate to this fundraiser for Irish cancer charities, click here.
For updates, follow @irishpolbatt on Twitter.
For more fundraisers, click here.