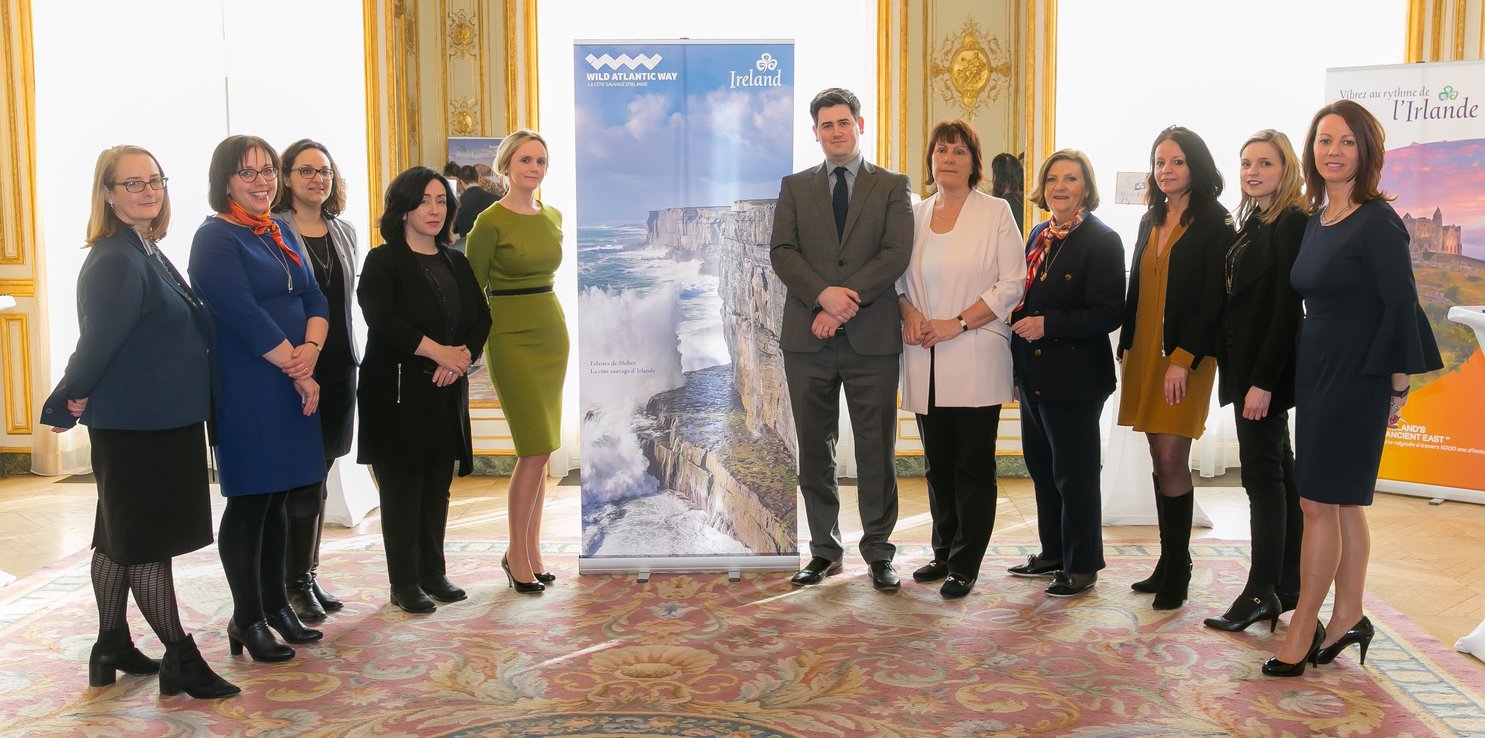 The prestigious Embassy of Ireland in Paris was the venue for a recent B2B tourism event, Irlande a Paris
Fiona Dunne, Tourism Ireland; Susanne Reid, Christ Church Cathedral; Séverine Lecart, Tourism Ireland; Catríona Fallon, Siamsa Tíre; Adrienne O'Flynn, Shannon Heritage; David Cleary, Manor House Hotels & Irish Country Hotels; Caitríona Butler, Irish Ferries; Geneviève Leloup, Holiday Ireland Hotels; Monica Ramchandani and Marine Robert, both Aer Lingus; and Nicola Meenan, On Campus, at the Irlande a Paris B2B workshop in Paris. Photo: Tourism Ireland
The prestigious Embassy of Ireland in Paris was the venue for a recent B2B tourism event, Irlande a Paris.
The networking event, organised by Tourism Ireland, involved some 70 leading French group travel operators meeting, and doing business with, 18 Irish tourism companies, including Shannon Heritage. It provided an excellent platform for the participating companies from Ireland to secure a greater share of group tour business from France.
Monica MacLaverty, Tourism Ireland's Manager for Southern Europe, said: "We are delighted that so many key decision-makers from the group travel sector in France took the time to meet with our tourism partners from Ireland, to hear about our fantastic tourism offering and the many opportunities for group travel to Limerick and the Mid-West."
France is one of the top four markets for tourism to the island of Ireland and 2016 was the fourth record-breaking year in a row for French visitors to Ireland.
Monica MacLaverty continued: "2016 was the best year ever for tourism from France to the island of Ireland when we welcomed more than 500,000 French visitors for the first time ever. For 2017, we are rolling out an extensive programme of promotional activity, to keep the momentum going and build on that growth."
For more information on Tourism Ireland click here
To read more stories about tourism in Limerick click here