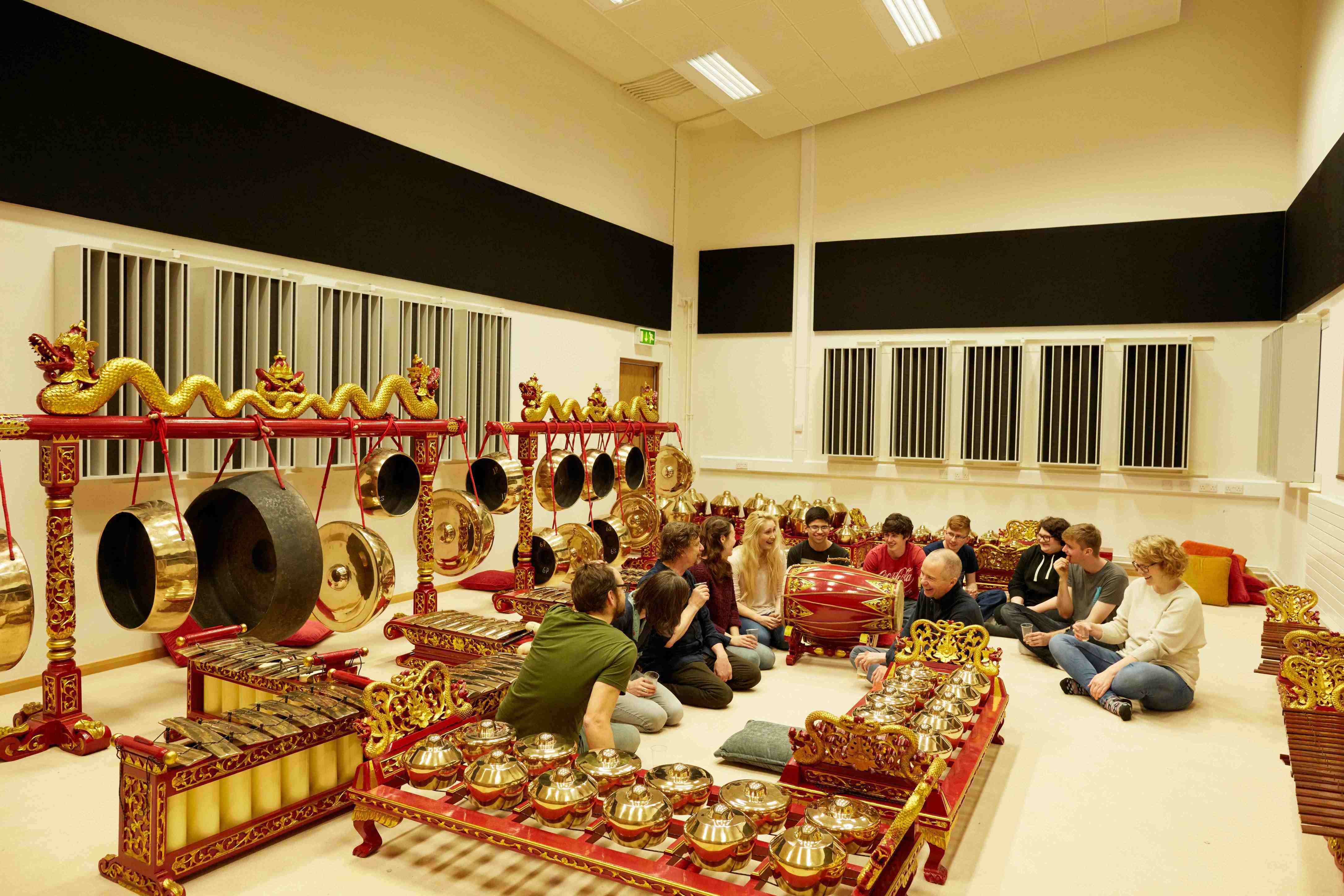 The Irish World Academy launches a new BA Performing Arts (World Music) and new Javanese Gamelan Orchestra.
Arrival of the Irish World Academy's Javanese Gamelan Orchestra. Photo: Maurice Gunning
The Irish World Academy of Music and Dance will launch one of its most exciting programmes, the BA Performing Arts (World Music) in an Indonesian-inspired performance with a new Javanese Gamelan Orchestra. This special public event will take place on Wednesday 15 February 2017, at the Irish World Academy building
at the University of Limerick. The launch will feature the first public performance on the gamelan instruments by the Irish Gamelan Orchestra with special guests Kate Ellis (cello), Colin Dunne (dance), Nick Roth (saxophone), Irish World Academy Gospel Choir and others. Admission is free and all are welcome.
The Academy recently received delivery from Indonesia of a specially commissioned Javanese gamelan orchestra, which will be at the heart of the new music degree. The gamelan is an orchestra of approximately 50 tuned percussion instruments – bronze gongs and metallophones, drums, wooden flute and two-stringed fiddle. The Academy gamelan which was hand-forged by the master gong-smith, Pak Saroyo, at his forge in the Sukoharjo Regency, Central Java, in the Summer of 2016, and was given the name Sekar Arum (Fragrant Flower).
Students taking the degree will study diverse music traditions from around the world, including the court music of Indonesia, popular music of West Africa, classical music of India, folk and Celtic music of Europe, classical music of the Arab Middle East, and traditional music of Canada and America. Learning how to perform this music will be a central part of the degree, and students will have the opportunity to play a range of world music, including West African drumming, Indian classical music, and Javanese gamelan. The BA Performing Arts (World Music) is an exciting foJavanese Gamelan Orchestraur-year, full-time undergraduate degree programme designed to develop individual artistic and academic potential and provide fresh and exciting encounters with the performing arts. The programme seeks adventurous students from all music backgrounds who wish to broaden their musical horizons and take a global view of music.
Professor Mel Mercier, Chair of Performing Arts, Irish World Academy, said: "The Javanese gamelan orchestra and the BA Performing Arts (World Music) provide new and exciting opportunities for students and staff, and the wider community, to engage with the fascinating and diverse world of music making."
Dr. Sandra Joyce, Director, Irish World Academy, said "The BA performing Arts (World Music) is a particularly exciting initiative for the Irish World Academy. As one of the 5 new pathways of the BA Performing Arts, it resonates deeply with the ethos of the Academy, which from its inception has embraced a diverse array of performance practices from around the world".
For more information click
here
To read more about the Irish World Academy click
here