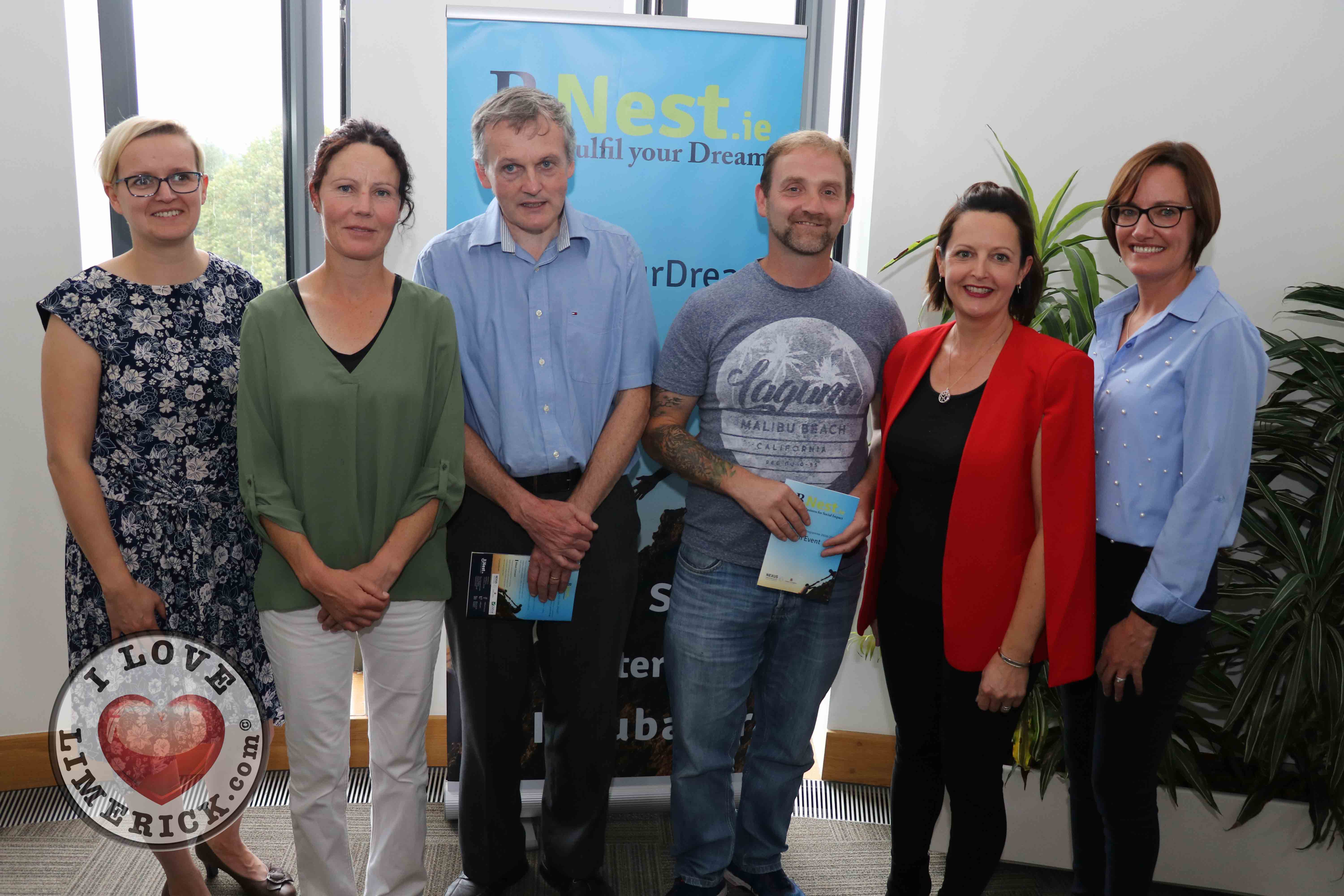 BNest offers support to JS Equine Assisted Therapies, a social enterprise focusing on mental health
Pictured are Kasia Zabinska, BNest, Niamh Harney, equine specialist, Eamon Ryan, BNest founder, Joe Slattery, JS Equine Assisted Therapies founder, Gert O'Rourke, UL Nexus Innovation Centre and Pauline Gannon, BNest. Picture: Richard Lynch/ilovelimerick
BNest offers support to JS Equine Assisted Therapies, a social enterprise focusing on mental health
JS Equine Assisted Therapies is a social enterprise that was developed by Joe Slattery, a trained addiction counsellor and mental health professional.
JS Equine Assisted Therapies incorporates unrestrained horses and people in ground-based activities with a focus on mental health and personal development. It is a collaborative effort between Joe, who is a licensed therapist and Niamh Harney, an equine specialist working with the clients and horses to address treatment goals. Joe said, "Because of its intensity and effectiveness, Equine Assisted Psychotherapy (EAP) it is considered a short-term approach. EAP is experiential in nature and this means that participants learn about themselves and others by participating in activities with the horses, this approach allows the clients to work through issues in the here and now, where the horses take up the role of people and places of importance in the client's life and story.
Joe is the Irish network coordinator for the EAGALA (Equine Assisted Growth And Learning Association) and is currently the only member in Ireland with advanced certification in this method. The Limerick man has been working as an addiction counsellor for the past seven years and specialises in working with adolescents who have substance misuse issues and their families.
Talking about why he chose to develop JS Equine Therapies, Joe said, "I grew up in Southill and there was very little access to counselling services when I was growing up but there were lots of horses. It was my love for a horse called Jack that started my journey of self-discovery. Spending time with the horse created a space where I could truly be myself and gave me space where I could be free and vulnerable. I now provide Equine Therapy services across the Mid-West region of Ireland." Joe's journey brought him to the prestigious TEDxFulbrightDublin event to discuss the benefits of equine psychotherapy for young people. His talk focused on his own experience of growing up in a socially deprived area of Ireland and how horses helped him cope in that environment. To watch his full speech visit https://youtu.be/RC1v5IiwYj8
Joe and Niamh are currently taking part in the BNest incubator programme, the first dedicated Social Enterprise Incubator Programme in Ireland, which caters to all types of organisations from non-profits to community enterprises to businesses with a social conscience. BNest offers a six-month peer programme at no cost to participating organisations and is dedicated to helping businesses that want to make a social impact.
Joe said, "We wanted to take part in the BNest programme to figure out how to reach a wider audience and to learn the right approach and language for when a streamlined pitch was needed when promoting our business to professional agencies. I also knew I needed support on grasping the accounts, making sure I can price correctly to keep the business growing. We are coming out the end of the program with a sense of confidence that we are heading in the right direction. I also feel BNest was beneficial for networking and building professional relationships with the other participants that may create business opportunities for us into the future. Eamon, the founder of BNest used JS Equine Assisted Therapies on a number of occasions during the program, giving us a sense of pride in what we are doing. I know BNest will continue supporting us after the programme is completed."
BNest extends a friendly welcome to the BNest Showcase 2019 on Tuesday, March 12 from 3.30pm to 5.30pm at the Nexus Innovation Centre, Tierney Building, University of Limerick. All are welcome and admission is free. To learn more about BNest go to www.bnest.ie.
For more information about JS Equine Therapies go here
For more stories on BNest go here