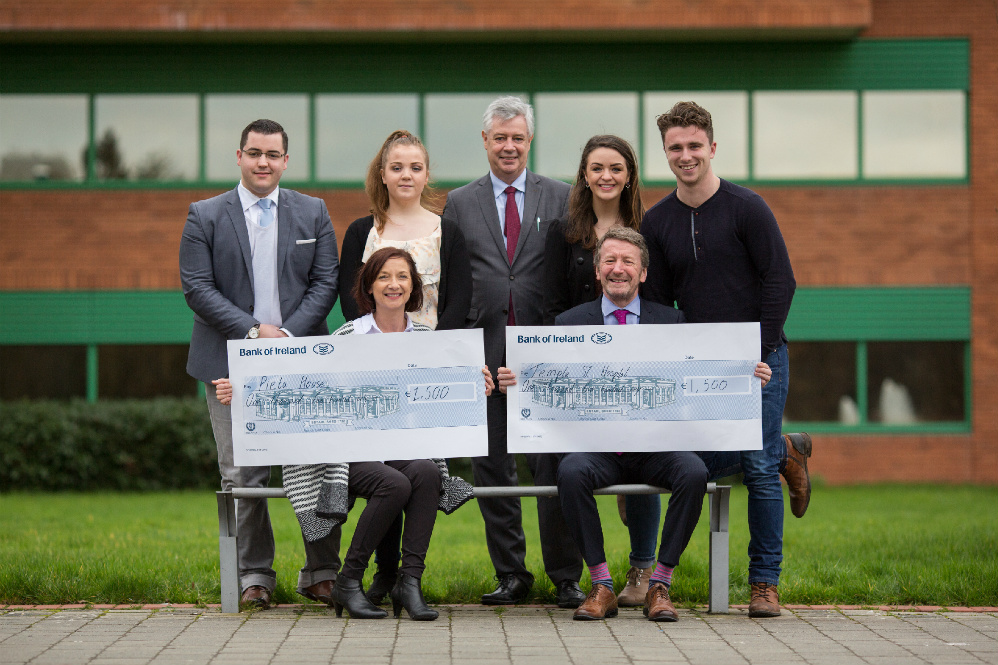 UL students KBS Charity Ball raises funds for Pieta House and Temple Street Children's University Hospital
KBS Charity Ball Pictured outside the Kemmy Business School are: , Romain Fachero, Economics Dept Rep, Elisabeth Small, Accounting Rep, Dr. Philip O'Regan, Dean Kemmy Business School, Jean Langford, Marketing and Management Rep and Sean Fitzgerald, KBS Faculty Rep with seated, Annette Cahill, Pieta House and Karl Daly, Temple street rep. Picture: Alan Place
UL students KBS Charity Ball raise much-needed funds for Pieta House and Temple Street Children's University Hospital
Over 300 students from the University of Limerick, raised €3,000 at a recent Kemmy Business School (KBS) Charity Ball, held at the Strand Hotel, Limerick. The KBS Charity Ball, which was organised by KBS student department representatives, was sponsored by Deloitte Ireland.
Speaking at the event, Seán Fitzgerald, KBS faculty representative said: "Raising much-needed funds for charity is an integral part of the ethos of both KBS and UL. The two chosen charities, Pieta House and Temple Street Children's University Hospital, were selected by student vote. Based on this vote, these two charities were very close to the hearts of students and we are delighted to contribute to the life-saving services and supports that they provide to our community".
Marie Peelo, Pieta House, Deputy Director of Funding & Advocacy said: "Pieta House would like to sincerely thank these students for the donation which we received. We greatly appreciate the support. It costs approximately €1,000 for each client to come through the services of Pieta House. So the donation that these students have made is saving lives. In fact, the first step on the road to a better life is at the assessment stage and this donation would ensure that 19 people had that opportunity".
Representing Temple Street Children's University Hospital, Karl Daly said: "Our one important goal is to help save the lives of critically ill children in Ireland, now and for generations to come. Donations like the one made by these students allow us to make the ordinary, extraordinary. Every gift we receive has an impact. I would like to take this opportunity to thank everyone who has supported us".
According to Dr Philip O'Regan, Dean KBS, UL: "Drawing on Jim Kemmy's legacy as a political and community leader, KBS, UL, aims to foster the development of a viable and sustainable Ireland based on the principles of fairness, equality of opportunity, community solidarity and active citizenship. We are very proud of our students and their achievement in raising this much-needed funding for both Pieta House and Temple Street Children's University Hospital".
Kemmy Business School (KBS), University of Limerick, is one of Ireland's leading business schools – awarded Best Business School at the InBusiness Recognition Awards 2016 – with a reputation, established over 30 years, for providing a first class business education that prepares graduates for successful and rewarding careers in a variety of business disciplines and professions.
For more information on the University of Limerick click here
For more information on Pieta House click here
For more information on Temple Street Children's University Hospital click here