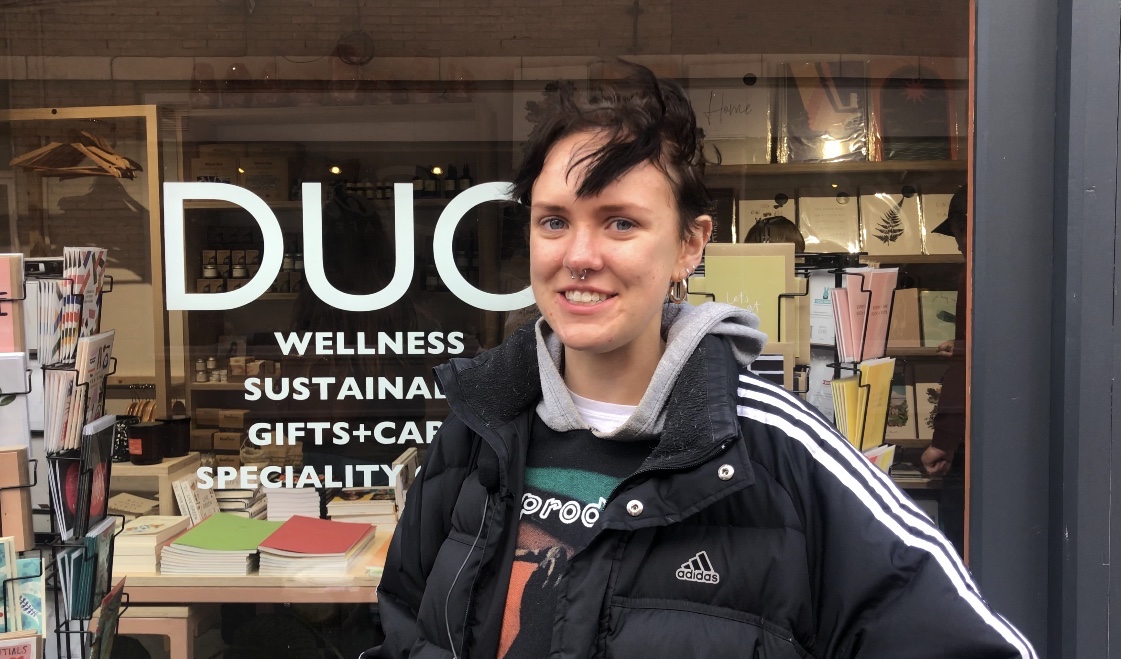 Sustainable fashion activist, Keelin Moncrieff hosted a charity shop crawl and pop up shop in Limerick city in conjunction with 858 
Keelin Moncrieff pictured at Duo, Limerick for her charity shop crawl and pop up shop in Limerick on Tuesday, October 29
Sustainable fashion activist, Keelin Moncrieff hosted a charity shop crawl and pop up shop in Limerick city in conjunction with 858
By I Love Limerick correspondent, Enya McIntyre
Instagram sensation Keelin Moncrieff (33k followers), best known for her role in sustainable fashion activism in Ireland, hosted a 'charity shop crawl' around the city of Limerick on Tuesday, October 29 and finished up in Duo for an 'Angelz Vintage' pop up shop in collaboration with Limerick creative agency, 858.
Sustainable fashion activist and YouTuber, Keelin Moncrieff spoke with us yesterday at Duo in Limerick where she hosted a pop up shop for her store, Angelz Vintage following a charity shop crawl around Limerick! #ilovelimerick #lovelimerick #lovinlimerick pic.twitter.com/SY5iC2ViD0

— #LimerickTilliDie (@ilovelimerick) October 30, 2019
With increasing awareness in climate change, 'Charity Shop Crawls' have become a popular incentive to entice people to avoid fast fashion and buy more sustainably ie. second hand.
The charity shop crawl, hosted yesterday October 29, started at Duo where groups of youths gathered together before heading off to 'Enable Ireland' on Honan's Quay to commence the crawl.
This was the first of 10 stops along the tour which only covered a selection of what Limerick's charity shop scene has to offer.
At each stop, the tour would take a number of minutes to scour the shop for cheap and sustainable second-hand pieces to add to their wardrobes.
Amongst the shops visited included William Streets: Oxfam Ireland, Animal Welfare Ireland, NCBI and Irish Cancer Society.
The tour finished off at Denmark street's hip retail and coffee space, 'Duo' where Keelin hosted a pop-up shop with a selection of pieces from her new up-styled vintage clothing store, 'Angelz Vintage'.
'Angelz Vintage' currently has a space overhead 'Temporary Pleasure' record shop located on Abbeygate Street in Galway city and is open every day from Wednesday to Sunday.
The event was hosted in collaboration with upcoming Limerick creative agency, 858, run by Limerick graphic design student, Farouk Alao.
The aim of the agency is to create a hub of creatives such as graphic designers, painters, illustrators etc who can be called upon for specific projects presented to them by clients. The agency also wishes to be a platform to bring together creatives for various projects such as yesterday's event with Keelin.
Keelin is an Irish YouTube and Instagram sensation and is a major voice for sustainable fashion in Ireland, having spoken on numerous panels on the impact of fast fashion on the environment.
Keelin is a big promoter for second-hand shopping and believes, "you don't have to be given outfits on a silver platter to be stylish" – avoid fast fashion websites and shop sustainably- shop charity.
For more information on sustainable fashion click here.
For more stories on 858 click here.
More about Sustainable Clothing here