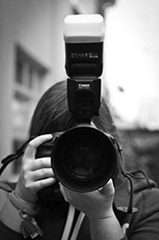 Laur is a student, a self-employed photographer, a photographer with PKIRE Public Relations Team as well as a Street Team member for TWLOHA organization.
Many of her photographs are used published in various local media sources.
Laur is currently attending University.
Laur's personal hobbies include parkour, freerunning and tricking. She also enjoys playing the guitar, photo editing and onling journalism & blogging.
A quote from Laur
"ILoveLimerick.com is a creative project which has opened doors for so many Limerick people, their charities & businesses, including my own. The team are a pleasure to work with and have truly brought out the best in me as a photographer. They have given me so many opportunities & have inspired me with their passion & love for Limerick City."
Contact Laur:
"Laur Ryan recently worked with us here at Just Breathing on a dance photography project for the Catherine Street Cultural Dig. We were very impressed with her previous work and were delighted to have her on board. She is a really pleasant person to work with and has a very professional manner. She was very insightful in knowing what we wanted and was able to bring her own unique style to the project. She was very willing to take direction and comments to coincide with our aims but was also excellent at bringing her own ideas to the table and incorporating them. Her ambition and talent for someone of her age is really inspiring and we hope to have the opportunity to work with her again in the future."
Mags O'Donoghue
Just Breathing Dance Arts
Limerick, Ireland
"Laura Ryan is currently employed as the photographer with the Parkour Ireland Public Relations team. A position entails taking the official photographic documentation for any Jobs the team may undertake, and to provide the team with any other photographs which may be needed for publicity or any other reason. I can confidently state that to this date, Laura has fulfilled these duties more than adequately consistently, and furthermore, with a very positive attitude and good energy. Laura has proven herself to be proficient in photography, and demonstrates reliability whenever called upon. I gladly consider her a more than valuable member of the team who has consistently achieved good results.
Jim Tuohy
Head of Parkour Ireland Public Relations Team
You can view examples of her work in the photographs featured below: