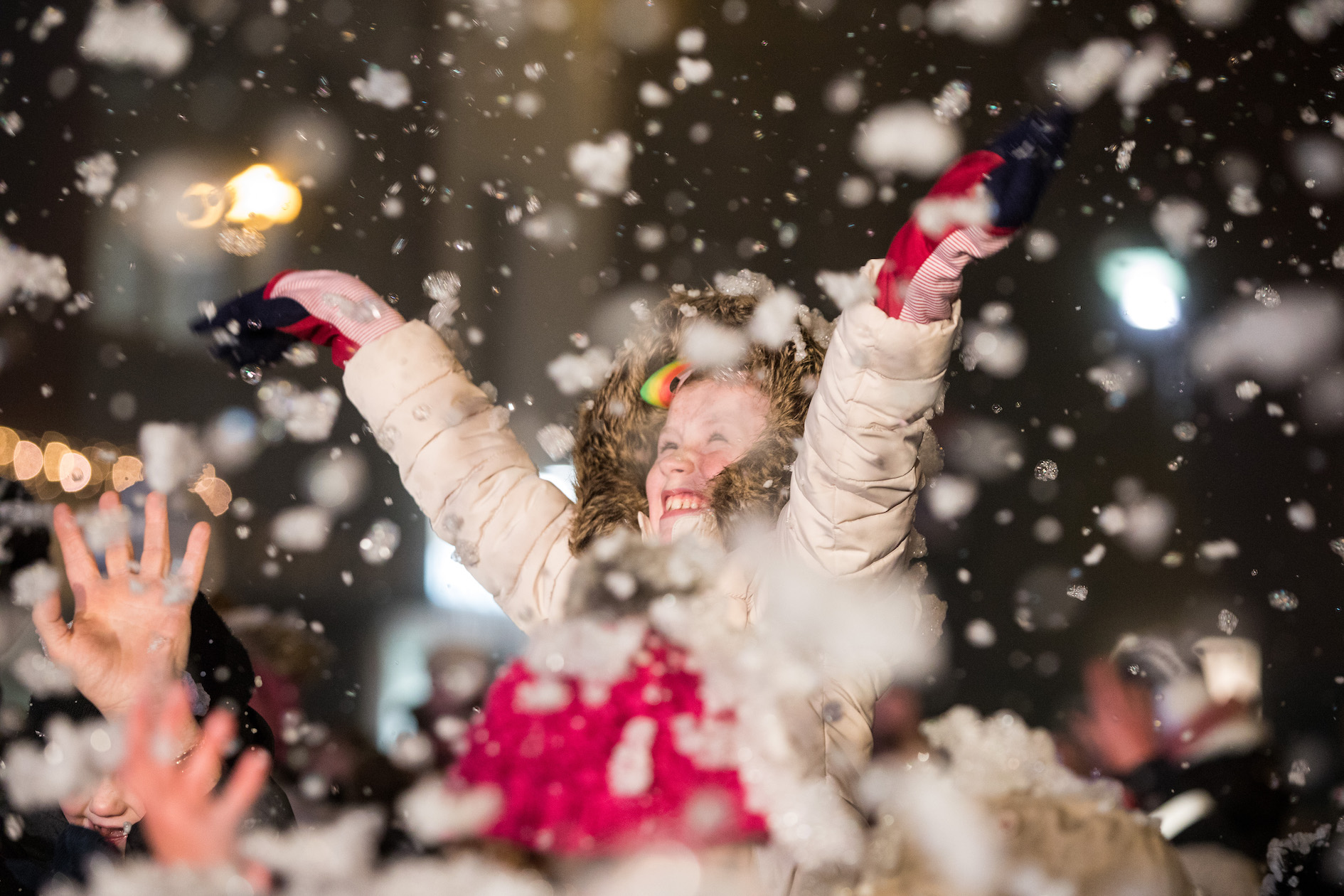 Vicky Phelan will Light Up Limerick 2018 as feast of fun for Christmas is unwrapped in Limerick
Thousands of people turned out last year to attend the 'Light up Limerick' switching on ceremony organised by Limerick City and County Council, in partnership with Limerick Chamber, Light Up Limerick 2018 promises to be as spectacular. Picture: Sean Curtin // True Media
Vicky Phelan will Light Up Limerick 2018 as feast of fun for Christmas is unwrapped in Limerick
Limerick campaigner Vicky Phelan and family will be the Mayor's guests of honour at this year's spectacular Light Up Limerick 2018 event marking the start of the Christmas season.
They will be joined by Elsa, Anna and Olaf from Frozen to officially transform the city into a magical wonderland on Sunday 18 November 2018. Thousands of people are expected to attend the Light up Limerick event organised by Limerick City and County Council, which takes place on O'Connell Street from 4.30pm.
As part of the launch of its Christmas marketing campaign, the Council has announced that the award-winning Toots Christmas Train will arrive in Limerick for the festive season. Starting at King John's Castle's Magical Christmas, Toots Christmas Train will travel around the city centre allowing families to experience the spectacular line up of festive events, traditional food and craft markets, exciting entertainment and the impressive display of Christmas lights.
Light Up Limerick 2018 kicks off more than a month of festivities and family friendly events across the city which include:
As part of Christmas in Limerick, hundreds of additional free car parking spaces will be provided with Park & Strides and Park & Rides available around the city. New sites this year include the Irish Rail Depot, Great National South Court Hotel in Raheen and University of Limerick.
Free Park & Stride (9am to 9pm)
Cleeve's Site, O'Callaghan Strand from 07 to 31 Dec 2018 inclusive
Limerick City and County Council Car Park, via Nicholas Street on 08 & 09, 15 & 16 and 22 – 24 Dec 2018 inclusive
Irish Rail Depot, Roxboro Road on 08 & 09 and 15 – 24 Dec 2018 inclusive
Park & Ride (9am to 9pm)
The Great National South Court Hotel, Raheen 08 & 09, 16, 22 & 23 Dec 2018 inclusive
University of Limerick 08 & 09, 15 & 16, 22 & 23 Dec 2018 inclusive
Motorists using the Park & Rides will then board regular Bus Eireann scheduled services 304, 304A (from both sites) and 301 from Raheen. A real-time information app can be downloaded from the National Transport Authority , Use a Leap Card for the best bus fares.
As always parking in the city centre is available on-street and in multi-storey car parks. Download the Limerick e-parking app, or pay by phone or disc. On-street car parking is free after 5.30pm daily and is always free on Sundays.
In Abbeyfeale, Kilmallock and Newcastle West, motorists will get an extra two hours free parking in each of the towns from 2.30pm daily from 07 until 31 December inclusive. They already have their first hour free.
Mayor of the City and County of Limerick Cllr James Collins said: "Christmas is a wonderful time of year, and it is magical in Limerick, with the lights turned on, the atmosphere is amazing."
"Christmas is a time for families and I'm hoping that hundreds of families will come out and celebrate the turning on of Limerick city's Christmas lights. It is always a fantastic occasion and shows Limerick at its very best."
"As the holiday period approaches I'm calling on everyone across Limerick city and county to come out in force, shop local and support our businesses."
Vicky Phelan said: "I am honoured that my family has been asked to turn on the Christmas lights in Limerick this year. It means an awful lot to me to be asked. My children absolutely love everything to do with Christmas so to be chosen to get Christmas started for such a special event will really get them in the Christmas spirit very early."
Laura Ryan, Head of Marketing and Communications with Limerick City and County Council said: "A six week campaign showcasing just how special Limerick is at Christmas time begins this week and I'm delighted that so many local companies have come on board with us this year, especially Arthurs Quay Shopping Centre, King John's Castle/ Shannon Heritage, Specsavers, SuperValu."
"Our aim is to highlight the packed calendar of events and the unique city centre atmosphere that make Limerick special at Christmas time. I'd encourage everyone to keep an eye on our website at Limerick.ie/Christmas and follow us on social media as there really are hundreds of events over the next six weeks and we're issuing an open invitation to all to come and enjoy."
Dee Ryan, CEO of Limerick Chamber said: "Welcome back to Limerick, Santa! The Chamber is very pleased to see you taking up residence in King John's Castle and giving Mams and Dads another reason to bring the kiddies to town for the unbeatable Limerick Christmas atmosphere."
"Nothing compares to wrapping up warm, strolling around streets under twinkling lights and sampling that crisp, day-to-night atmosphere you only get in a city."
Sheila Deegan, Culture & Arts Officer with Limerick City and County Council added: "Christmas in Limerick is one my favourite times of the year. This year the festive atmosphere in the city centre will be enhanced particularly by the presence of the award winning Toots Train that will be a family attraction to share with friends and visitors over every weekend from the 30th of November until the 23rd of December."
"We are delighted to be working with a wider group of stakeholders to deliver lively cultural offerings in the city centre, including a busking competition on Upper William Street, musical treats on Bedford Row, and a Christmas market on Cruises Street to get shoppers into the Christmas spirit."
Light Up Limerick 2018 andThe Christmas in Limerick programme is being co-ordinated by Limerick City and County Council's Culture & Arts Department and Marketing and Communications Department.
All details about Light Up Limerick 2018 and what's on in Christmas in Limerick 2018 will be available in the Christmas In Limerick 2018 brochure from Sunday 18 Nov 2018 with 100,000 copies to be distributed across the mid-west.
Keep up to date with all things Christmas in Limerick here.