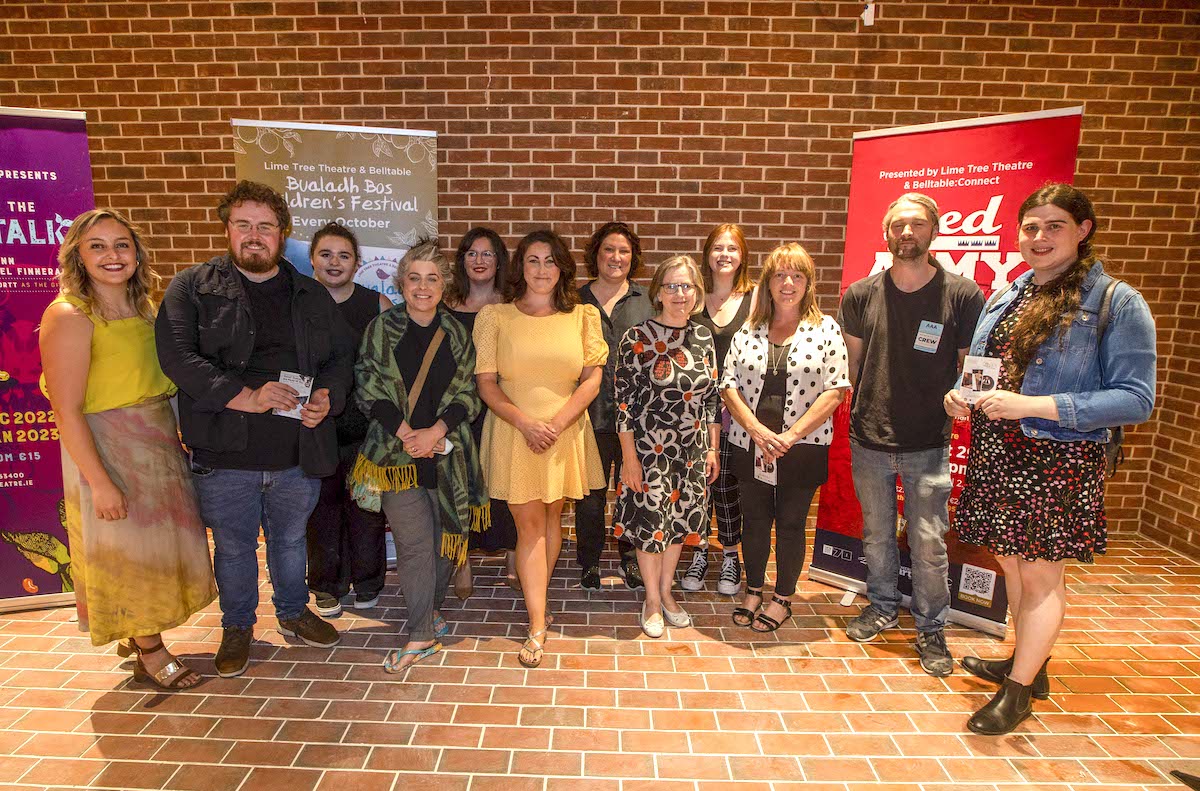 Lime Tree Theatre Belltable Autumn season offers an amazing line-up of live performances
Lime Tree Theatre Belltable team pictured at the launch – Sadhbh McCoy, Liam McCarthy, Zara O'Donnell, Joanne Ryan, Gill Fenton, Georgina Miller, Sarah Lynch, Louise Donlon, Caitriona Finn, Sharon Kiely, Jay Kavanagh and Lauren McNamara. Picture: Ken Coleman.
The main flagship event of the season is the world premiere production of Red Army by two Limerick writers, Helena Close and Maria Boylan
This autumn Lime Tree Theatre and Belltable reconnects Limerick audiences with a brand new season of fantastic live performances.
Launching in the wonderful setting of the new International Rugby Experience building, guests are reminded of how important the collective experience of live performance is when listening to Limerick's very own soprano Jean Wallace entertain guests with a rendition of Munster's Stand up and Fight.
The International Rugby Experience building was the perfect backdrop to kick start a very busy season for the Lime Tree Theatre and Belltable. This autumn's season marks the venue's 10th anniversary since founding in 2012. It's not surprising all the stops were pulled out for this upcoming programme, by far their most ambitious.
The main flagship event of the season is the world premiere production of Red Army by two Limerick writers, Helena Close and Maria Boylan. As Lime Tree Theatre | Belltable moves into a role of producing, working on this show is an exciting project for all the team. After many attempts at presenting Red Army over the past two years, the Lime Tree team are so delighted to be in a position to showcase and support Limerick stories in front of a live audience. The run of Red Army has 9 performances on the Lime Tree Theatre stage this October. 
Another exciting element of the autumn programme is Bualadh Bos Children's Festival 2022. For the first time arts practitioner Liam McCarthy curates Limerick's annual children's festival. This is the only festival dedicated to children's professional work in the Midwest region. The Lime Tree will host the best of national and international theatre, as well as an array of workshops and community events through the Bualadh Bos On Tour programme. This year the popular family day runs on October 8 at the Lime Tree Theatre and includes the inaugural Bualadh Bop with Firestorm presented by Rogu, a DJ set with Aoife Nic Canna and storytelling with Sinead O'Brien. The programme is jam-packed and there is something for every child to engage with the festival over the two weeks run from Oct 1 to 14.
Also as part of the Lime Tree Theatre's continued commitment to mentor and develop artists in Limerick, they are delighted to present their first professional Panto this Christmas. Limerick actors Aidan Crowe and Jessica Bray will join the stellar team already on board; Mike Finn (Writer), Michael Finneran (Director), Noel Lennon (Music Director) and Pamela McGlynn (Choreographer) for a 32-performance run from December 9 to January 8, 2023. Jack and The Beanstalk ensemble auditions will take place in the coming weeks and will be open to all. The theatre's long-term plan to keep local professional artists and supporting art-workers employed in the city will ensure a vibrant arts sector in Limerick for the next 10 years. 
College Players return with their interpretation of Limerick's much loved Pigtown, the Cecilian Musical Society present the fabulous 'Oklahoma!' for all musical lovers. The Limerick Jazz Festival, the Polish Arts Festival and the Richard Harris International Film Festival are all back with a full programme of events, all returning to reconnect with audiences. 
For more information on Lime Tree Theatre Belltable Autumn season, go HERE 
For more theatre stories, go HERE