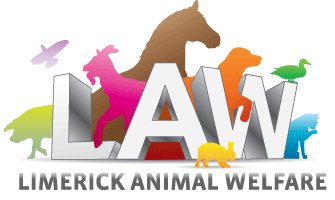 Limerick Animal Welfare need your help in Supporting and Rehoming their Four Legged Residents.
By I Love Limerick correspondent Irene Bermingham.
Limerick Animal Welfare need your help in supporting and rehoming some of their most beloved canine friends. LAW is currently experiencing significant difficulty in raising much-needed funds, for the continuous care of the unwanted and mistreated animals in the Mid-West region. 
Caring for the animals of LAW often involves a lot of time and money. LAW are very aware of the financial strains many families continue to face in 2016. However, a donation as small as €5.00 could mean one less dog or cat has to sleep on the streets tonight, hungry, cold and endangered.
Limerick Animal Welfare is made up of local volunteers, who do all the work unpaid. Although the volunteers love their work and do not want payment, funds are needed quite urgently to care for all of these mistreated creatures who deserve none other than love and health. 
LAW provide both medical care and love for stray and abandoned animals until they have recovered and are ready to be rehomed. Despite common misconceptions, Limerick Animal Welfare is not part of Limerick dog pound. Dogs are not the only furry friends at the sanctuary. There is everything from horses and goats to pot belly pigs. 
LAW's fundraiser, Helena Pryor, wanted to voice LAW's gratitude towards the people of Limerick and beyond, "The public are very supportive and generous towards. Without them, we genuinely would not be able to stay open."
Two little Jack Russel Terriers which need help to find a home are mother and daughter, Tiny and Missy. Tiny is 13 years old and Missy is 7 years old. Their owner passed away, leaving them homeless. LAW are finding it difficult to get that special person to take both mammy and daughter.
Tiny and Missy are two sweethearted, healthy dogs. They enjoy a stroll each day and like a sound sleep at night. The adoption fee has been waived for these two pets, but LAW would appreciate any small donation to help out other animals in their care. If you would like to help out Tiny and Missy in finding their happily ever after please contact LAW at 063 91110.
Another beautiful fella who has been waiting for a place to call home, for a year, is Noel. Noel is a super good dog that gets on with everyone in kennels, males females and pups. Noel is house trained, loves his walks and needs to have a home of his own. A secure garden would be ideal, as Noel has a wandering nature. Noel would love a human friend to be at home with him part of the day. He is fully vaccinated, neutered, chipped and even has his very own passport for anyone who would like to take him on holiday. So if you have room in your home or heart for this lovely boy, please call LAW at 063 91110.
LAW urge the public to always be cautious when buying pets and not to rule out adoption. They also ask all dog owners to microchip their pets. 
For anyone interested in visiting the sanctuary, it is open every day between 11 am and 3 pm. Both LAW's volunteers and four-legged residents would be delighted to see you. Limerick Animal Welfare need dog walkers and volunteers. Anyone over the age of 16 can join LAW's army of animal carers. 
Remember all donations, no matter the size are always most appreciated. Food or item donations are also welcome.  
Check out the LAW website here 
To make a donation Text LAW4 to 50300 or click here
Find LAW on Facebook here
Read more of Limerick's latest news here