Limerick Celtics Basketball Awards 2014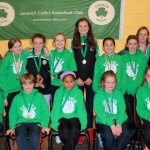 Limerick Celtics Basketball Club their annual awards at the Salesians School Gym. In the past the girls and boys teams have won Munster Titles, Cork Titles, All Ireland Titles and much more and 2 of their players have made the Irish International Team for U18's.  Limerick Celtics is the largest Basketball Club in Limerick catering for both boys and girls from the age of 8 up to Seniors. Congrats to all!
To see photos from last years awards go HERE.
IF YOU WANT TO BUY PRINTS OF ANY OF THE PHOTOS BELOW, THE PHOTOGRAPHER WILL SELL THEM TO YOU. If you hold you mouse over the photo it will give you a photo number and the name of the photographer is on the photo. Email both to [email protected] and we will connect you to the photographer so you can buy the print directly from them. Thank you.
Pictures by Chris Luszcski for ILoveLimerick.com 2014. All Rights Reserved.