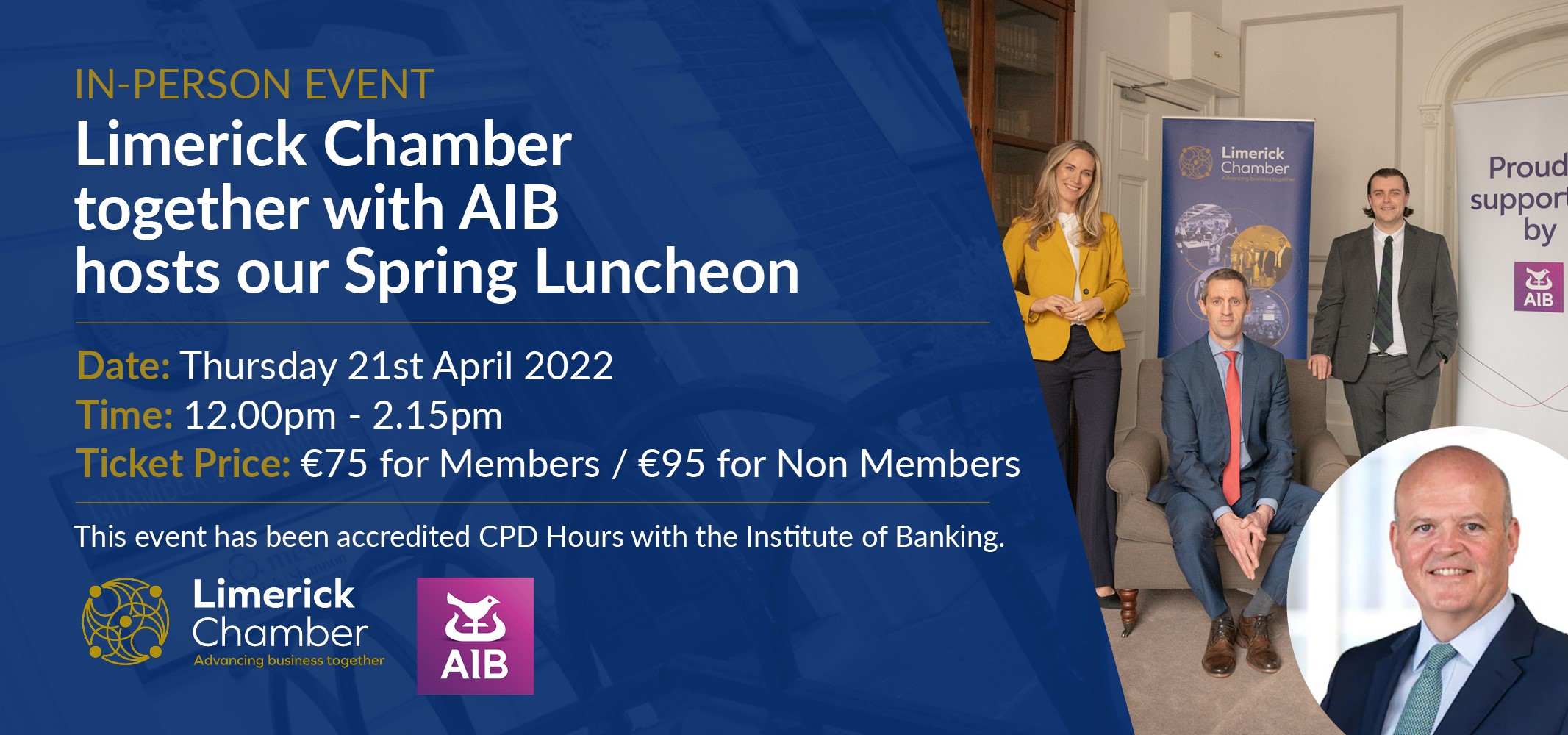 Housing, Energy and Midwest Economic Insights: CEO of AIB, Colin Hunt keynote speaker at Limerick Chamber Spring Luncheon
Limerick Chamber Spring Luncheon will take place on Thursday, April 21 from 12pm-2:15pm at the Savoy Hotel.
The Limerick Chamber business lunch is hosted in collaboration with AIB
Limerick Chamber has announced AIB CEO Colin Hunt as the keynote speaker for the upcoming Limerick Chamber Spring Luncheon taking place at the Savoy Hotel on Thursday, April 21. The event, which is CPD approved, offers an opportunity to hear directly from the CEO of one of Irelands largest banks about the significant transformational changes to the bank driven at pace due to the Pandemic. Mr Hunt will speak about how restrictions which upended how consumers engaged with banks, presented an opportunity to embrace digitisation of their offering and how their people worked.
The Limerick Chamber Spring Luncheon, originally scheduled to take place in 2020, will take place on Thursday, April 21 from 12pm – 2.15pm at the five-star city centre location.  In addition to leading transformational change, Mr. Hunt is expected to speak on the future of business, with special focus on innovation in industry to respond to the interlocking housing, energy and climate crises.
A briefing will also be provided by Limerick Chamber Chief Economist, Sean Golden on the latest Midwest economic trends which affect regional business owners.
Dee Ryan, CEO of Limerick Chamber said, "We are delighted to deliver this in-person event for the Limerick and Midwest business community, offering an opportunity to get together and network over a delicious lunch and to hear directly from one of the leading players in the Irish banking and finance sector.  AIB, as one of the country's two largest retail and commercial banks, has insight into market trends and industry development which we know our members will find valuable.  I'm looking forward to hearing from Colin about what he sees emerging in terms of sustainability and opportunities that businesses should be considering.
"In addition to Colin, we have our own Midwest specific economic analysis to deliver, and my colleague Sean Golden will have the latest in terms of regional employment, housing and transport to share with attendees. 
"Limerick Chamber is pleased to be able to collaborate with AIB to deliver this much-anticipated event, and I look forward to welcoming Colin Hunt to Limerick."
The Limerick Chamber Spring Luncheon is an event not to be missed, some tickets are still available at a cost of €75 for members and €95 for non-members. Few seats remain in advance of the event and prompt booking is advised.
To get your ticket to the Limerick Chamber Spring Luncheon, go HERE
For more stories on Limerick Chamber go HERE