Limerick Combat Gym Fight Night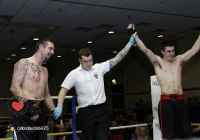 Limerick Combat Gym held their Fight Night at the Southcourt Hotel. Limerick Combat Gym is one of the largest and most active Kickboxing Clubs in Limerick, with more than 100 members and class sizes of over 20. Our Instructors have over 30 Years Kickboxing and Competitive Martial Arts experience.
Master Tony O'Donnell is the gym's chief instructor. Tony is a Sixth Degree Blackbelt and is a 7 times Irish Kickboxing champion. He is an international Referee and Judge and has been a Martial Artist for over 30 years.
Our students also compete in Kickboxing Exhibition Fight Nights and external Martial Arts Tournaments. Our Kickboxing Club Instructors make your Safety a Number One Priority and are dedicated to helping you achieve your full potential.
Go to the Limerick Combat Gym's Facebook page or their website HERE for more info.
For more stories about Limerick, click HERE.
Pictures by Carlos Dasco for ILoveLimerick.com 2013. All Rights Reserved.