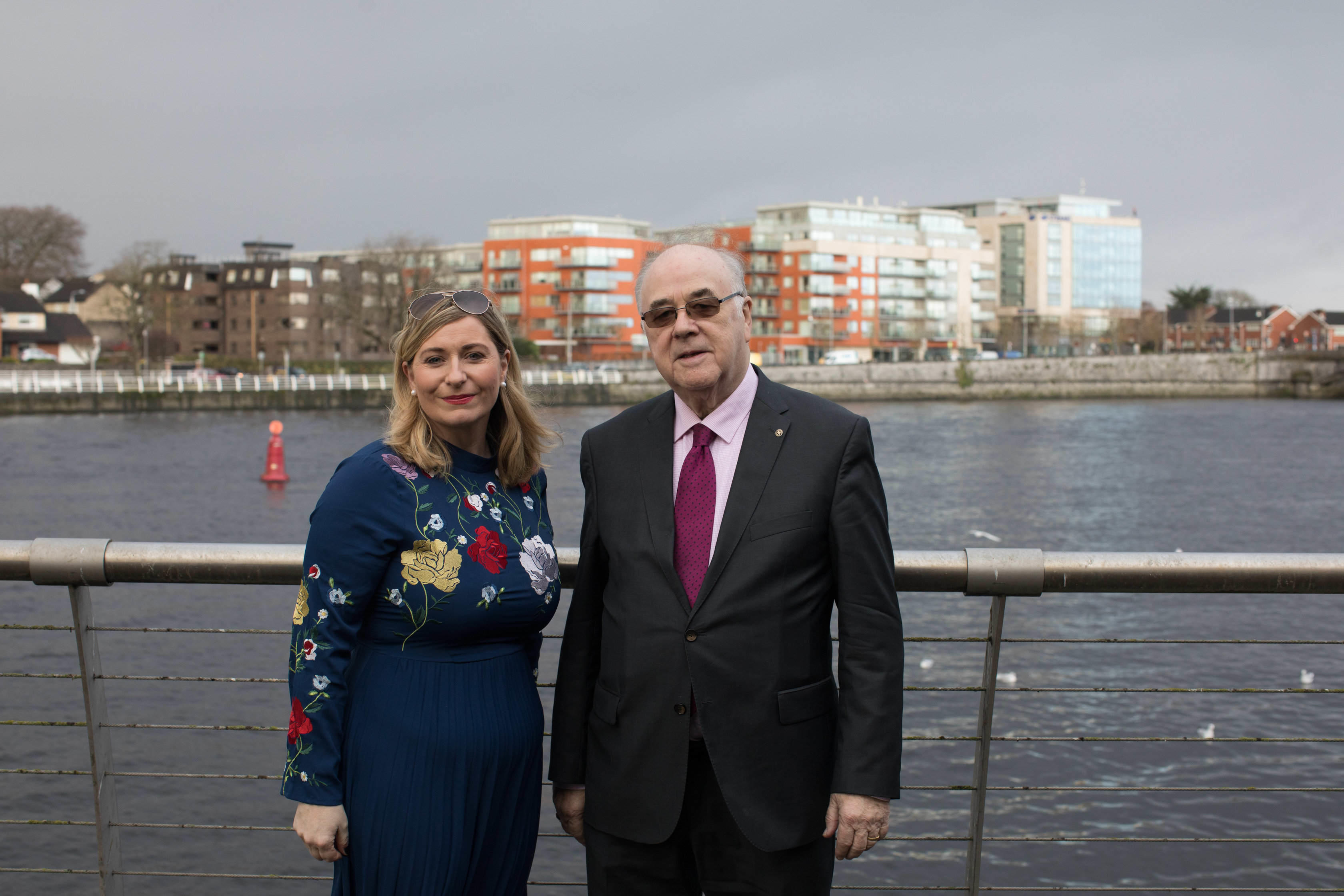 Celebrating another successful year the Shannon Bureau calls for Limerick Convention Centre
Karen Brosnahan, Manager of Shannon Conference and Sports Bureau with Tony Brazil, Chair Shannon Conference and Sports Bureau, promoting the need for a Limerick Convention Centre.
Celebrating another successful year the Shannon Bureau calls for Limerick Convention Centre
Shannon Conference and Sports Bureau has reported a record year in 2018 with over 7.5 Million Euro worth of business tourism benefiting the Shannon region. This is a tremendous achievement in the absence of a large capacity Conference type venue. As part of the Bureau's strategic plans for the future, it recommends the development of a large multi-purpose conference venue located at the Cleeves Factory site in Limerick. A Limerick Convention Centre will ensure the region continues to gain its share of this fast-growing market both nationally and internationally.
These recommendations for the Limerick Convention Centre were discussed at a recent 2019 Bureau planning meeting, which outlined how the Midwest can capitalise on lucrative business and Sports tourism opportunities. High on the agenda was the potential for the Cleeves factory site as an ideal location for a proposed large-scale venue.
Speaking about the Cleeves site in particular as an option, Tony Brazil, Limerick Travel and Chairman of the board of Shannon Region Conference and Sports Bureau said, "It's the perfect site, city centre, accessible to all types and budgets of accommodation, walking distance to pubs and restaurants and only 20 minutes from Shannon Airport and the world. Business Tourism is incredibly important to Ireland and indeed the Shannon region. Each delegate is worth €1,600 to the local economy, in other words, each 1,000 person event can contribute €1.6 million to the local exchequer."
Speaking about 2018, Karen Brosnahan added that once again the region had excelled in achieving its business tourism targets and together with Failte Ireland and some fantastic ambassadors at the three academic institutions of UL, Mary I and LIT had attracted significant levels of overseas association conferences.
The Shannon Region Conference and Sports Bureau is a public-private partnership. The bureau works in partnership with Failte Ireland to win international business meetings and events for the Shannon region and celebrated 15 years in business in 2018. The Shannon Bureau promotes the Shannon Region as a location for business and sports tourism and offers an entirely free service to event organisers and local ambassadors to help increase the Clare and Limerick regions share of the lucrative international business and sports tourism market. Hundreds of ambassadors have been actively working with the Bureau in recent years to help attract thousands of people to the region through a range of business and sports events.
For more info, contact Karen Brosnahan, Shannon Region Conference and Sports Bureau General Manager at 087 661 6630, or click here.
For more stories about the Shannon Region, click here.