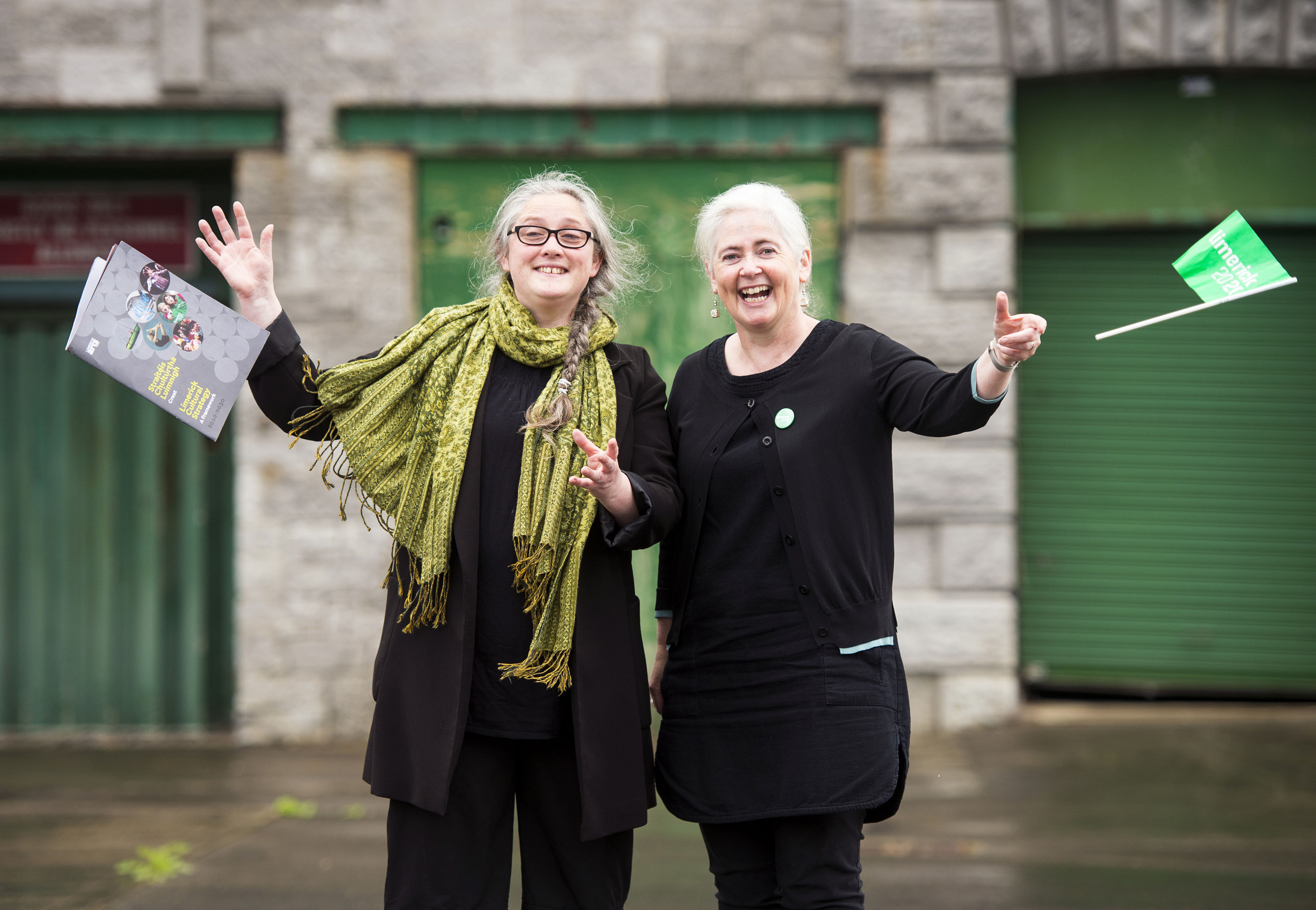 Limerick Cultural Strategy 2016 – 2030 set to grow cultural current engagement to 2030 and beyond
Limerick Cultural Strategy 2016 – 2030 set to grow cultural current engagement to 2030 and beyond
Pictured above at the launch are Ciarda Tobin, Limerick Cultural Strategy Editorial Panel, and Sheila Deegan, Deputy Director, Limerick 2020 bid team. Picture credit: Diarmuid Greene/Fusionshooters

Limerick's cultural resurgence has been given added impetus with the launch of a strategy set to grow cultural current engagement to 2030 and beyond.
Unveiled by Mayor of Limerick City and County Council, Cllr Liam Galvin, the Limerick Cultural Strategy 2016, which will parallel the Limerick 2030 Economic and Spatial Plan, is a roadmap for further cultural development in Limerick  to ensure sustainable, long-term cross-sectoral commitment for the ongoing fostering of this rich part of its heritage.
Limerick City and County Council worked in partnership to create this strategy with the Limerick Arts and Culture Exchange (L.A.C.E) and Professional Limerick Artists Network (PLAN). Council departments, citizens, businesses and voluntary and community organisations across Limerick also took part in creating this strategy.
The strategy is built on a partnership approach in which the local authority works closely with all agencies and individuals who have an interest in, or are actively involved in cultural provision. The 2030 Cultural Strategy will act as a catalyst for further step-changes in Limerick's cultural development, building on the success of National City of Culture in 2014 and Limerick's bid for European Capital of Culture 2020.  It is a forward looking strategy that sets out the building blocks for sustaining cultural development in Limerick. It hopes to strengthen the capacity of the cultural and creative sectors and developing long-term links between the cultural, economic, physical and social sector.
It will also generate a greater local, national and international understanding of the transformative power of culture in Limerick, through its citizens, artists, cultural sector and all those who use their creative skills to find new ways of belonging to Limerick and to each other.
The strategy identifies that the National City of Culture, 2014 designation provided a powerful legacy. It has, the report continues, unleashed a real desire from within the citizens of Limerick to harness this potential and develop vibrant cultural resources, skills and talents to drive further physical, economic and social renewal.
It has also provided the platform for Limerick's bid for European Capital of Culture 2020 which lies at the heart of the 2030 Cultural Strategy and infuses it with a drive and ambition not seen before in Limerick.
"Limerick has learned many lessons from the successes and challenges during its experience of being awarded Ireland's first National City of Culture 2014. It is now taking that experience to lead the development of a comprehensive and coordinated cultural strategy for Limerick working in partnership with others," the report states.
The 2030 Cultural Strategy recognises that culture is not an optional extra, but an inherent element in physical, social and economic revitalisation and in the quality of life and personal well-being of individuals.
Said Mayor of Limerick City and County Council Cllr Liam Galvin:  "Limerick has a proud and rich history and heritage that has informed our culture. Our cultural life helps us to shape our understandings of the world and our identities.
"We have seen the successful delivery of Limerick National City of Culture 2014 and building on that Limerick's Bid for European Capital of Culture 2020 continues the process of embedding culture into our Local Authority strategies. Limerick values its cultural achievements and recognises and embraces the potential for major international success. This Cultural Strategy Framework allows us to strategically plan and look to the future to ensure culture continues to contribute to a vibrant Limerick, in developing the city and region.
"This is an exciting opportunity to invest in culture, to bring new energy, synergies and excitement to all of Limerick's citizens."
Deputy Director, Limerick 2020 Bid Team Sheila Deegan said:  "The development of a new Cultural Strategy for Limerick presents an opportunity to re-imagine Limerick, draw together its indigenous creativity, reach out to citizens as collaborators and realise a new dynamism for building and enriching our future.
"Limerick has always been a place of culture but we have been slow to shout about it. However, the perceptual change since hosting the first National City of Culture in 2014 has given voice to the power of culture to transform.
"The new Cultural Strategy for Limerick celebrates and recognises the multiplicities that make Limerick unique, colourful and diverse. It is a chance to collectively tell a powerful story about the valuable impact this strategy can make."
The Cultural Strategy is designed to effect change in the way things are done in relation to culture in Limerick through eight ambitions and objectives.
The Limerick Cultural Strategy 2016 – 2030 aims to grow Limerick's cultural capacity by retaining and attracting creative practitioners to live and work in Limerick. To grow the physical and human resources, infrastructure and support for staging large scale interventions, performances, festivals and productions. To support and grow innovative and creative collectives in Limerick.
The Limerick Cultural Strategy 2016 – 2030 foster multiple examples of imagination, innovation and integration in Limerick and to use creative approaches to help citizens and visitors re-imagine Limerick. To place culture at the heart of the economic growth and regeneration of Limerick.
Lastly, the Limerick Cultural Strategy 2016 – 2030 hopes to engage citizens through involvement in culture. To become a centre for active research and problem-solving in culture that will have local, national and European significance. To increase and support the role of the creative industries in Limerick.
To check out the Limerick Cultural Strategy 2016 – 2030 click here.
For more stories from us at I Love Limerick about culture in Limerick click here.