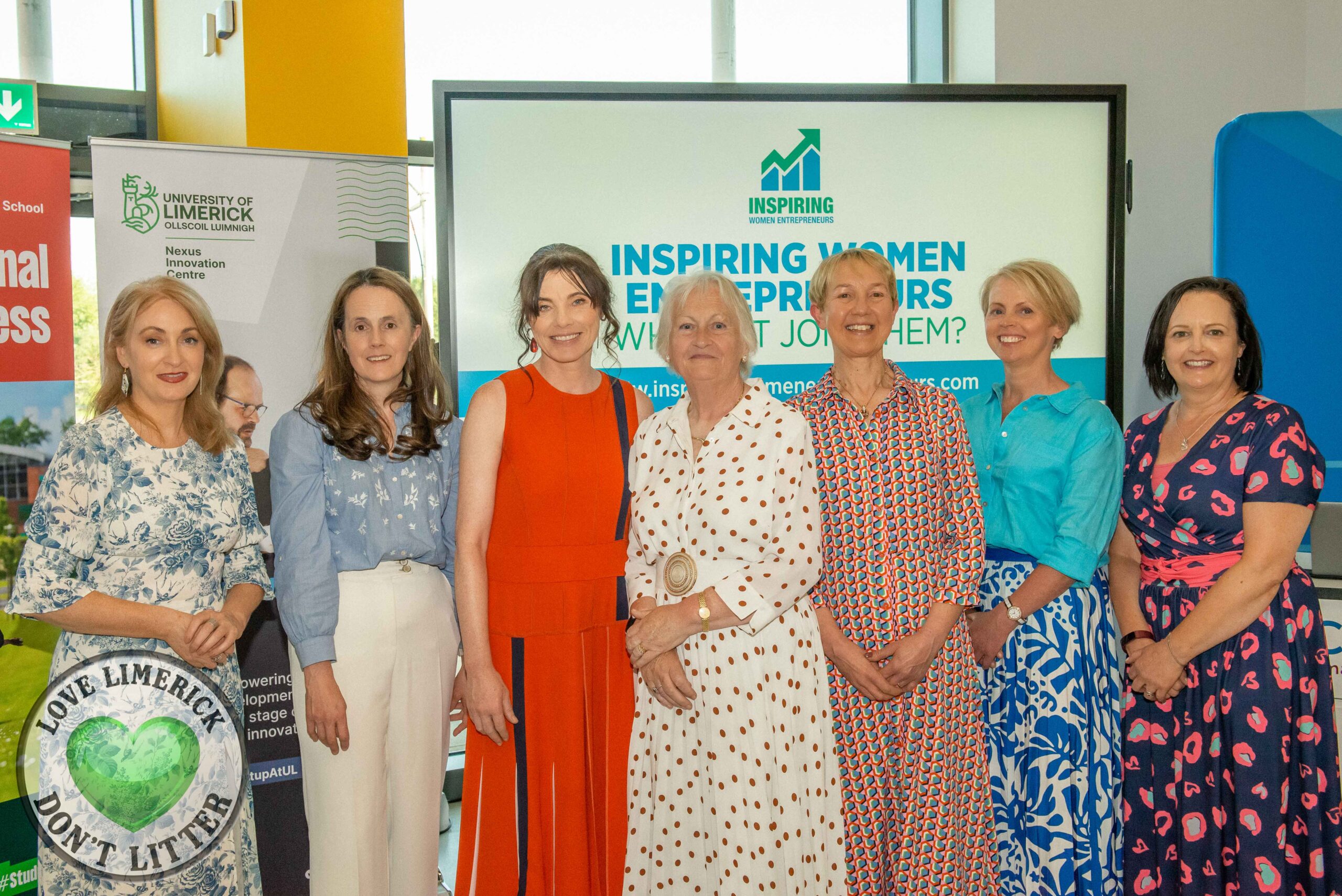 PHOTOS Inspiring Women Entrepreneurs event 'inspires the next generation' of female entrepreneurs
Leonora O'Brien, Pharmapod founder, Jennifer Corley, Equitrace, Dr Tara Dalton, Altratech CEO, Paula Fitzsimons, Inspiring Women Entrepreneurs, Dr Briga Hynes, Kemmy Business School, Christina Clancy, Enterprise Ireland, Gert O'Rourke, Nexus Innovation Centre. Picture: Olena Oleksienko/ilovelimerick
UL's Nexus Innovation Centre and the Kemmy Business School hosted an 'Inspiring Women Entrepreneurs' event to 'inspire the next generation'
A special event took place for women who wish to learn more about the spark that ignited the entrepreneurial fire in three different women, who became successful and innovative entrepreneurs.
UL's Nexus Innovation Centre and the Kemmy Business School hosted an 'Inspiring Women Entrepreneurs' event on May 30 at University of Limerick with support from Higher Education Authority. The initiative aims to encourage female executives, professionals, and academics to consider the idea of setting up their own innovative, scalable business, focused on export markets.
Paula Fitzsimons of Inspiring Women Entrepreneurs told I Love Limerick, "We developed inspiring women entrepreneurs to inspire the next generation of female entrepreneurs. It's the latest in the going-for-growth Suite of initiatives and we're looking for women who want to start ambitious, Innovative, high-growth businesses. We're going to support them and assist them to do just that, and to realise their growth aspirations."
On the night, three entrepreneurs, shared their stories and insights so that others may be inspired to consider following in their footsteps, speakers included Dr Tara Dalton, Leonora O'Brien, and Jennifer Corley.
Dr Tara Dalton, Altratech CEO, spoke to I Love Limerick about the motivation of being an entrepreneur, "I'm an academic and as an academic you have a lot of freedom. When you have a lot of freedom I think you really are in a privileged position, and you just have to make everything that you do count."

"You have to lead by example if you want other people, especially my students I certainly want to be a role model for them and to see that it can be done," added Dr Darlton.
Leonora O'Brien, Pharmapod founder and currently Jury President of Europe for the Cartier Award said when offering advice to other entrepreneurs, she would advise them to spend time on "validating" their idea.

She said, "I think one of the things that I would suggest doing is to spend a lot of time on validating your idea because I think a lot of people they get a great idea and then they jump straight into website logo development and then finessing a product to perfection. But I would spend a great deal of time talking to your potential clients and validating the size of your market."
Jennifer Corley a veterinary medicine graduate, who set up the companies Veterinary Advances, and EquiTrace spoke about the obstacles faced for women entrepreneurs, noting investment can often be difficult to overcome despite figures showing female entrepreneurs can return almost double on investments.
"For anyone starting out in business access to funding can be a real problem, and particularly for female entrepreneurs who are currently only getting around one per cent of venture capital investment despite the fact that females return about two dollars for every one dollar invested," said Jennifer Corley.
Speaking about the importance of these events, Gert O'Rourke said, "Coming to events like this means you're surrounded by people who have already taken the steps that you want to take and have done what you want to do. You can connect and Link with them and they can guide and support you to do it."
The evening concluded with a networking event, providing an opportunity to meet the speakers in an informal manner, share ideas and meet representatives of Enterprise Ireland, Nexus and the Kemmy Business School, among others.
Find out more here.
Read similar stories here.
Pictures: Olena Oleksienko/ilovelimerick