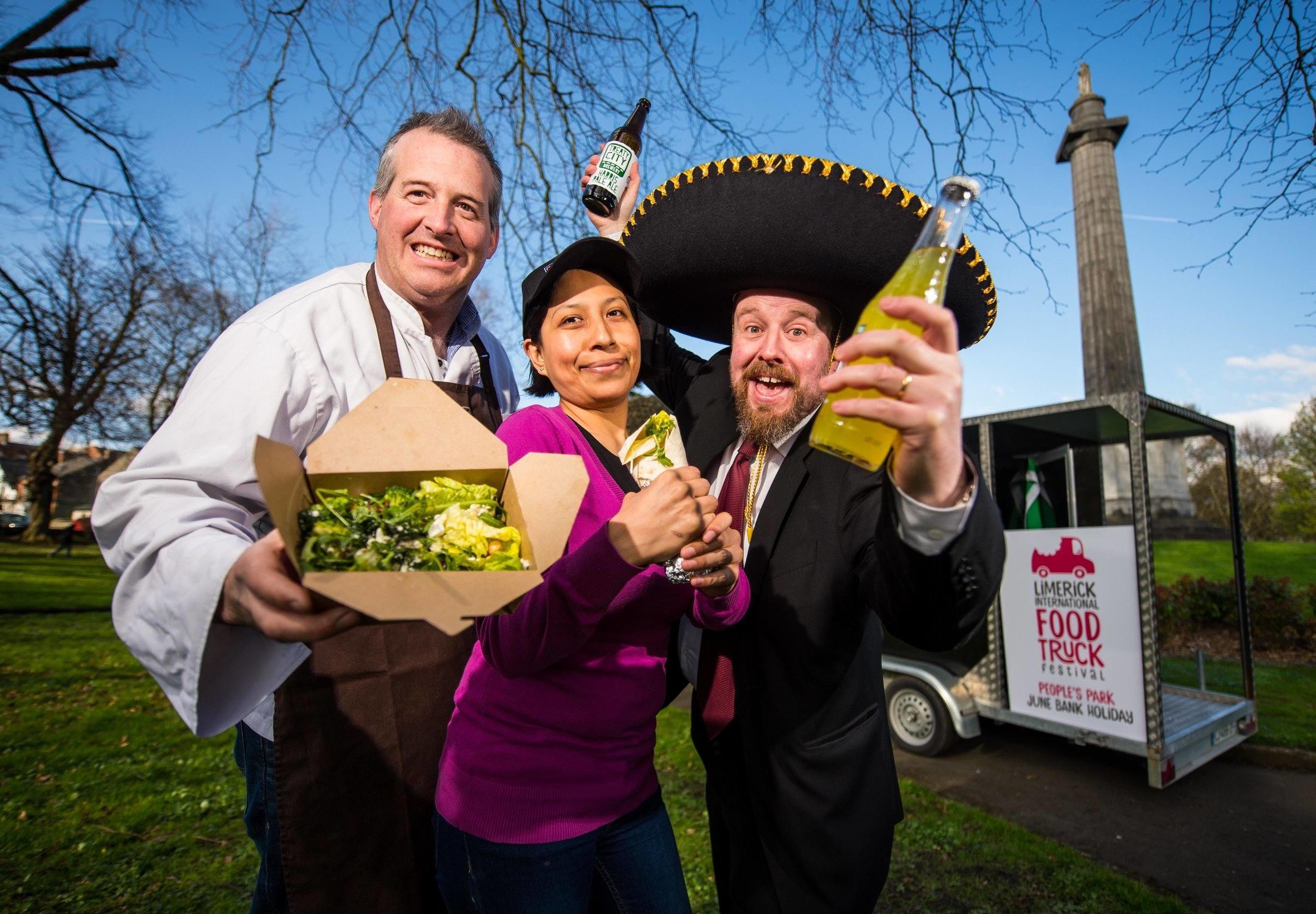 Limerick International Food Truck Festival confirmed for June Bank Holiday weekend 2017
Pictured in Limerick's People's Park at the launch of the Limerick International Food Truck Festival and Craft Beer Festival are, Tommy Relihan, Adare Farm, Jacqueline Conaghan, 'Mexican Food Dudes', and Simon Woods of Keeper Media. Photo: Diarmuid Greene / True Media
Limerick is set to attract over 40,000 visitors to the city this June Bank Holiday weekend after landing the largest food truck festival in Europe.
The Limerick International Food Truck Festival is the first dedicated event of its kind to take place in Ireland and will be based in the heart of Limerick city's People's Park from 1st-5th June 2017. The event will see an explosion of international cuisine with more than 60 food trucks from 14 countries taking part in the European Food Truck Association's annual festival along with local and national traders.
Festival-goers will be treated to some of the most appetising, innovative, original and exotic foods imaginable with a new twist on some old classics like pizza, pasta, fries and gourmet sandwiches along with many never before seen dishes on Irish shores.
Highlights will include a Belgian artisan chocolate truck, preparing some spectacular chocolate dishes from scratch, a lobster burger truck and ones serving shark and crocodile treat with even a truck specialising in insect dishes as well as tasty dishes from oriental, American, French, Mexican, BBQ trucks and much more.
The Limerick International Food Truck Festival will also feature live music and a selection of great craft beers on offer as well as lots of family fun entertainment.
The campaign to bring the festival, which will attract some of the most celebrated vendors in what is a rapidly growing European street food phenomenon, is led by well-known food enthusiast, Darragh Ryan, Limerick City and County Council and Alan Woods, President of Food Truck Association of Ireland and co –owner of Mexican Food Dudes. The campaign comes on the back of the Limerick Boardwalk Street Food event that has become such a hit in the city on Wednesday lunchtimes over the summer months.
Said Darragh Ryan: "This is a great moment for Limerick. We have been steadily building a really strong reputation as a culinary city and we have a food strategy that supports that.
"We worked really hard to get this for Limerick and now that we have it we intend to make it a festival that everyone, from the people of the city to international visitors, to remember. It's a great moment for the city to shine. This will be achieved not just with Food Truck vendors but a whole range of entertainment across the People's Park on the weekend that will add to the cultural vibrancy of the city."
Said Alan Woods, President of the Food Truck Association of Ireland, another key driver of Limerick's street food culture: "We are still pinching ourselves over this. We have got a great street food event going in Limerick but this will take us to a level that we would otherwise not have reached in years. "Most of all, our taste-buds will virtually explode with what's on offer. Street food is a modern phenomenon and Limerick does it well. But what we will have over the June Bank Holiday weekend will blow our minds. There will be an unbelievable choice, from every cuisine imaginable, but also unbelievable tastes. We're already counting down the days."
Fabrice Willot, President of the European Food Truck Association added that after the success of the world record breaking Food Truck Festival in Brussels in 2016, the association is delighted to come to Limerick and partner the Limerick International Food Truck Festival. "The European Food Truck Festival tour will see festivals in five European cities in 2017 and promises to be the greatest to date. We know that Limerick will be great hosts to Food Truckers from across Europe and Ireland and the Food Truck family are all really excited to be taking part."
Limerick City and County Council Head of Communications/Marketing Laura Ryan added "This is exactly the type of event we not alone have been looking to attract to Limerick that will not only bring an explosion of culinary treats onto our streets but will bring a huge sense of carnival. The first Limerick International Food Truck festival will also ensure Limerick takes centre stage nationally in 2017 on not just the May Holiday Weekend, which Limerick now dominates with its Riverfest and Barrington's Hospital Great Limerick Run, but also the bumper June Bank Holiday weekend. We're looking forward to unveiling full details of the event shortly." Sheila Deegan, Arts and Culture Officer, Limerick City and County Council said: "The conversation to bring the International Food Truck Festival to Limerick started as part of the Limerick 2020 campaign and I'm delighted that this event is now a legacy of that."
Sheila Deegan, Arts and Culture Officer, Limerick City and County Council said: "The conversation to bring the International Food Truck Festival to Limerick started as part of the Limerick 2020 campaign and I'm delighted that this event is now a legacy of that."
For updates on the Limerick International Food Truck Festival click here
For more information on food in Limerick click here