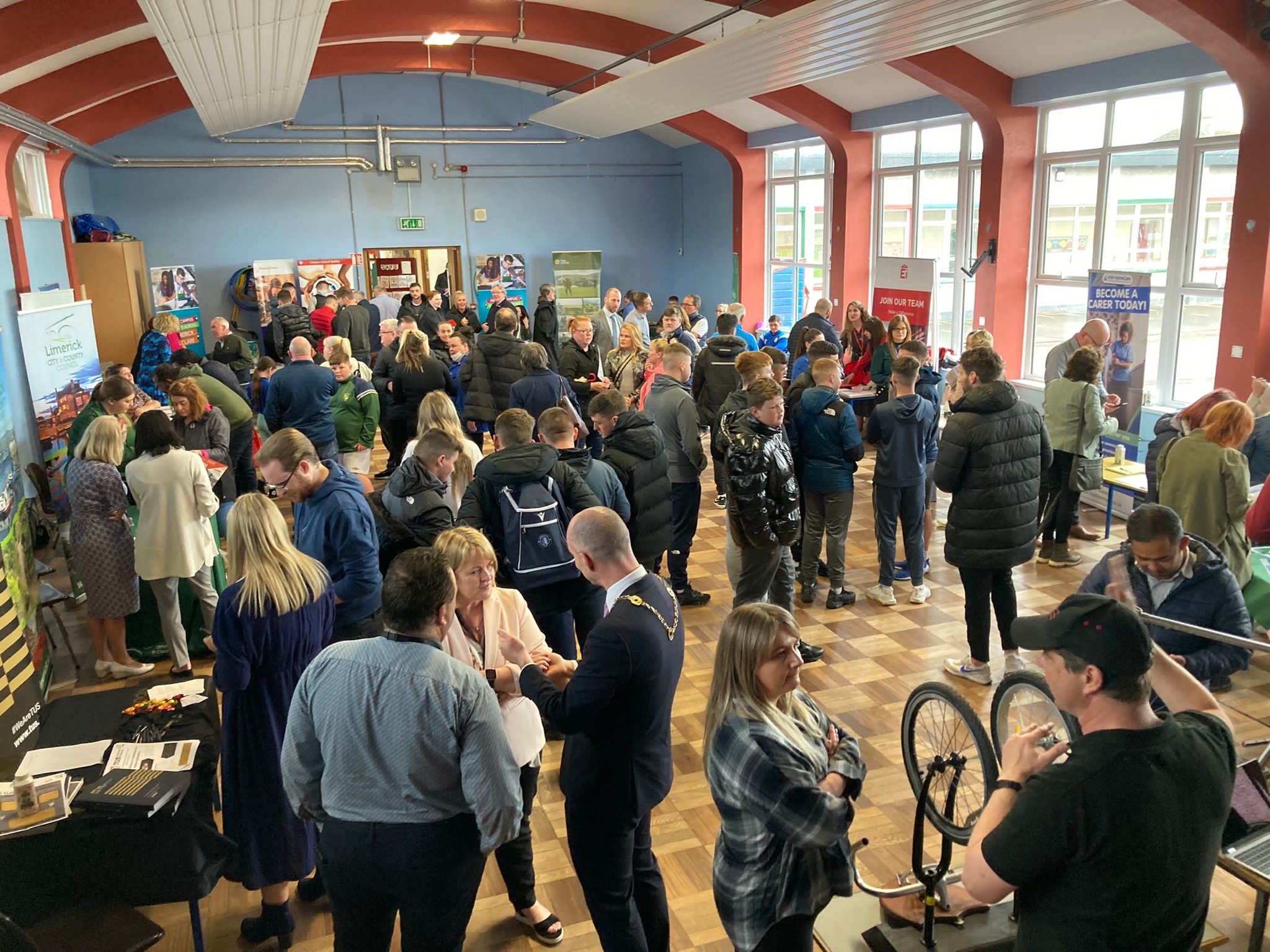 Residents Encouraged to 'Kick-Start Your Career' with companies ready to hire at Limerick Jobs Fair on Thursday, April 20
Limerick Jobs Fair pictured above is coming back to four Regeneration communities for a second year
Popular Limerick Jobs Fair Returns to Regeneration Areas
The Limerick Jobs Fair is coming back to four Regeneration communities for a second year after successfully linking residents with new employers, training and education courses in 2022.
The first of four Limerick Jobs Fair events takes place in Moyross Youth Academy, Moyross on Thursday, April 20.
Residents can embark on their employment journey by directly engaging with employers, educational bodies and other services.
Many of the companies have opportunities available so residents could be taking their first step on a new career path.
Stands at the Moyross Jobs Fair will include:
· Takumi Precision Engineering
· Johnson & Johnson
· STL Logistics
· Speedline Engineering
· Lidl
· Carebright
· Volkswagen Group
· Limerick Youth Service
· Northside Family Resource Centre
· The Defence Forces
· An Garda Siochana
· College of FET, Hospitality Campus
· Department of Social Protection
· Technological University of the Shannon (TUS)
· Limerick City and County Council
· Limerick and Clare Education & Training Board
· FAI ETB Player Development Programme
· Paul Partnership Limerick
· Moyross Community Enterprise Centre
· Bus Eireann
· Grow Remote
The Jobs Fair puts residents in direct contact with companies and provides information on further education and training opportunities. Attendees can also find out about supports available to them.
Mayor of the City and County of Limerick Cllr Francis Foley said: "I am delighted to see the return of the Jobs Fair which was so well received in the Regeneration communities last year. Bringing companies into the Regeneration Areas provides brilliant opportunities for the residents to engage with prospective employers. If your goal is further education, training or employment then I encourage you to get along and kick-start your career at the Jobs Fair."
Joe Delaney, Director of Limerick Regeneration Directorate said: "The Jobs Fair is an initiative of the Outreach to Employment Programme which aims to challenge unemployment within Regeneration communities through an integrated service approach. It is designed to equip unemployed young men and women with the skills and confidence to secure employment and training opportunities. The feedback from employers to last year's Jobs Fair was extremely positive and the communities are welcoming its return this year."
The Jobs Fair will also take place in Ballinacurra Weston, St Mary's Park and Southill on later dates.