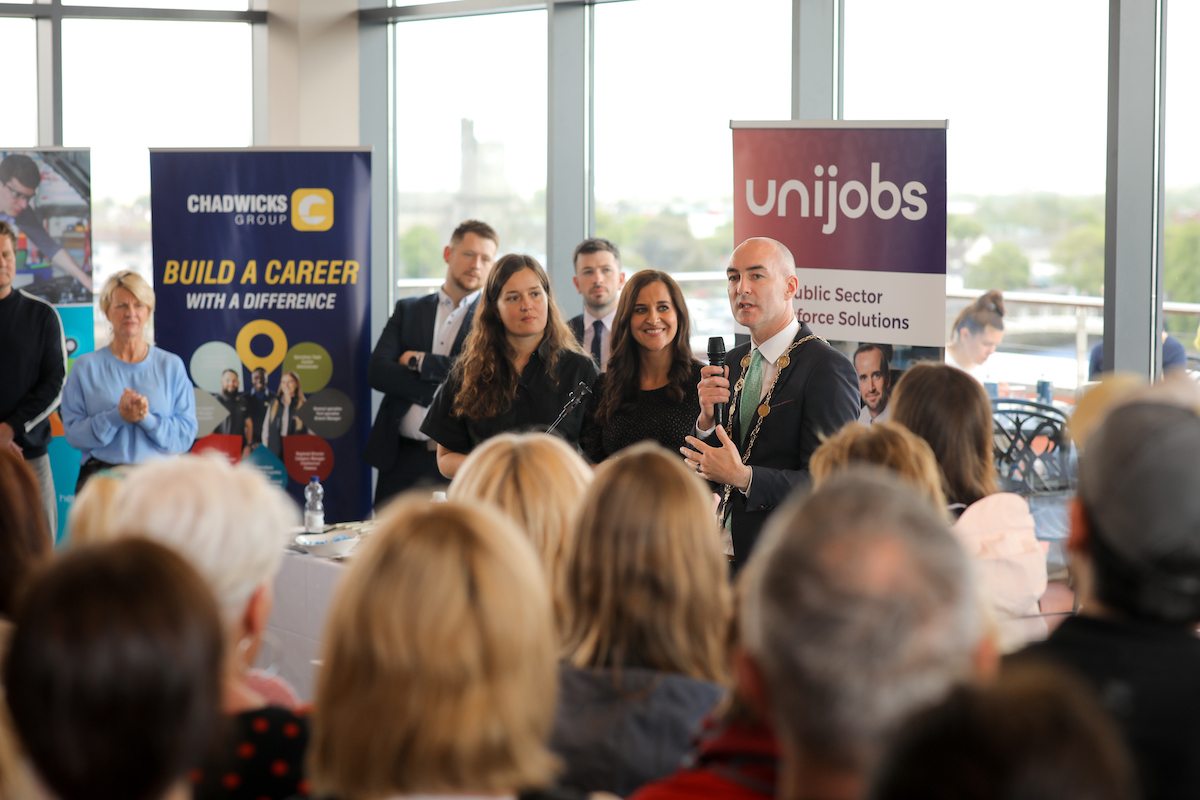 Migrant Expo at the Limerick Strand Hotel offered services and information to Ukrainian refugees
Limerick Migrant Expo gathered all available services and information for migrants seeking employment and education in Limerick and surrounding areas. Mayor Daniel Butler pictured above speaking at the Expo in the Limerick Strand
Ukrainian migrants who attended the expo were provided transfers to and from their hotel locations in Limerick, Ennis and Clare
By I Love Limerick correspondent Ava O'Donoghue
A Limerick Migrant Expo took place in the Limerick Strand Hotel's City View Conference Room on Friday, May 20.
Organiser Anna Mazeika welcomed Ukrainian refugees from Limerick and Clare to the expo, where they were met with numerous Mid West organisations eager to help them get settled here in Ireland.
Migrants who attended the expo were provided free transfers to and from their hotel locations in Limerick, Ennis and Shannon by the TFI Local Link.
The expo gathered all available services and information for migrants seeking employment and education in Limerick and surrounding areas. In total, there were 17 information points or stalls on the day, all under one roof.
The expo was open to all, regardless of origin and circumstance, and provided advice in areas such as education, employment, social protection, English lessons, and even summer activities.
There were also a host of general resources on hand for new arrivals to familiarise themselves with, such as An Garda Siochana and the HSE. Gardai provided useful information on how to keep safe and explained how to contact them, while the HSE advised on neccessary vaccinations.
Interest in helping Mid West migrants was so high that all stalls were booked within 30 hours. Hundreds of migrants passed through the doors of Limerick Strand Hotel on the day to avail themselves of needed information, services and advice.
Speaking after the Limerick Migrant Expo, organiser Anna Mazeika said, ""Thank you to all of the resources who offered services on the day of the expo, and thank you to all who attended. It was a fantastic turnout and will hopefully make key information more accessible to people from Ukraine who are currently seeking refuge in Limerick."
Earlier this year, Anna opened a 'zero-cost' shop for Ukrainian refugees at the Sacred Heart Church in Limerick City and established the 'Help for Ukraine' campaign at the Old Cleeves Factory site, which saw two trucks of supplies delivered to the devastated nation.
For more information on resources available to migrants in the Mid West, go HERE
For more stories on Ukraine, go HERE