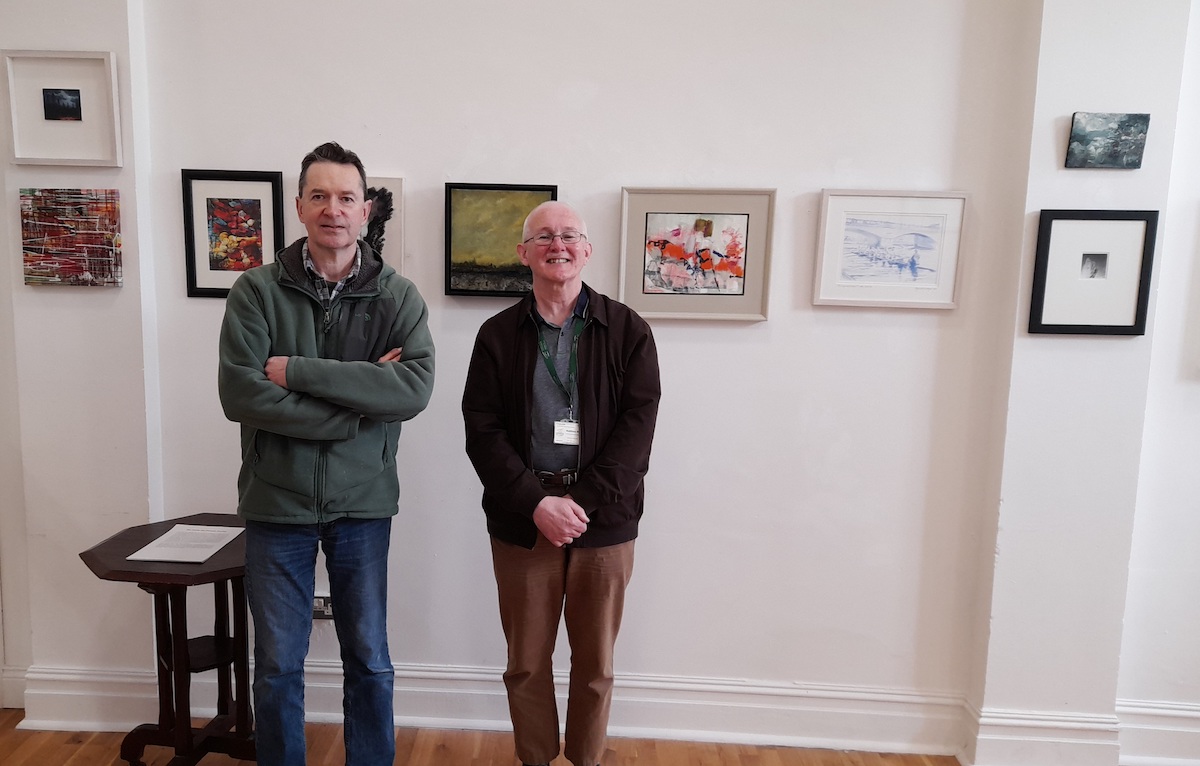 'The Works We Thought We Had' Limerick Museum exhibition brings together 29 artists from 7 countries
Limerick Museum exhibition – Dr Matthew Potter and Maurice Quillinan pictured above installing the exhibition.
Limerick Museum exhibition, Henry Street, Limerick until May 5 2022
'The Works We Thought We Had' is a group exhibition of twenty-nine artist's from seven countries running at the Limerick Museum on Henry Street until Thursday, May 5, 2022. The exhibition is curated by artist Maurice Quillinan and Dr Matthew Potter.
The title is a play on the concept that artists make and then present work on a particular subject they are currently exploring, then when these individual works are gathered into a wider conversation within the realms of a group exhibition, the original works take on a somewhat different wider significance as they join the conversation within the group dynamic, much like us joining a gathering of individuals in an unfamiliar environment.
This Limerick Museum exhibition is a work in progress in that as new work arrives the installation mutates visually, works are moved about to react to others, adding new possibilities to the dialogue, thus presenting unforeseen sub contexts within the emerging conversation. The concept is to mirror the layered dialogues we would encounter when we gather and move about within a group of people. This is particularly relevant as we slowly emerge from the Covid period, as we reacclimatise and become again comfortable with joining ever growing groups in our community. 
There are no 'Wall labels' with this Limerick Museum exhibition.All the artists are acknowledged, but there are no indications of titles etc. Here we are asking the works to discuss among themselves and justify their existence, just as the developing works in an artist's studio slowly emerge into life.
The curators, artist Maurice Quillinan and Dr Matthew Potter, are asking the viewer to look at each work as it exists with its companions and explore what the viewer brings to the conversation informed by their own history of experiences, without being encumbered by often extraneous titles.
Artist Maurice Quillinan commented, "From my experience most, but not all titles are added after the fact. The artist's primary job being to initiate a work and successfully bring it to a conclusion by solving mostly self-imposed criteria. Here we have twenty-nine very different ruminations on the world from many varied perspectives."
Contributing Artists are Abigail O'Brien RHA, Robert Ryan, Trudi van der Elsen, Inci Jones, Sian Costelloe, Holger Baehr, Ciara Gormley, Moya Ni Cheallaigh, Stephen Lawlor, Kieran Kelly, Banu Ugural, Samuel Walsh, Gulistan, Tom Fitzgerald, Ralph Gelbert, Maria Kulikovska, Una Sealy RHA, Christine Roychowdhury, PJ O Connell, Pauline Flynn, Rod Jones, Mary O Connor, Guoqiao Kong, Marie Madden, Mary Kelly, Maurice Quillinan, Diane Henshaw, Eamon Colman, Deenagh Miller.
For more info on Limerick Museum go HERE
For more stories on Limerick Museum go HERE