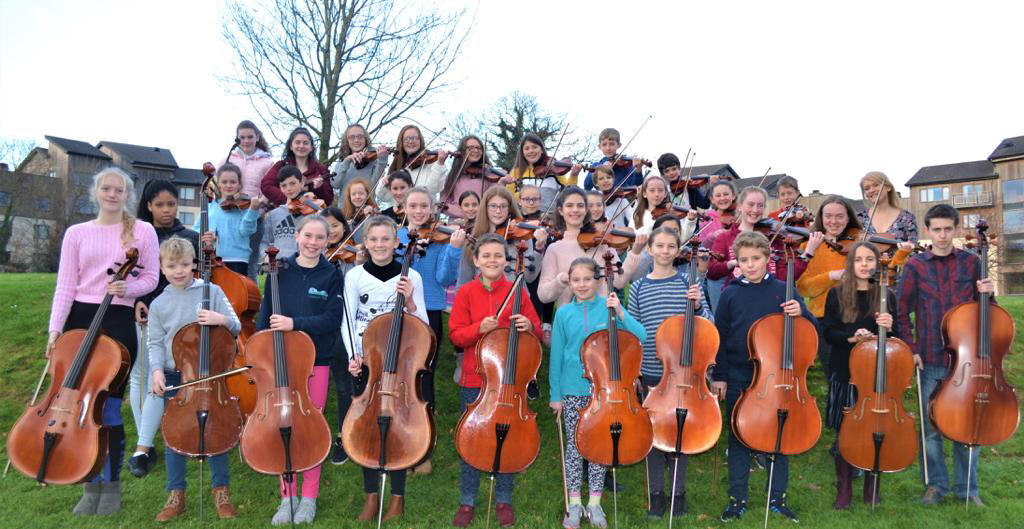 Limerick Orchestra Ceol Na Mara chosen to perform at the National Concert Hall this weekend
The Limerick 2019 Ceol na Mara Orchestra. Photo: Moya Ní Cheallaigh.
Limerick Orchestra Ceol na Mara chosen to perform at the National Concert Hall this weekend
Words and Photos by Moya Ní Cheallaigh
Ceol Na Mara Summer School for strings was founded in 2008 by Limerick based violinist Oonagh Keogh and since then they have reconvened every year in Connemara during the last week in July. From the friendships made over those summer weeks, an orchestra of young musicians has progressed from an occasional Sunday get together, to a monthly rehearsal in the wonderful Irish Chamber Orchestra (ICO) studio on the University of Limerick (UL) campus.
Drawing on young string players mainly from the Limerick, Clare and Tipperary region but also Cork, Offaly, Kerry, Dublin and Mayo, this orchestra is going from strength to strength and now comprises 43 string players ranging in age from 9 to 18.
Ceol Na Mara plays a mix of musical genres from classical to pop as well as original music written specially for the orchestra by Oonagh herself. Next Saturday they will represent Limerick at the 24th Festival of Youth Orchestras at the National Concert Hall (NCH). Their programme will include music by Vivaldi, Mussorgsky as well as a waltz written by Oonagh, and Toby's Tango, called after Oonagh's dog, who is something of an orchestral mascot!
Oonagh has also composed a special arrangement of the song Linger, by The Cranberries and the orchestra will perform it to pay tribute to fellow Limerick musician, Dolores O' Riordan.
The ethos of Ceol Na Mara is very much about chamber music and creating unique musical experiences for the group. While the orchestra itself is quite large they regularly subdivide into smaller chamber groups to explore diverse repertoire.
This versatility has led to many exciting experiences such as performing on the Late Late Toy Show, in Áras an Uachtaráin for President Higgins, in the John Field Room of the NCH and has also led to them being the recipient of trophies and medals at various feiseanna around the country. Other highlights include a performance shared with the Cincinnati Wind Ensemble at the Lime Tree Theatre in June 2018, and the Féile Luimnigh prize winners' concert. Several performances at the Coole Music Festival in Galway not to mention their 2014 performance in the NCH at the IAYO festival, add to the orchestra's impressive back record.
Ceol Na Mara's primary aim is to instil an enjoyment and love of all genres of music in their young musicians. It is hoped that they will take that love of music with them as part of their lives whatever they end up doing. Though the orchestra's alumni are still very young, some former orchestra members have already embarked successfully on musical careers.
The 24th Festival of Youth Orchestras Concert takes place on Saturday, February 9th, as part of the Irish Association of Youth Orchestras Festival. Approximately 500 young players from around Ireland, including Ceol Na Mara Orchestra, Limerick, will play two concerts at the National Concert Hall at 3pm and 8pm.
For more information about Ceol na Mara, click here.
For more stories about Orchestras in Limerick, click here.