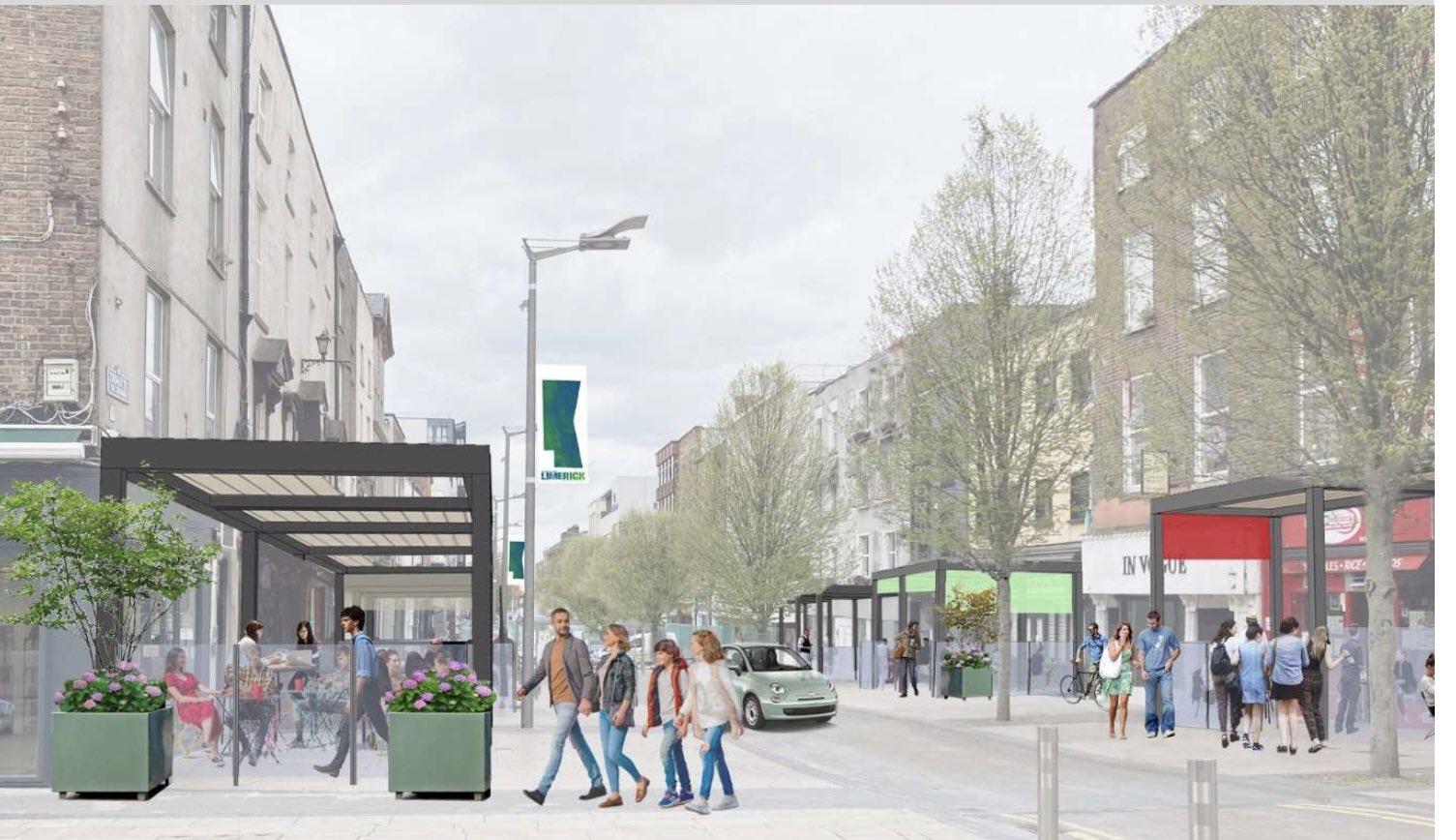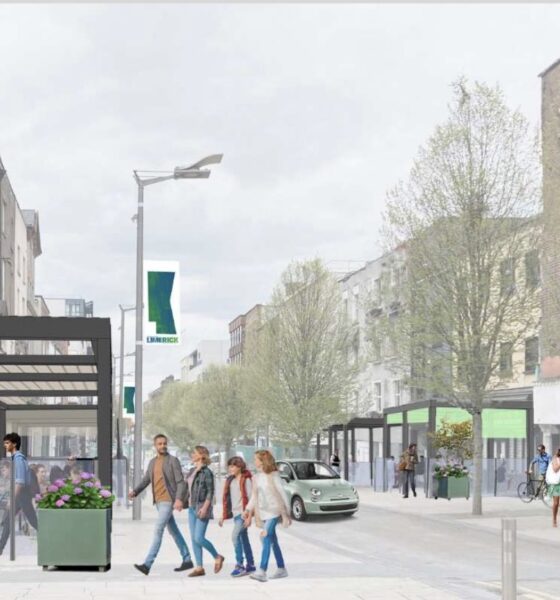 Limerick Outdoor Dining Experience for Bedford Row and Thomas Street approved by councillors
Limerick Outdoor Dining Experience – An impression of what Thomas Street may look like after the installation of a pergola
Limerick Outdoor Dining Experience for Bedford Row and Thomas Street approved by councillors
By I Love Limerick Correspondent Ann Mc Donald
Councillors have approved multi-million-euro proposals to provide a new outdoor dining structure for Bedford Row and Thomas Street.
The new Limerick 'Outdoor Dining Experience' project was voted through by members of the metropolitan district at their monthly meeting on Monday, September 20.
The local authority has promised "far-reaching" proposals, which will help by "encouraging life back into the principal retail streets" of the city centre.
The proposed works for the Limerick 'Outdoor Dining Experience' include the installation of covered pergola strictures with retractable roofs and toughened glass screens, creating an outdoor area for dining. Additional lighting, planting and street furniture are planned, alongside water bottle refill stations.
'Smart bollards' will also be installed, which will include Wi-Fi, digital pedestrian and traffic management information, and environmental sensors. There are also plans for solar-powered bins.
In the interest of Public Health, the smoking of tobacco products will not be allowed inside the enclosed shelters.
Due to this being a public project, members had to approve it, with Fine Gael councillor Sarah Kiely proposing it and her colleague Olivia O'Sullivan seconding.
Mayor Daniel Butler, who described the project as, "a fantastic news story," for the city, and Cllr Kiely both spoke in favour of the project.
Delighted to see the Planning for this be signed off today following consultations with local businesses & Councillors & public submissions over the summer.

Hopefully in place for Christmas with 15 businesses benefiting. This will build on the vibrancy experienced there of late. https://t.co/oqj09klkxm

— Cllr Daniel Butler, Mayor of Limerick (@DanielButlerFG) September 20, 2021
Councillor Jerry O'Dea, Fianna Fail, said, "I see nothing wrong in supporting businesses that are employing people, paying rates and creating a life in Limerick to attract people into the city. Limerick can be a great venue and a place to go, but we need to support the businesses and I see no reason why we should not."
The part eight was passed by members present at the meeting.
In a briefing document, council listed what it feels are a number of benefits.
These include "facilitating year-round outdoor dining for the benefit of promoting tourism while meeting the needs of all its citizens."
"The proposed project maximises the opportunity to strengthen the cultural identity of the city centre by building upon the attraction of the pedestrianised streets and creating a sense of place focused around local tourism and hospitality businesses," it says.
Council has highlighted at least 12 businesses which will benefit from the project, located in the two pedestrianised streets.
"Delivery of the outdoor dining experience project will complement the place-making objectives of national, regional and local planning policy by encouraging a more comfortable and appealing city centre," it added.
According to Mayor Butler, the Outdoor Dining Experience will hopefully be in place by Christmas this year.
For more information go HERE
For more stories on business go HERE