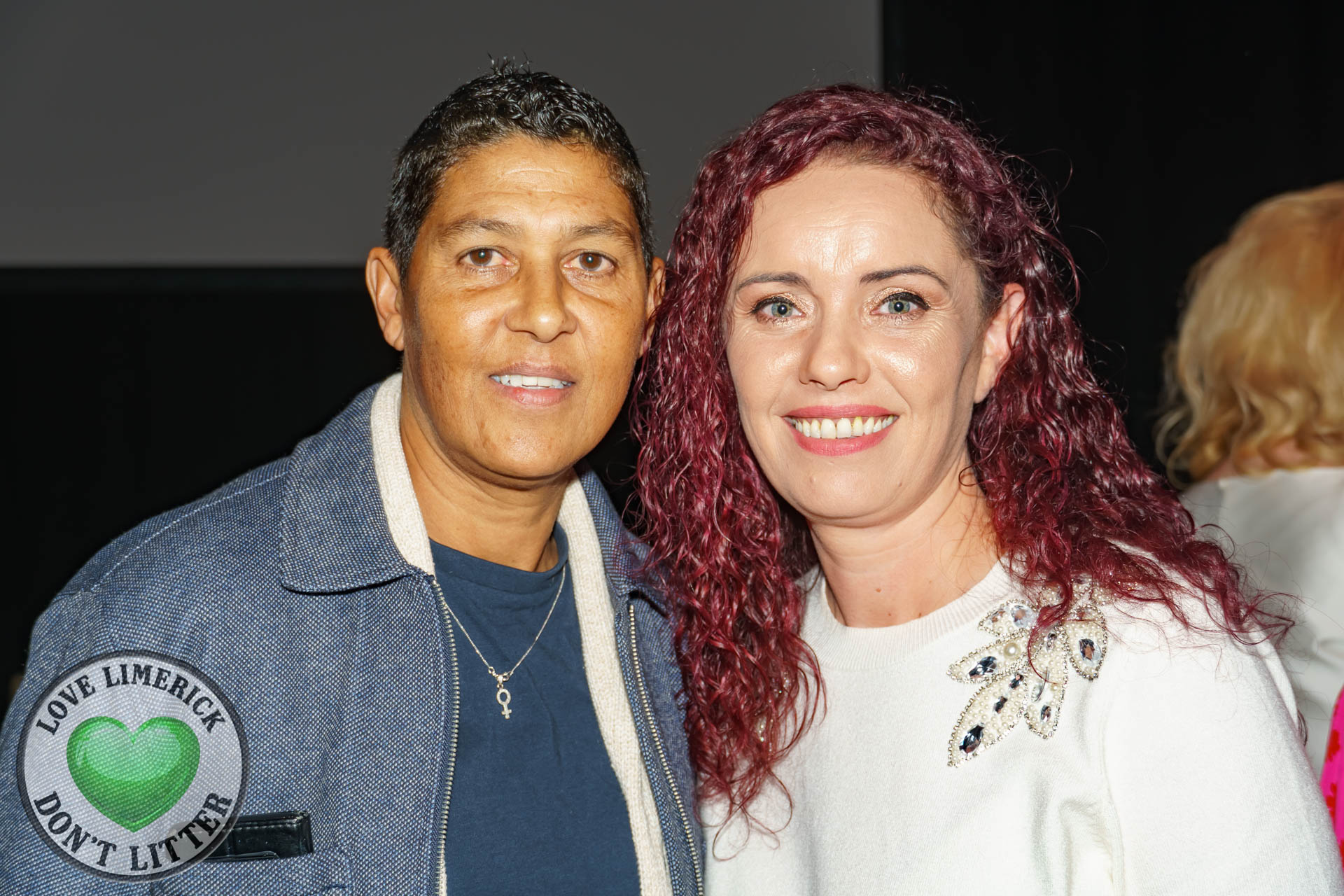 Limerick sporting legend Jackie McCarthy O'Brien announced as Limerick Pride Grand Marshal 2023
Limerick Pride Grand Marshal 2023 Jackie McCarthy O'Brien has played both rugby and football for Ireland. Jackie pictured above with Lisa Daly, Chairperson of Limerick Pride.
Limerick Pride Grand Marshal 2023 Jackie McCarthy O'Brien will be united in solidarity with her community this Pride
Limerick sporting legend Jackie McCarthy O'Brien has been announced as the Limerick Pride 2023 Grand Marshall.
Jackie is a Limerick woman who possesses the rare ability to be able to say she has played both rugby and football for Ireland. Jackie won 13 international caps with the Rep of Ireland women's senior soccer side, followed by a similar number of appearances with the Ireland women's senior rugby side.
But the bare facts on caps won doesn't even come close to doing justice to Jackie McCarthy-O'Brien's decorated sporting career.
Lisa Daly, Chairperson of Limerick Pride said, "The resilience Jackie showed in overcoming adversity sets her apart from many of her peers. She took a road less travelled to the very pinnacle in two major international sports. We are beyond honoured that Jackie will be the Limerick Pride Grand Marshal 2023. This year is especially important to our community as it's the 30th anniversary of the decriminalisation of homosexuality in Ireland and Jackie is a truly inspirational person who has fought for equality her entire life."
Jackie commented, "I am simply thrilled and honoured to be the Limerick Pride Grand Marshal 2023 and will treasure the opportunity to stand united in solidarity with my community as we remember and acknowledge the struggles our community has faced over the last 30 years."
Jackie McCarthy O'Brien was born to a Jamaican father and Limerick mother in Birmingham. When she was just six months old, her mother came back to Limerick to live. Growing up in the sheltered, conservative Ireland of the 1970s and 1980s wasn't always easy. It was here, Jackie's mother met and married Mickey O'Brien who became a father to Jackie and together they set up a grocery store.
Jackie explained, "My mother is a Limerick woman. My birth dad was a Jamaican, but I never met him, so my mother came back to Limerick when I was six months old and we lived and grew up in Kileely. She met and married my dad Mickey O'Brien and we had a local grocery store there. He was very much involved in sports, he was an All-Ireland handball champ and a great soccer player. I think he recognised that for me, being a black child growing up in Limerick, I was going to get a bit of a tough time and encouraged me in terms of sport."
Mickey came from a sporting background having won an All-Ireland in handball and seen sport as an opportunity for Jackie to mix with others.
Jackie said, "In 1961 being a black child in Limerick, you kind of stuck out like a sore thumb. Getting on a pitch, putting on a pair of boots, that shy little black kid was gone".
Soccer became Jackie's first love and following the advice from a special teacher of hers named Rita Spring, of St Munchin's Girls School in Ballynanty, she went on to play for Ireland winning 13 international caps with the Rep of Ireland women's senior soccer side which she dedicated to her. There were some difficult days along the way, but one of her old primary school teachers remained a beacon of light.
"I was so fortunate to have a very special school teacher, Rita Spring, in St Munchin's Girls School in Ballynanty. I was being a little bit bullied and she told me to hold my head up high and asked me what I was good at. I told her I was a good soccer player and she told me to go out and play for Ireland and that's what I did. I dedicated every cap that I got to her because I always felt she was there alongside me, encouraging me to do the best I could and to keep my head. It wouldn't have been easy growing up a black child in Limerick if I hadn't played the sport."
Rita, who was a Kerry woman who developed a great love for Limerick, passed away three years ago but she came and watched Jackie playing for the Ireland women's rugby team in a match she played against England in Garryowen. She was always a big supporter with Jackie stating, "I would go as far as to say that she saved my life by getting me involved in sport. That is the truth of it."
Jackie's sporting talent shone through from a young age. Initially, she played soccer with St Mary's Park, Greenpark, Pike Rovers, at Bracken Cup inter-league level and also Limerick.
"I played soccer from the age of 11 until I was 33 years old when I retired. I got to play for Ireland on 13 occasions between 1983 to 1994. My first cap against Northern Ireland was in Chimney Corner FC in Antrim. On and off, over the course of having three children, I was in and out of the team, but still played every season from 11 until 33, even after having the children. It was amateur and it was an honour, we all wanted to play for our country."
After hanging up her soccer boots, Jackie wished to keep her fitness levels up. One night, she headed out to Rosbrien with the intention of taking a fitness session at Old Crescent. But it's funny how things can take a twist of fate.
"I went out to Crescent to do some coaching from the fitness side. Someone else also turned up on the night and I thought rather than stand on her toes, I will just fall in to play. I didn't know much about the game but I loved watching it. Being 5′ 10″ and light enough, they threw me into the second row. I started there and then and was told I was playing next week, even though I said I didn't have a clue. I was told I'd be fine! I fell in with the team. Within six months I came to the attention of the Munster coach and made the Munster team for the interprovincials. In all, I got to play with Munster for four seasons and captained the Ireland 'A' side for a season."
Jackie remembers, "It was always an ambition to play rugby but there wasn't a women's rugby team around when I was younger so I came to it later in life. I started playing soccer and handball and was an all-round 'TomBoy' when it came to sport. It was a great leveller. If you are any good at sport in Limerick they take you to their heart and once I was good at soccer and whatever, it took away the shyness and people started recognising you for the right reasons rather than just the colour of your skin."
Within six months, Jackie had made the Munster team and within another six months, she made the Irish team. Jackie looks back fondly saying, "I made the Irish team and went on to play for four seasons and played in the European Championships which was played over two weeks in Nice. I was lucky enough to be selected for the 1998 World Cup and managed to score a try against the Netherlands. I played my very last match coming up on my 40th birthday in Thomond Park. I started with Old Crescent. After a time that team folded and I got to go and play with Shannon which would have been my team anyway. In my last game we won the All-Ireland League with Shannon. That was everything achieved."
Among the highlights of her rugby career was an appearance on RTEs The Late, Late Show. During her career, Jackie has achieved a number of monumental achievements including playing four rugby seasons, the European Championships over two weeks in Nice and scoring a try against the Netherlands in the 1998 World Cup.
The Limerick Pride 2023 press launch takes place Thursday, June 1st at 5.45pm in the Garden Gallery at the Hunt Museum and all are welcome.
Limerick Pride 2023 runs from Monday, July 3rd until Sunday, July 9th with the Parade taking place on Saturday, July 8th.
For full details visit LimerickPride.ie