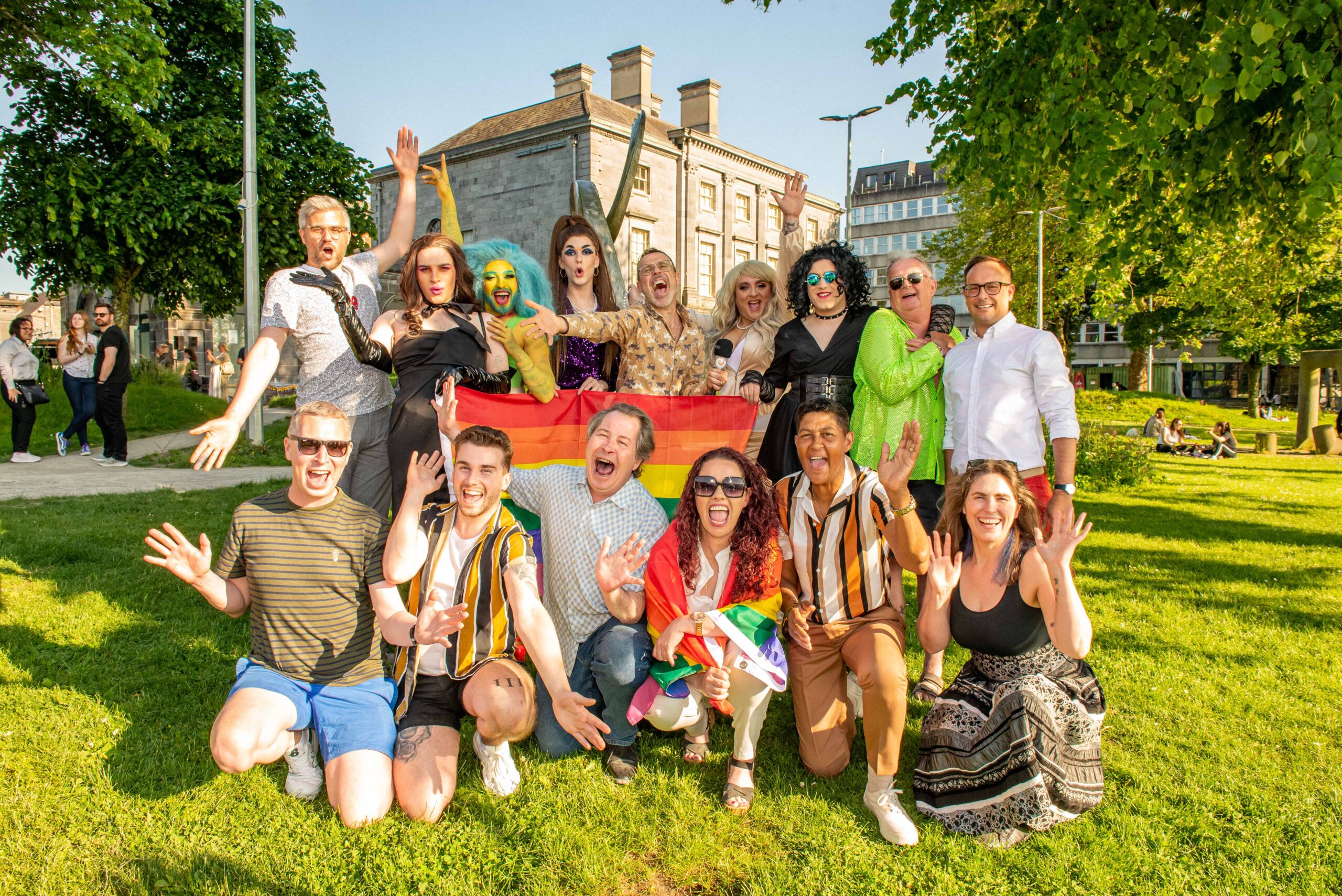 EVENT PHOTOS Limerick Pride LGBTQ Festival 2023 will celebrate the power and resiliency of a community United in Solidarity
The Limerick LGBTQ Pride Festival 2023, runs from Monday, July 3 until Sunday, July 9 with the Parade on Saturday, July 8! Pictured are Hugo Dahn, Lucy Fur, Charnell Clearwater, Tadhgliatelly, Richard Lynch, PRO Limerick Pride, Miss Bliss, Billie Mystique, Jim Lawless and Nigel Dugdale (back row), historian Paul O'Brien, Issac Uminati, Myles Breen, Lisa Daly, Chairperson Limerick Pride, Grand Marshal for 2023 Jackie McCarthy O'Brien and historian Sharon Slater (front row) pictured at the press launch at the Hunt Museum. Picture: Olena Oleksienko/ilovelimerick
The Limerick LGBTQ Pride Festival 2023 theme this year is 'United in Solidarity'
Limerick Pride LGBTQ Festival 2023 will celebrate the power and resiliency of a community United in Solidarity.
Lisa Daly, Chairperson Limerick LGBTQ Pride 2023 said, "We are thrilled to be back and able to offer a fantastic line up for Limerick LGBTQ Pride Festival 2023, running from Monday, July 3 until Sunday, July 9 with the Parade on Saturday, July 8.
Lisa added, "There is something for everyone culminating in the annual Pride Parade on Saturday, July 8 and the PrideFest party directly after the Parade at the Hunt Museum. This Pride month marks the 30th anniversary of the decriminalisation of homosexual acts between men in Ireland and we wanted to acknowledge this so our theme this year is 'United in Solidarity'. When we march up O'Connell Street on Saturday, July 8, we will be marching in honour of our brothers and sisters who came before us and laid the path for our freedom. We want to spotlight and celebrate the power and resiliency of our community."
On Saturday, June 24, the Rainbow River Swim Parade will mark the 30 year anniversary of decriminalisation of homosexuality in Ireland and will kick-off the Pride festivities from 10am from Curraghgour Boat Club with over 80 swimmers from Limerick swimming group Limerick Narwhals taking to the river followed by over sailing boats, paddle boats and kayaks in a celebration of Pride on the River Shannon.
The Pride committee is delighted to announce this year's Grand Marshall is Limerick sporting legend Jackie McCarthy O'Brien.
Jackie is a Limerick woman who possesses the rare ability to be able to say she has played both rugby and football for Ireland. Jackie won 13 international caps with the Rep of Ireland women's senior soccer side, followed by a similar number of appearances with the Ireland women's senior rugby side.
Richard Lynch, PRO of Limerick Pride said, "The resilience Jackie showed in overcoming adversity sets her apart from many of her peers. She took a road less travelled to the very pinnacle in two major international sports. We are beyond honoured that Jackie will be the Limerick Pride Grand Marshal 2023. This year is especially important to our community as it's the 30th anniversary of the decriminalisation of homosexuality in Ireland and Jackie is a truly inspirational person who has fought for equality her entire life."
Jackie commented, "I am simply thrilled and honoured to be the Limerick Pride Grand Marshal 2023 and will treasure the opportunity to stand united in solidarity with my community as we remember and acknowledge the struggles our community has faced over the last 30 years."
Limerick Pride LGBTQ Festival 2023 will feature a multitude of events from workshops, support meetings and discussions to evenings of music and club nights, to cater to the Pride needs of everyone. Lisa Daly, Chairperson Pride added, "All events for 2023 reflect the breadth and depth of our LGBTQIA+ community. From the iconic nature of our Pride March to our newer events, we've created events with our entire community in mind."
On Monday, July 3, 'United in Solidarity', the official launch of Limerick Pride 2023 will be held at the International Rugby Experience from 6pm to 8pm with a wine reception and a panel discussion on LGBTQ people in sport with our Grand Marshall Jackie McCarthy O'Brien and other notable sporting personalities, hosted by sporting commentator Fiona Hayes.
Also on Monday, July 3, Drag Heaven takes place from 9pm at McGettigans featuring a night of drag performances.
On Tuesday, July 4, 30 years of Queer History takes place at the Hunt Museum at 6pm featuring a discussion with historian Sharon Slater and Adam Long of the National LGBT Federation, about the 30 year anniversary of the decriminalisation of homosexuality in Ireland. Limerick actor and playwright Myles Breen will tell his own personal story about his experiences before and after this landmark moment in LGBTQAI rights. REGISTER HERE AT EVENTBRITE
On Wednesday, July 5, Print with Pride takes place at Limerick Printmakers from 4.30pm to 6pm, is a free event where you can bring along your t-shirts, jumpers, tote bags, or simply use some of the paper at the event, to create your own custom Limerick Pride Silk Screen art piece denoting the 30 year anniversary of the decriminalisation of homosexuality in Ireland.
Also on Wednesday, July 5, Dance Limerick DL.BRIDGE with Pride & Goshhtakes place at 6pm in Dance Limerick, St. Johns Square. DL. Bridge Pride is a contemporary dance project for all LGBTQI+ identifying people. Doors 5.30pm, show starts 6pm. TICKETS
On Thursday, July 6, The Morning After The Life Before by Ann Blake takes place at 7pm at Dolans Warehouse. After a sell-out performance at last year's Limerick Pride and due to phenomenal demand, this groundbreaking playby Ann Blake returns to Dolans Warehouse on July 6th at 7pm. Gúna Nua presents the internationally acclaimed, multi-award winning play for one night only. The show is a personal, entertaining tale of weddings, 'coming out' and arguments over who takes out the bins. Over 14's only. TICKETS
Also on Thursday, July 6, 'Mockie Ah' takes place at Pharmacia at 9pm, featuring Ireland's biggest Drag Haus and queer collective. A tour-de-force of camp, comedy, absolute bangers, and sparkling sequins. Mockie Ah is a celebration of all things camp, queer, nostalgic and oh so very Irish. It is a safe space where everyone is welcomed, loved, embraced, and covered in glitter! TICKETS
On Friday, July 7 Press with Pride is a creative class hosted by Pressed Flowers by Nell from 1pm to 2.30pm in the beautiful garden area of House Limerick. Ticket cost includes: The materials for either a Flower crown, or A Pressed Flower Bookmark & Card, An arrival cocktail or mocktail. Please let Nell know your preference of Flower crown, or A Pressed Flower Bookmark & Card in advance so she can have your materials ready. Email: [email protected]. Book HERE
Friday, July 7, 'T'was the night before Pride', a free entry traditional pre-pride party with street performers, guest DJ's and camp classics will take place at Mickey Martins from 8.30pm.
Also on Friday, July 7, Limerick Pride Youth Party takes place at Lava Javas Youth Cafe, Lower Glentworth Street from 5-8pm. Presented by Limerick Youth Service, young people (14-19yrs) from Limerick and beyond are invited to enjoy music and meet new people at this free event. The team will also be preparing for Limerick's Pride Parade which takes place the following day. Registration with GOOSH essential.
On Saturday, July 8, the Limerick Pride Parade will bring some extra colour and music to Limerick City Centre, gathering at Merchants Quay, City Hall from 12.20pm for floats, with groups gathering from 12.50pm. The Parade will leave strictly at 2pm, the Parade will make its way up O Connell Street, across Mallow Street to Henry Street, past Arthurs Quay Park, ending at the Hunt Museum.
Following the Parade, PrideFest 2023 at the Hunt Museum is a showcase of local LGBT culture in a lavish marquee in the museum gardens from 3pm – 6pm. This is a free family-friendly event with a cone van, cafe and bar on site, live music and plenty of entertainment including the Annual tea Dance with Myles Breen.
Also on Saturday, July 8, Limerick Pride Climax Party Ft. The Vivienne takes place at Dolans Warehouse from 9pm with International drag artist The Vivienne headlining a stellar line up including 'Dragged Up' with Paul Ryder, Regina George and Pixie hosted by Victoria Secret. With three floors of music including 'Saved by the 90s' upstairs, Alter Ego with DJ Olivia Chau in the Kasbah Club and a DJ set. Limited VIP The Vivienne meet and greet tickets available at Dolans.ie. TICKETS
On Sunday, July 9, Queer Spaces and Fabulous Faces: A Guided Tour of LGBT+ Limerick – This FREE event takes place at 3pm with historian Paul O'Brien leaving from the Red Tech building (now Limerick and Clare ETB) and ending at the Hunt Museum.
This year's Pride will have an educational aspect. Support meetings will be held during the week for youth, adult and trans groups. GOSHH, 18 Davis Street will provide Rapid HIV testing at different points in the week. Call GOSHH at 061 314354 or email [email protected] for more information.
For more information visit LimerickPride.ie and used the hashtag #LimerickPride2023
Read more about pride here.
CLIMAX PARTY 23
Pictures: Cian Reinhardt/ilovelimerick
Pictures: Olena Oleksienko/ilovelimerick
LIMERICK PRIDE YOUTH PARTY
Pictures: Olena Oleksienko/ilovelimerick
DL BRIDGE DANCE LIMERICK EVENT