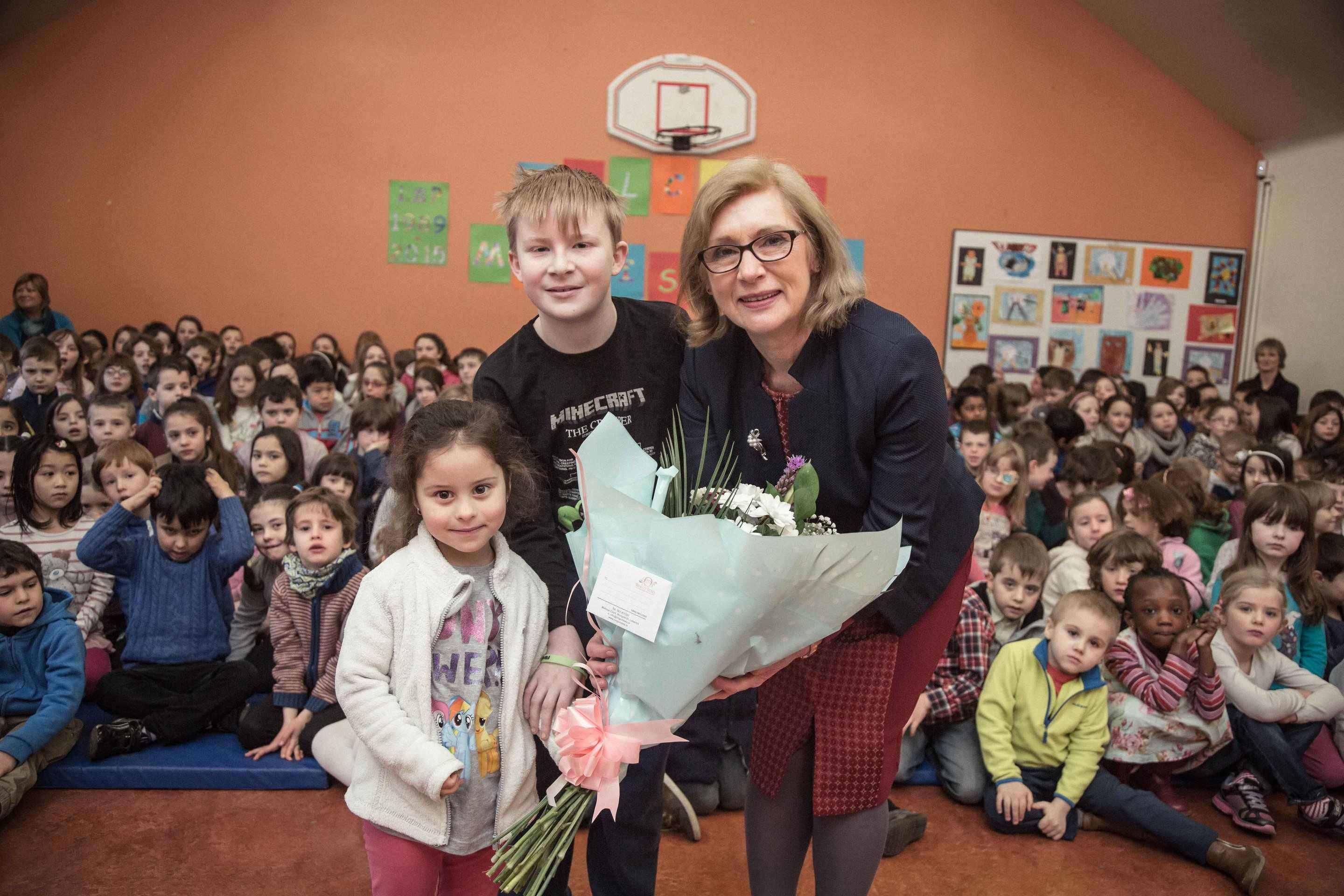 Minister Jan O'Sullivan Celebrates 25 Years of Educate Together with Limerick School Project
25 years ago the first students of new school Limerick School Project buried a time capsule with then Minister for Education Mary O'Rourke. This morning current Minister for Education Jan O'Sullivan examined the contents of that capsule with today's pupils of the school.
Established in 1989 with two teachers and 56 pupils, the Limerick School Project was originally located in the Old Red Cross building on Cecil Street. 25 years later the school has 221 pupils, 9 teachers and is located in a bright and airy purpose built building on O'Connell Avenue.
"The Limerick School Project has come a long way from its early days. And as we celebrate our 25th anniversary we pay tribute to the parents who started the school. It was thanks to their forward thinking, enthusiasm and determination that we have such a fine school today" says Principal Orla McCoy, who has been teaching at Limerick School Project since it first opened its doors 25 years ago.
In a welcome ceremony that included songs by the children and speeches from Minister O'Sullivan, Principal Orla McCoy, past pupil Adam Chapell, and Chairperson of the Board Richard Allen, the contents of the time capsule were displayed and examined. While the ravages of time had clearly affected the contents of the capsule, the children were eager to see the photos and notes left from their predecessors.
Also included in the capsule were crisp packets, to represent the children's favourite snack, chalk as the children 25 years ago thought that the schools of the future might not have chalk, and wool to represent the school's knitting club.
Commenting on the visit to the school Minister O'Sullivan said "This is a very special school as it was the first of this kind where everybody from all different backgrounds come to learn together. I was here 25 years ago when the Limerick School Project first started and I remember when the time capsule was buried in the ground by then Minister Mary O'Rourke. I'm delighted as Minister for Education that I'm able to be here today to mark this special day."
Minister O'Sullivan then announced that this was to be a no-homework day which was greeted with whoops and cheers from all the children.
Limerick School Project will have a number of events throughout the year to celebrate this important landmark for the school. On February 17th and 18th the pupils of the school are performing 'The Magic of The Musicals' in the Lime Tree Theatre.
Tickets are just €10 and can be purchased from the Lime Tree Theatre here. There will also be a re-union for former pupils taking place on 18th April in Dolan's (18+). For further information about Limerick School Project visit here
 You can like their Facebook here
You can read more on Education here