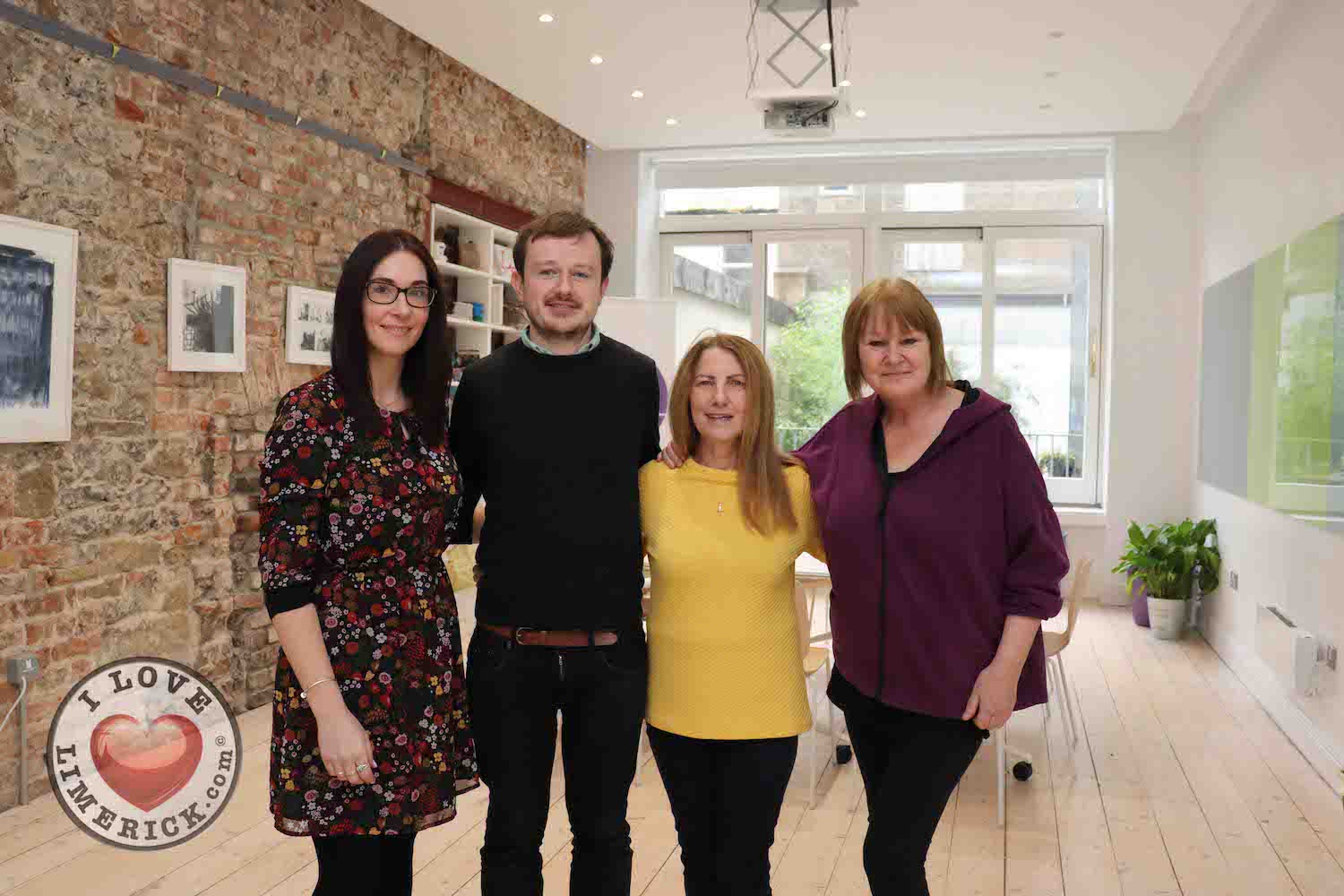 Lorna Byrne Children's Foundation to provide funding for Limerick School's Story Exchanges
Limerick School's Story Exchanges: Pictured at the Narrative 4 Headquarters in Limerick City is Rachel Guinane, Programme Assistant Narrative 4, James Lawlor, Regional Director of Narrative 4 Ireland, Lorna Byrne, Author and Founder of the Lorna Byrne Children's Foundation and Helena Close, Narrative 4 Facilitator and Writer. Picture: Kate Devaney/ilovelimerick
Lorna Byrne Children's Foundation to provide funding for Limerick School's Story Exchanges
By I Love Limerick correspondent Kate Devaney
The Lorna Byrne Children's Foundation is providing funding for Narrative 4 to work with students in two Limerick schools for an entire academic year. Both schools will have an N4 trained artist within their school for the year delivering Narrative 4 Story Exchanges.
Narrative 4 is an organization that aims to build empathy and shatter stereotypes through the age-old art of storytelling. They are currently working in 12 countries, with their global headquarters located in New York City. They opened their first physical space in Limerick in September of 2016.
James Lawlor, Regional Director of Narrative 4 Ireland, said, "The Story Exchange is an evidence-based program that builds social and emotional skills in young people. The program builds peer support among young people and is designed to be a unique personal development experience."
Story Exchange teaches young people social and emotional skills and improves wellbeing. The schools that will be involved in the project are Thomond Community College and Coláiste Chiaráin Croom. Narrative 4 Facilitator and Writer Helena Close is working with Thomond Community College for the year, while Narrative 4 Facilitator and Artist Richard Hannafin are working with Coláiste Chiaráin Croom.
Through skill-based workshops, the Story Exchange builds social skills, increases awareness of diversity, increases self-awareness and promotes positive emotions. It instills a powerful sense of belonging and connection and fosters healthy relationships among the young participants. It is a cathartic experience that puts a focus on valuable life-long community-building skills, such as active listening, critical thinking, and communication/storytelling skills.
This project will allow a large amount of the student body within these two schools to undergo a story exchange and connect with other students and groups within the school community. Using an evidence-based approach, it aims to bring a focus on empathy, connection, storytelling, creativity and improve the health and well-being of the young people taking part.
The Lorna Byrne Children's Foundation believes all children, no matter what their background, deserve to have a happy, safe childhood and a bright future. They fund amazing initiatives and projects in Ireland and across the globe, run by charities and grassroots organisations, which support children in extremely vulnerable and marginalised situations.
These initiatives are changing the lives of vulnerable children around the world for the better. Children who right now are suffering due to war, devastation, poverty or illness.
Lorna Byrne said, "When a child shares its story in this way it stirs up their love and compassion. It helps these students to reach out and help each other, to really understand what their classmates are going through. It teaches them to communicate and to maybe ask themselves, Why has my classmate been so angry or full of emotion, or why are they not talking, what is wrong? It helps them to understand and connect with each other. Remember learning about empathy will help a young person right through their life, so they can reach out and look for help themselves when they need it or to be more aware and help others too. That is why I am so delighted we can support this amazing project and all of these young people in such a significant way."
James Lawlor added, "I am delighted that hundreds of additional young people from Limerick will get the chance to experience the Story Exchange thanks to the Lorna Byrne's Children's Foundation".
For more info on Lorna Byrne Foundation go HERE
Limerick School's Story Exchanges Limerick School's Story Exchanges