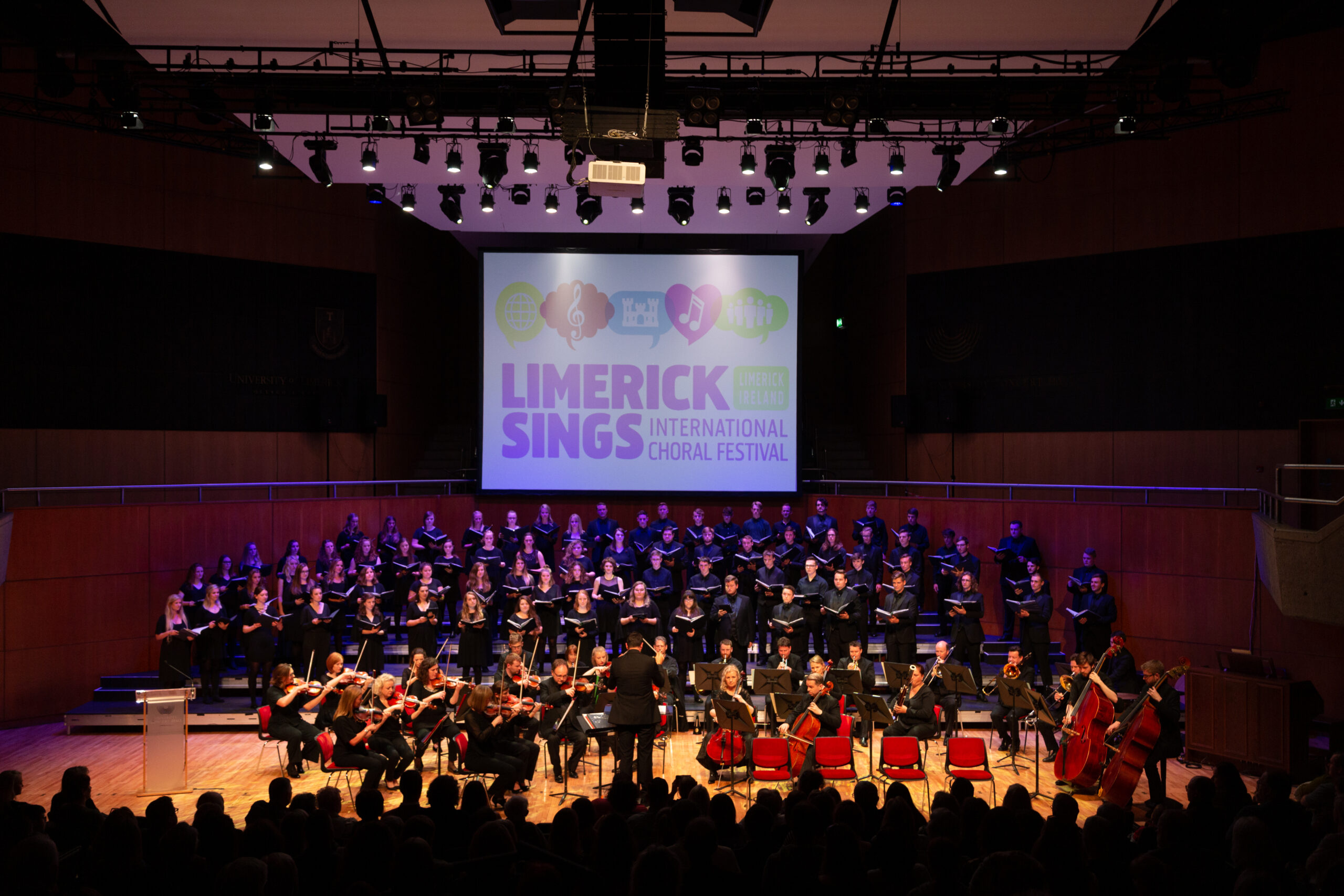 Limerick Sings International Choral Festival 2023 brings over 400 choristers to Limerick
Limerick Sings 2023 International Choral Festival will bring more than 400 choristers to Limerick this June.
From the Cliffs of Moher to University Concert Hall; over 400 choristers from US, Iceland, Norway, England, and around Ireland and the local areas descend on Limerick for 2023 Festival
The Limerick Sings 2023 International Choral Festival takes place from Friday 9th to Sunday 11th June with choristers from around the globe joining local and national choirs for a weekend of song throughout Limerick City County and the surrounding region.
The 3-day non-competitive choral festival, presented by University Concert Hall, Limerick will feature three principal concerts together with workshops, Choral Trail performances and a special Outdoor Chorus at the Cliffs of Moher.
The Festival is delighted to present The King's Singers as the 2023 guest choral group. The King's Singers have represented the gold standard in a capella singing on the worlds' greatest stages for over fifty years. Described as "still unmatched for their sheer musicality and ability to entertain" (The Times) and "technically breathtaking, luxuriously beautiful and musically exact" (The Washington Post), the award-winning Ensemble is one of the world's leading vocal ensembles. From ancient Norse and Celtic folksongs to majestic choral works by Sibelius and Grieg their Northern Lights programme will be presented by RTÉ lyric fm's Lorcan Murray, on Friday 9thth June.
On Saturday 10th June, the beautiful Redemptorist Church, Limerick will host An Evening of Choirs in Concert. Local and international choirs will perform a diverse programme of sacred, traditional and folk songs including The Lily and the Rose by Bob Chilcott, Let there be Peace on Earth and Bob Dylan's Blowin' in the Wind to name but a few.
This year's Afternoon Proms Concert takes place in the picturesque village of Adare on the afternoon of Sunday 11th June when audiences can enjoy a light programme with everything from pop and folk to classical and traditional favourites such as Shenandoah, Feed the Birds and U2. An Evening of Choirs in Concert and the Afternoon Proms Concert will be presented by RTÉ lyric fm's Shirley Keane.
As well as the three featured concerts, this year's festival will also include a highly anticipated workshop led by The King's Singers on Friday afternoon at 4pm. This will be a unique session exploring the joys of choral music and singing together a capella! Through varied songs they will work with you on everything from fundamental skills like breathing, balance, and blend, right through to high-level performing and is designed to challenge and advance every participant.
On Saturday morning singers will enjoy a fun rehearsal/workshop at University Concert Hall under well know Irish conductor Ruaidhrí Ó Dálaigh and The Ramparts. The group will then travel to perform the piece against the beautiful backdrop of the Cliffs of Moher for the Festival's sold-out Outdoor Chorus.
Across Saturday and Sunday choirs will lead a free, fun-filled Choral Trail with pop up performances at Bunratty Castle and Folk Park, the Hunt Museum, the International Rugby Experience and Milford Care Centre.
Performing choirs at this year's Festival include:
Aoide Voices, Cantette, Háskólakórinn, Kingswood Community Choir, Limerick Chamber Choir, SandvikaKoret, Silvertones, Singers Marin, Vocation, Voices of Limerick, Voices of the Boyne and VoiceOver.
Presented by University Concert Hall, Limerick with support from Limerick City & County Council, RTÉ Supporting the Arts, Arts Council, Sing Ireland and Limerick Leader.
For full concert details and bookings please see here
Read similar stories here.