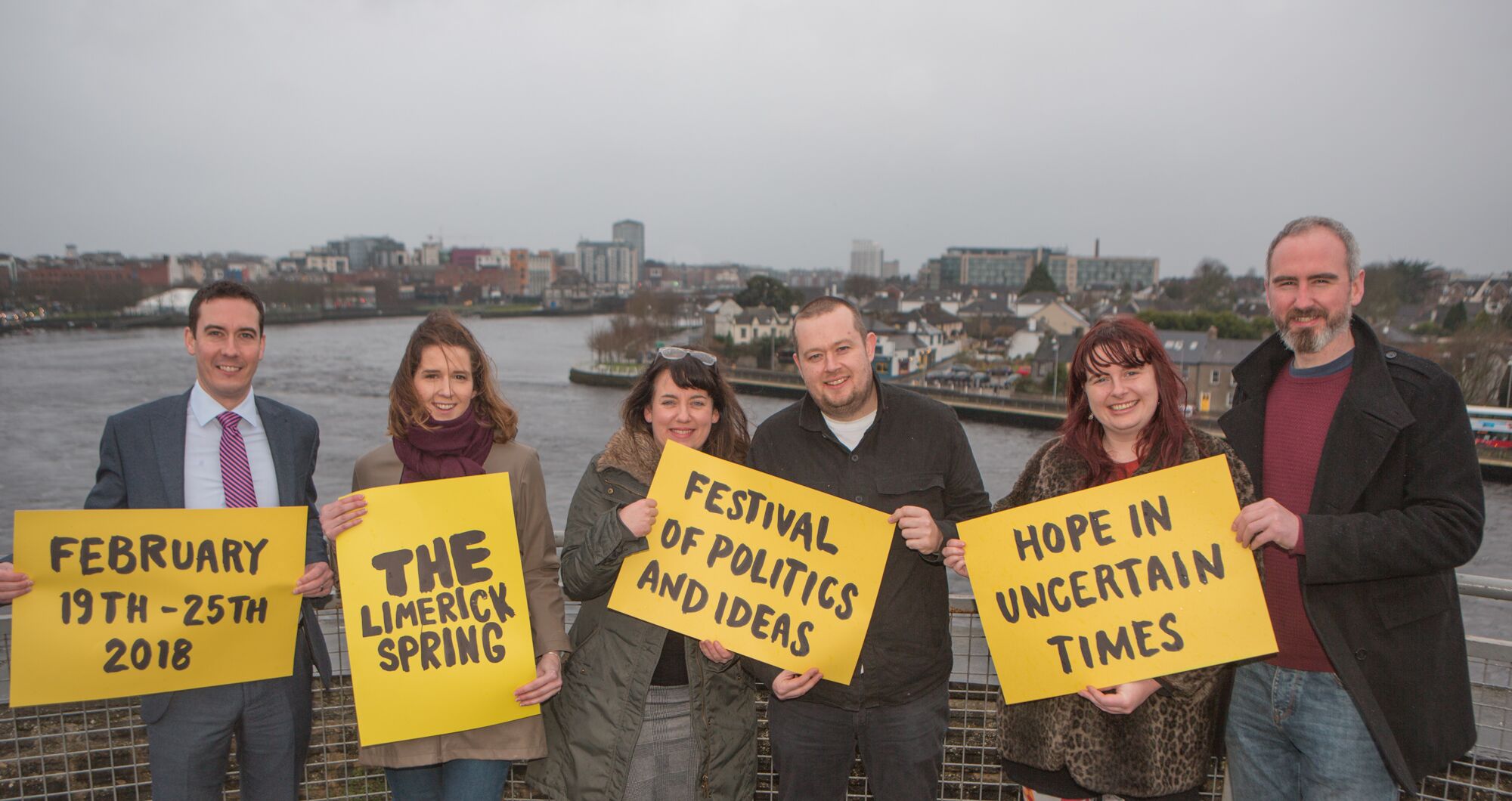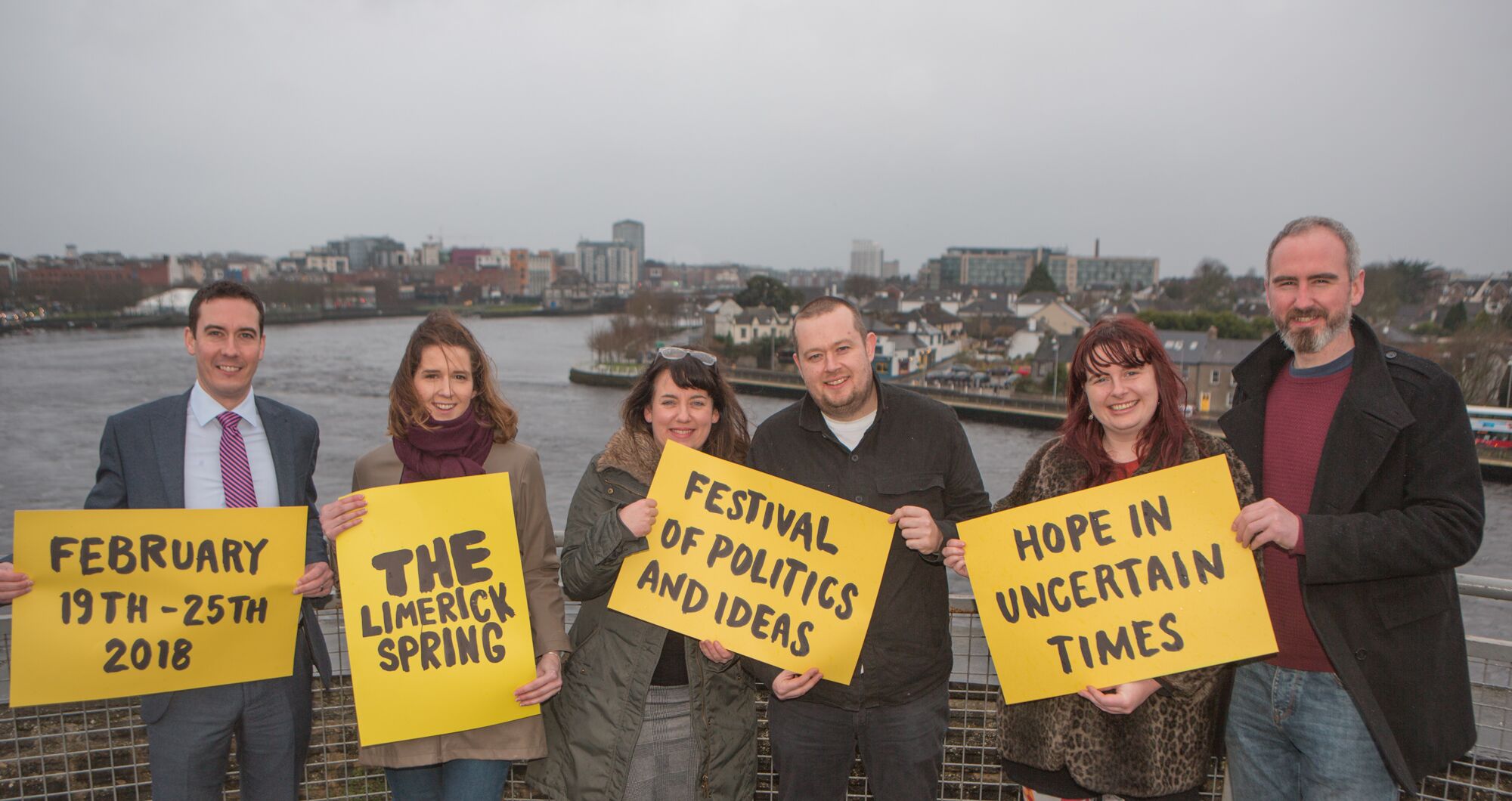 Vincent Browne returns to The Limerick Spring 2018 Festival of Politics and Ideas this month
Shannon Heritage MD welcomes Limerick Spring 2018 and Vincent Brown to King John's Castle. Pictured: Niall O'Callaghan, MD Shannon Heritage Ltd, Limerick Spring Committee members, Robbie Gannon, Jennifer Moroney-Ward, Emer Casey, Pa O'Brien, Kate O'Shea.
Vincent Browne returns to The Limerick Spring 2018 Festival of Politics and Ideas this February
The Limerick Spring 2018 Festival of Politics and Ideas is back with a bang February 19th – 25th 2018 in venues across Limerick city. Following a year off to plan their biggest festival yet, the theme for 2018 is Hope in Uncertain Times, but the real story this year is about collaboration and showcasing the best of what Limerick has to offer. 23 events will take place in total right across Limerick. The festival's full programme has now been launched so here are a few of the highlights!
This year, Limerick Spring are delighted to welcome back legendary Limerick journalist Vincent Browne to the festival for a unique interview with UL's Kathryn Hayes in the stunning location of King John's Castle and in association with the UL School of Journalism. Browne's infamous interviewing style has made him an irreplaceable personality in Irish journalism. With this event, expect an engaging and intriguing look back at the extraordinary life of a Limerick icon. Luka Bloom will open and close this event with two new songs. Vincent Browne in conversation with Kathryn Hayes, Friday 23rd February, 7pm-8: 30 pm, King John's Castle, tickets €10 / €5 concession from www.limerickspring.com.
They are also thrilled to share Dolans at 8 pm on Saturday 24th February with the Limerick Literary Festival where Blindboy Boatclub will be in conversation with Kevin Barry. Tickets and info for this event can be found at www.dolans.ie. This will be immediately followed by the Limerick Spring's much loved and always enjoyed music event, The Revolution Will Not Be Spotified in Dolan's upstairs venue at 10 pm until late. This event will feature an amazing line-up of artists such as Eamonn Hehir, Emma Langford, Jennifer MacMahon and Carl Corcoran as well as 14 other brilliant performers, along with national and international guests too to perform their favourite protest songs. Tickets €5 from www.limerickspring.com.
On Sunday 25th February, 8 pm, Location TBC, Paddy Cullivan brings us a satirical visual and musical feast of a show in 26+6=1. If Brexit and demographics combine to mean Ireland is united North and South – what will it be like? Will they accept Gay Marriage? Will we adopt Drive-thru off-licences and naming our streets? Can we complete one Motorway that doesn't run East to West? And will Jeffrey Donaldson finally admit that he's really Daniel O'Donnell? And how do we pay for it all? Find out what our united future looks like in this extraordinary show, debuted in Belfast's Waterfront Hall in July 2017.
Other events to look out for include Speakers Corner: On Campus (in UL and LSAD), Salon Du Chat, We need to talk about Basic Income, Future Planners- Kids Redesign Limerick City Centre, It's the Patriarchy Man! and many more.
The Limerick Spring 2018 Festival of Politics and Ideas began in 2014 and since then has touched on many social, political and cultural issues and themes with a strong core value of activism. Activism for some of us might be campaigning against local polluters, being involved in tidy town or working together for better planning of infrastructure. For others, it might be about fighting for the right to work, marry, or enjoy basic human rights such as shelter and refuge.
Each effort, however small, changes the society we live in. These changes may seem trivial to us now, but as history shows us, nothing stays the same, and we and our actions are all part of that longer-term story of the ups and downs of human progress.
The Limerick Spring aims to shine a celebratory spotlight on those projects, ideas, and citizens who offer us a glimmer of what is possible. They invite you to join them and reflect on some old ideas, explore some new thinking and take inspiration from people and projects that are leading us through these stormy times. Festival organiser Jennifer Moroney Ward "believes that this biggest ever edition of the Limerick Spring really showcases all that is best about Limerick-it's diversity and an appetite for collaboration and working together."
Your participation is vital and who knows what changes you might be ready to inspire in the world in the years to come. There are many more fascinating events taking place right through from Feb 19th to 25th and many of the events are highly participatory and involve active audience participation. They also are excited to partner up with the University of Limerick and LIT on a number of exciting projects and this year are delighted to work with Ormston House and Narrative 4 and more.
An Early Bird Festival Pass of €35 includes access to all events including the Kevin Barry and Blindboy Boatclub event which will not be covered by normal festival passes. But hurry there's only a limited amount on offer!
Further info: Jennifer Moroney Ward, email: [email protected] Facebook: www.facebook.com/limerickspring/. Twitter: @LimerickSpring. Instagram: @limerickspring.
For more information about Limerick Spring Festival click here.
For more stories on previous Limerick Spring Festivals click here