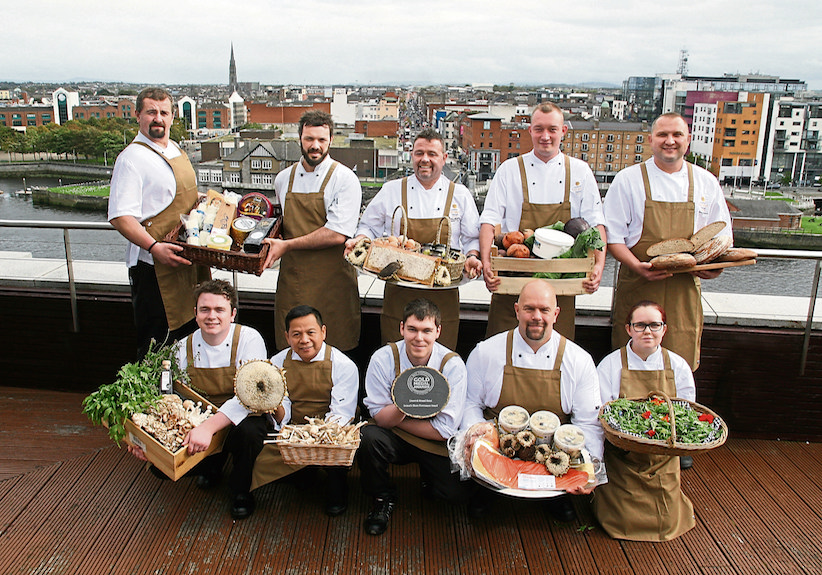 Limerick Strand Hotel Valentines event provides the food and wine, you just need to bring the love
Limerick Strand Hotel Valentines chefs, Tom Flavin, executive chef, Strand hotel ( back row in centre) with some of his chef brigade holding local produce supporting Limerick farmers, back row, from left, Jim Kordon, Glenn Tilsley, Emil Kajl, Robert Kochanek, front row from left, Colin Shields Ryan, Alex Brul, Daniel Hayes, Erik Baumann and Erika Naughton. Picture: Adrian Butler
Limerick Strand Hotel Valentines event provides the food and wine, you just need to bring the love
The Limerick Strand Hotel Valentines event is filled with love! And what's not to love when you live in a vibrant city where the people are passionate about their location, produce and rich history.
The Limerick Strand Hotel Valentines event has decided to celebrate Valentine's Day this year with something special. They have decided that love is all around in Limerick and inviting all to enjoy a fabulous food & wine dinner. So come as you are and enjoy the love!
The "Love Food & Wine" event takes place on Friday, February 9th, 7.00pm commencing with a welcome drink followed by an amazing four-course wine tasting dinner, featuring the best local and seasonal ingredients served in the AA * River Restaurant.
Not only does the Limerick Strand have a fine reputation for food traceability (Ireland's Menu Provenance award at the Gold Medal Award 2017), local produce and hospitality it also has a huge passion for rugby with its entrance lobby decorated with an impressive array of rugby jerseys from the many teams that have both stayed and played at Thomond Park.
Going that bit further, they have decided to share the love with their 'All Blacks' rivals and invited the renowned Siefried Estates to match each dish with their amazing wines. Pure, varietal and sustainably produced wines are Seifried Estate's focus. Today Seifried harvest grapes from just over 300 hectares of producing vineyards across nine vineyard locations. The newest is the Seifried Lord Rutherford Vineyard, which was harvested for the first time in 2017.
Each of the Seifried vineyards are located in the beautiful Nelson region and spread over three main soil types – heavy clay loam (of the Redwood Valley Vineyard), sandy silty coastal sites (Rabbit Island, Challies Block, Cornfield Vineyard and Queen Victoria Vineyard), and rocky river beds (of the Brightwater, Edens Road, Clover Road and Lord Rutherford Vineyards). Seifried Estate is proud to be a member of 'Sustainable Winegrowing New Zealand' and was an early adopter of the programme when both the winery and vineyard auditing programmes were first established in the New Zealand wine industry in the mid 1990's.
Hosted by Marie O' Riordan, a representative from Seifried Estate, and fed by Executive Chef Tom Flavin, guests will enjoy dishes including some local producers; Currachase Pork Belly, Attyflynn Estate Apple, Doonbeg Scallops Carrot, burnt leek, Skeaghanore Duck, Nettles, Damson & Elderberry and Forced Rhubarb Dingle Gin paired with wine from Seifried Estate. 
The Love Food & Wine event costs €39.00 per person to include a welcome drink.
Tickets are limited and pre-booking essential. Contact the hotel on 353 61 421800 or email: [email protected]
For more information on Valentine's day events in Limerick, go here.
For book a room at the Strand Hotel Limerick, go here.