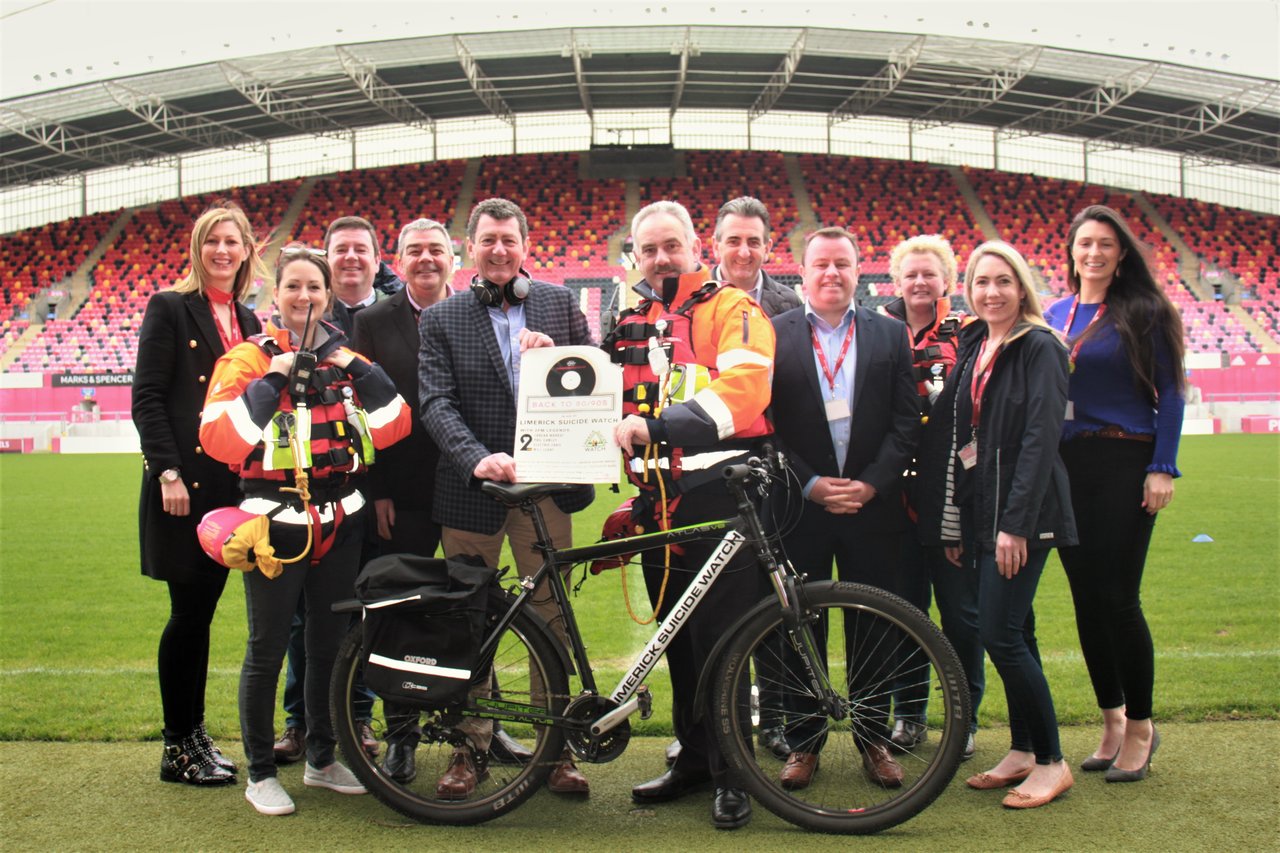 The 80s and 90s Disco Party for Limerick Suicide Watch Fundraiser kicking off at Thomond Park Pavilion
The 80s and 90s Disco party in aid of the Limerick Suicide Watch fundraiser shall be taking place in The Thomond Park Pavilion kicking off summer of 2018
The 80s and 90s Disco Party for Limerick Suicide Watch Fundraiser kicking off at Thomond Park Pavilion
Thomond Park is running "back to the 80s/90s night "in The Thomond Park Pavilion. This night to kick off the summer is in aid of Limerick Suicide Watch fundraiser. A trip down memory lane, with 2fm legends from the 80's and 90's who dominated music industry of those times. Top DJ's Lorcan Murray, Phil Cawley, Electric Eddie and Will Leahy will be rocking the house.
"As well as having all that fun…What can be better than spending a whole night feeling you're 20 again and waking up looking like you been in the gym all week without the effort!! The Legends night guarantee!!" Lorcan Murray.
Kick Off for the Limerick Suicide Watch fundraiser is planned for 7 pm Friday 25th.
It will be a Friday night not to be missed, where people can finish work and get in the party mood. With an artisan BBQ on offer from our world-class catering team Masterchef, as well as outdoor bars and great music where people can rewind and enjoy a nostalgic night of music from two decades. It promises to be a great night supporting a fantastic cause which serves the people of Limerick so well.
Limerick Suicide Watch formed in May 2016, since they have formed the have had 200+ successful interventions averaging on 2 per week. They have 68 volunteers and training is provided by them each member is trained in ASIST, first aid, Cpr, defibrillator, throw bag and bike training.
Their main aim is to help people who may be feeling distressed or suicidal getting them safely away from the water's edge.It cost approximately €450 to ensure each volunteer has the necessary equipment to patrol. They rely solely on donations from the public and companies as we are not government funded.
Money raised will go towards daily running costs and future developments.
Phil Cawley has spent most of his working life as a DJ both on and off the Airwaves. Starting out as a 2FM legend and Today you can hear him on TodayFM presenting Friday Night Anthems formerly Friday Night 80's as well as the Phil Cawley Saturday and Sunday shows. Phil loves Limerick and can't wait for the fun night of great music!
Will Leahy is originally the Presenter of 2fm's great Saturday show and later the "More music Drive". Will presents the Gold breakfast Show on RTE Gold every morning. Famed of course for his Friday night 80's at the George, how can we forget! He can't wait to remind us on May 25th at Thomond Park.
Electric Eddie is a brilliant DJ live & 2fm's eye in the sky all those years ago, Electric Eddie was the co-presenter on TV of RTE2 and 2fm's simulcast "The Beatbox" with Simon Young, Ian Dempsey. He was the MC on the 2FM Beat on the Street all through the 90's… still banging them out he's looking forward to his return to Limerick and to the Thomond Park Legends Night!
Lorcan Murray is a radio presenter on Radio1 & 2fm from late 80's and all through the 90 's spinning the hits and also presenting Saturday afternoon music & Sport so fitting right in playing the hits at Thomond Park. Toured with 2FM's Beat on the street for more years than he cares to remember! Memories of the Basement, Studio 5, Tropics, and The Brazen Head the list goes on.
To get your tickets for the Limerick Suicide Watch Fundraiser, click HERE
For mores stories on Limerick Suicide Watch, click HERE