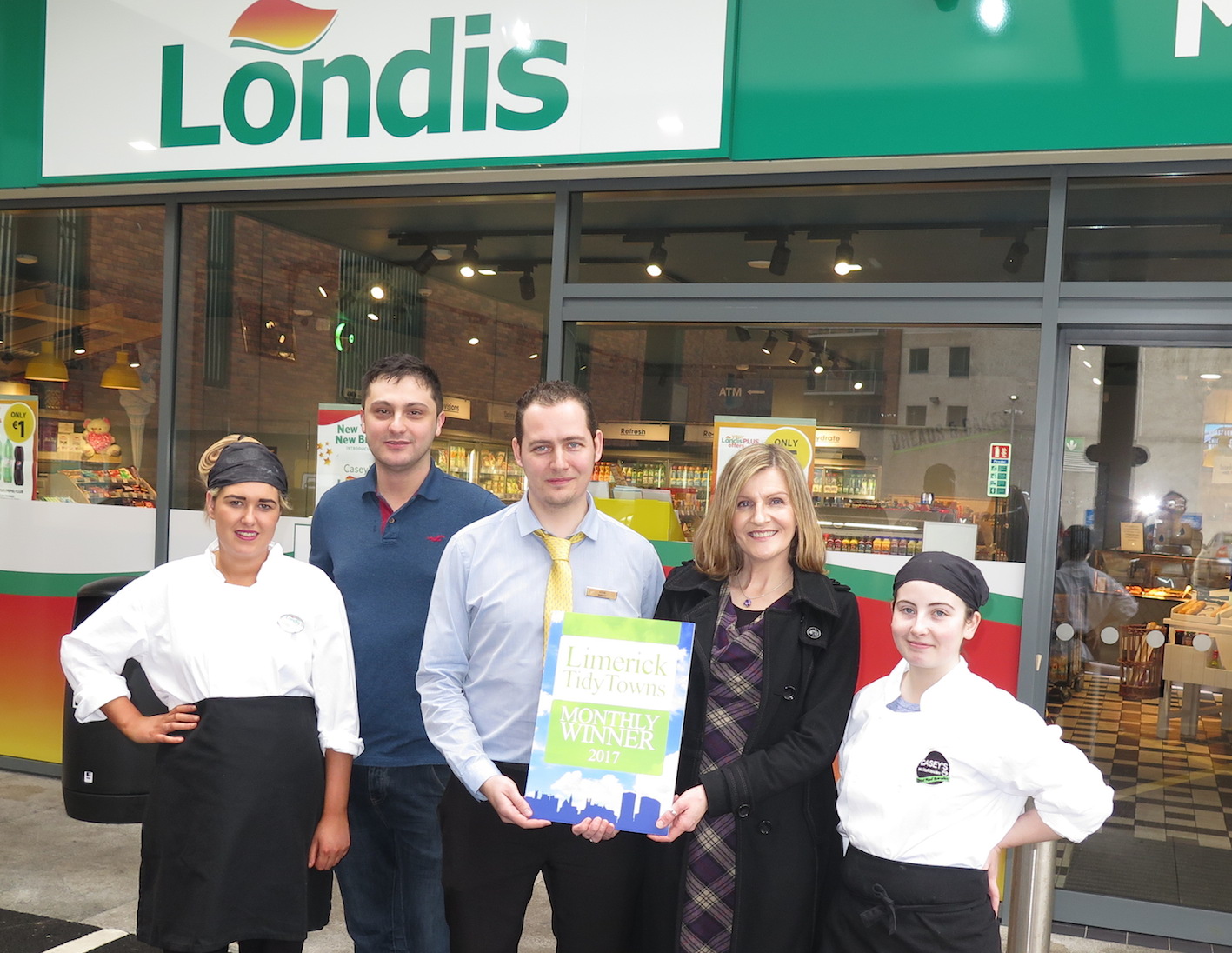 Limerick Tidy Towns' Monthly Award February 2017 goes to Casey's Londis Petrol Filling Station at Mount Kennett
Pictured is the Limerick Tidy Towns' Monthly Award February 2017 winners: Rebecca Conway, Shane Kinsella, Maura O Neill, Limerick Tidy Towns, Claire Lynan. Picture: ilovelimerick
Limerick Tidy Towns' Monthly Award February 2017 goes to Casey's Londis Petrol Filling Station at Mount Kennett
Limerick Tidy Towns have presented their monthly award for February 2017 to the new Casey's Londis Shop and Petrol Filling Station at Mount Kennett, on the Dock Road. Pictured outside the premises being presented with the award by Maura O'Neill of Limerick Tidy Towns are Store Manager Kevin Foley, Assistant Manager Shane Kinsella, Rebecca Conway and Claire Lyman.
Maura says "Over the past few years, the Tidy Towns volunteers have spent many hours weeding and generally trying to tidy up this formerly derelict site here at Mount Kennett in an attempt to make it some way presentable, so we were delighted to see it being taken over by Casey's last year and redeveloped into this new state of the art retail store and petrol filling station, which is finished to the highest standards and is always kept immaculately clean. The quality of the refurbishment is particularly important from our perspective, given its very prominent location on the Dock Road, one of the busiest routes through the city, and the end result is incomparable with what went before it, as can be seen from the before picture we've included!"
The Casey's Retail Group opened its new Londis store and petrol filling station in May 2016 and created 25 jobs in the process, thereby providing a significant boost for the local economy. This is the second Casey's store on the Dock Road, after its award-winning sister store opened in 2007. It is ideally situated for both motorists and pedestrians alike, given its proximity to the city centre, and since opening the quality of its gourmet deli counter has ensured it has become a go-to destination for food on the go in Limerick. More information and contact details can be found on their Facebook page Casey's Londis Mount Kennett.
Casey's Londis is the second Limerick Tidy Towns winner for 2017, following Narrative 4's award in January, and both will be in with the chance of winning the overall prize for 2017 at the annual Tidy Towns event to be held early in 2018. Mother Macs were recently presented with the overall prize for 2016 at this year's event at the White House.
Limerick Tidy Towns would like to thank Richard Lynch from I Love Limerick for taking the photographs for this and all of their monthly awards.
If you wish to volunteer with Limerick Tidy Towns they meet every Sunday morning at 11 am at the corner of Thomas Street and O'Connell Street, and on Wednesday evenings at 6 pm outside the White House during summer months.
Find out more about Limerick Tidy Towns here
To see other Limerick Tidy Towns winners click here