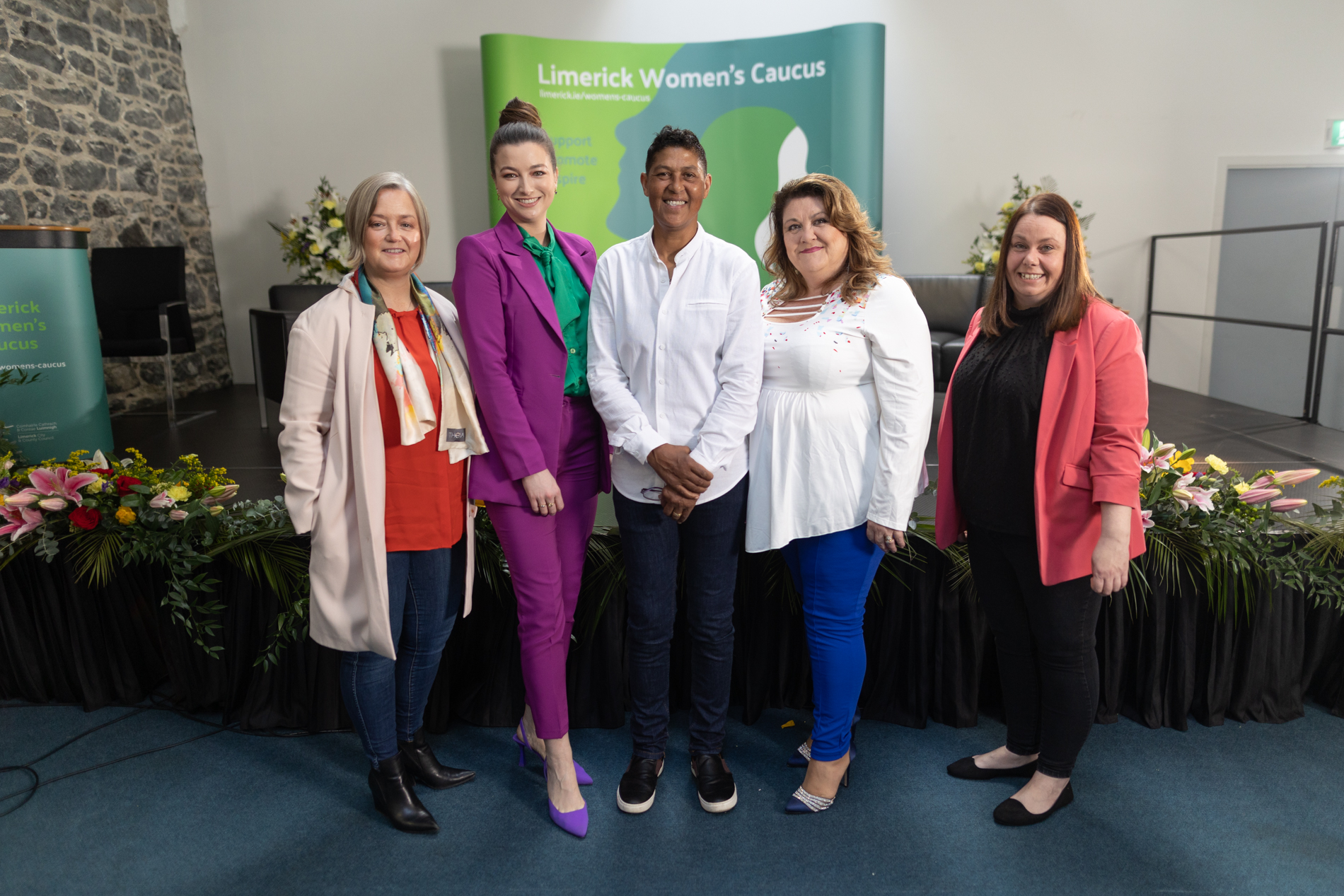 Limerick Women's Caucus offers training to Women interested in running for local election in 2024
The Limerick Women's Caucus event at Limerick City Hall this week covered areas including politics, health, education, sport and community. Cllr Bridie Collins, Meghann Scully, Jackie McCarthy O'Brien, Former Ireland Rugby and Soccer Player, Linda Ledger, St Munchin's Community Centre, and Cllr Sharon Benson. Photo: Marie Keating Photography
Limerick Women's Caucus are encouraging women to consider getting their name on the ballot paper for next year's local elections
An event in Limerick City Hall this week heard that so-called barriers to women entering politics can be overcome.
Embrace Empower Elect featured a series of discussion panels chaired by multi-media presenter Meghann Scully, covering areas including politics, health, education, sport and community.
In Limerick, only 22.5 per cent of local elected representatives are women. That compares to a female population of 50.4 per cent.
Limerick Women's Caucus is a cross-party forum comprising of the nine female councillors on Limerick City and County Council. There are thirty-one male councillors.
Addressing the event, The Mayor of the City and County of Limerick, Cllr Francis Foley said: "For too long, women have been under-represented in positions of power and decision-making. Women have a critical role to play in shaping policies that impact our communities, and it is essential that their voices are heard."
At the event it was announced that Women for Election will be partnering with Limerick City and County Council to deliver a bespoke training and awareness programme. It is designed to help increase the number of women running for election in Limerick city and county in 2024 and beyond.
CEO of Women for Election, Caitriona Gleeson said:
"The reality is that when we designed politics as an independent state a hundred years ago we designed women into the home and out of public life. So we need to look at culture change but we also need to get a lot more women into politics as well. We need to develop initiatives that make the role of being a councillor more manageable, more family friendly for both women and men and make it a safer space for all.
"Women are actually actively running Limerick City and County in communities, in business, in care services and in the home. What we want to do now is convert that leadership to the political tables where decisions are being made about all our lives."
Cathaoirleach of Limerick Women's Caucus Cllr Sarah Kiely said:
"I hope this event has inspired someone to have the conversation, to look at the possibility of putting their name forward. Look at the voluntary organisations they are involved in and the network of people around them. See how that network could support them to actively become a candidate, enter the selection process and hopefully be on the ballot paper for the next local elections."
During the panel discussion on Women in Health and Education the importance of encouraging more female participation in STEM subjects was addressed.
Head of STEM, Education Department, Mary Immaculate College, Dr. Aisling Leavy said:
"In general Ireland has the highest participation per one-hundred-thousand in college level STEM courses but we have the biggest differential between males and females. Science and maths are the gateway to participation in society and unless girls feel they are a part of that then they are missing out. It's a loss for girls but is also a loss for society if women are not getting their voices heard. They are not less able, they are just not participating."
Limerick woman Jackie McCarthy O'Brien, the first black woman to represent the Republic of Ireland women's football team, spoke on the Women in Sport and Community panel. Her daughter Sam, also a former International footballer for Ireland, attended the event. Jackie, also represented Ireland on the rugby pitch and encouraged more female participation in sport:
"My mother encouraged me to play sport for the health benefits and the sense of community it provides. But today you hear a lot of mothers saying they don't want their daughters playing rugby or other sports. They believe they are too dangerous. So we've lost that matriarchal positivity that 'yes, my daughter can do whatever she wants to do.' Whether it's in industry or in sport women are capable of doing whatever they set their minds to. They are not competing against men. We should be equal going forward and have the same opportunities as men have if we have the skills to do it."
The Embrace Empower Elect Panellists:
Women in Politics
Caitriona Gleeson – CEO, Women For Election
Louise Purcell – Assistant Principal, Department of Housing, Local Government and Heritage
Cllr Sarah Kiely – Cathaoirleach of Limerick Women's Caucus, Fine Gael Party
Cllr Elena Secas – Leader of Labour Party in Limerick City and County Council
Women in Health and Education
Dr Beatrice M. Neufeldt – Medical Director at Personal Medical Clinic
Dr. Aisling Leavy – Head of STEM, Education Department, Mary Immaculate College
Cllr Olivia O'Sullivan – Cathaoirleach Metropolitan District of Limerick, Fine Gael Party
Councillor Brigid Teefy, Leader of Independents in Limerick City and County Council
Women in Sport and Community
Jackie McCarthy O'Brien– Former Ireland Rugby and Soccer Player
Linda Ledger – CEO, St Munchin's Community Centre
Cllr Bridie Collins – Chairperson of Economic Development, Enterprise and Planning Strategic Policy Committee, Fianna Fáil Party
Cllr Sharon Benson – Leader Sinn Féin Party in Limerick City and County Council
For more information visit Limerick Women's Caucus | Limerick.ie
BACKGROUND on Women Belong
Women Belong is a training session designed to provide attendees with encouragement, support and tools to put themselves forward for election or get involved in politics.
Women Belong Training begins on June 14 at 1pm in the Council Chamber at Limerick City Hall.
This training will be given by Yemi Adenuga. Yemi is Ireland's first-ever elected black female public representative and Meath County Council's first migrant councillor.
Limerick Women's Caucus will forward a link to register for this training to everyone who registered for the Embrace Empower Elect event today.
Read similar stories here.