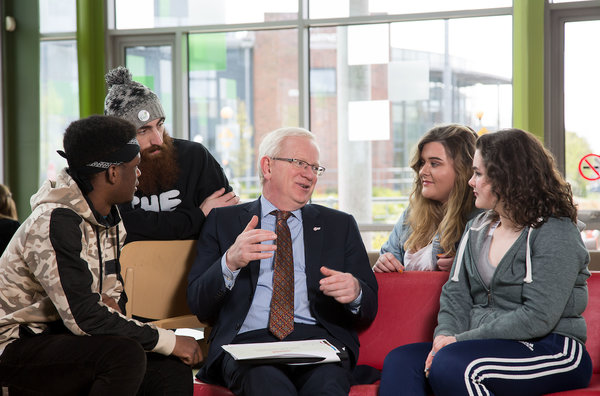 WATCH – Ambitious Five Year LIT Strategic Plan Ushers in New Era of Higher Education at LIT
Limerick Institute of Technology launches a five-year LIT Strategic Plan. Pictured are, LIT students, Komlan Boevi, Philip Desmond, Eibhlin O'Regan and Debbie O'Farrell with Prof. Vincent Cunnane, President LIT. Picture: Alan Place.
Ambitious Five Year LIT Strategic Plan Ushers in New Era of Higher Education at LIT
Limerick Institute of Technology has unveiled a five-year strategic plan that will ensure the institute is to the forefront of the evolving Irish Higher Education system.
The LIT Strategic Plan 2018-2022, which was unveiled at the Clare Street Campus on Tuesday, May 8 paves the way for the next stage in the college's evolution, as it outlines LIT's transition from an Institute of Technology to becoming a leading Technological University.
In a bold move, LIT outlines how it will retain its autonomy during this five-year period, while €150 million is invested in its infrastructure and student numbers are significantly increased.
Student numbers are predicted to grow by more than 20% to 7,500. This will include a 200% increase in international student numbers, a 30% increase in flexible students, a 120% increase in postgrad research students and a 27% increase in taught postgrad numbers.
The LIT Strategic Plan 2018-2022 also details how it will strengthen its role as an economic generator at the heart of Ireland's fastest-growing regional economy.
President of LIT, Professor Vincent Cunnane describes the LIT Strategic Plan 2018-2022 as, "the bridge between our Institute of Technology's status, and our declared aim to become a Technological University after this plan is complete,"
"It is an expression of our values as an institution, and its implementation will see us retain our autonomy as we move towards a different designation," he said.
"It is both ambitious and attainable, and the result of more than a year's collaboration with our diverse LIT community made up of both internal and external stakeholders. The trajectory this strategy sets us upon is one where we protect and build our ethos of inclusivity while engaging closely with our partners in industry, business, education, community, and government. It reinforces the strength of the unique Higher Education infrastructure that we have here in Limerick, building on our partnership with UL and Mary Immaculate in the Shannon Consortium."
"This plan puts us in the vanguard of research-informed Higher Education, renews and extends our central focus on students, while embedding a continuous improvement approach to what we do," added Prof Cunnane.
"LIT is at a very exciting stage on its journey of transformation. The institution has been through many guises in its history. The implementation of this plan will see LIT transformed once more, at a time when Higher Education itself is being radically transformed."
Speaking at the launch of the LIT Strategic Plan 2018-2022, Niall Greene, Chairman of the Governing Body of LIT said, "The plan is based on wide-ranging consultation with those who have an interest in what we do: industry and commerce, local government, schools, education and training boards, our staff and their trades unions and our current student body. That consultation was deeply rooted in the key LIT value of being relevant to and engaged in the needs of the wider region that we serve."
"The objective is to be the best that we can be in serving the diverse needs of our region. We believe that we have identified and are putting in place the key values, resources, and actions needed to achieve that objective," he added.
For more stories on LIT go here.
For more info on the LIT Strategic Plan 2018-2022 go here.