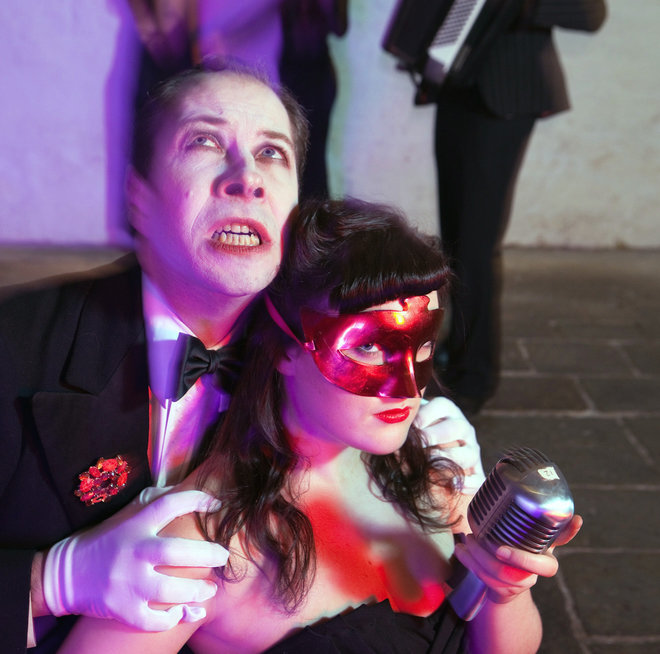 Lola Montez Cabaret Returns to Raise Money for Music Projects in the Children's Ark and St. Gabriels
Lola Montez Cabaret Returns to Raise Money for Music Projects in the Children's Ark and St. Gabriels; Myles Breen, Aoife Doolan, Lady Jane, Diane Daly and Boris Hunka channel the spirit of Lola Montez, ahead of the shows launch in Limerick this Thursday. Picture: Keith Wiseman
Music Generation Limerick City is staging two special performances of the popular Lola Montez Cabaret in order to raise money for long running music projects in the Children's Ark in the University Hospital and at St. Gabriel's School & Centre.
Boris Hunka who devised and is the musical director for the show says 'the golden age of cabaret was Berlin between the wars, when everything was falling apart – in 2017 we'll channel some of that same energy to create the wildest and most recklessly enjoyable evening Limerick will have seen for many years'.
The Lola Montez Show was first produced in 2009 and such was its success it's been repeated most years since. It tells the story of the real life Lola – a 19th courtesan who was allegedly born in Castle Oliver Limerick before going on to lay a one woman swathe of destruction across Europe – scandalising London, Paris, Vienna, being thrown out of 2 capitals, briefly ruling Bavaria and causing a revolution before fleeing to New York where she invented Burlesque, toured the Wild West, attracted bigger audiences than Dickens before dying in poverty in Hells Kitchen – aged just 42.
MC Myles Breen takes the audience on a journey through the real-life Lola's travels and the show will feature the musicians of Music Generation, supported by an eclectic blend of singers, dancers, poets, musicians and actors.
The show brings together an astonishing selection of Limerick talent, including members of Rusangano Family, Windings, The Brad Pitt Light Orchestra, Delorean Suite and the Irish Chamber Orchestra, plus a handpicked selection of vocal soloists to voice Lola in all her different incarnations.
The cast includes singers Jean Wallace, Ciara Meade, Lisa Bresnan, Jennifer MacMahon, Denise Chaile and Hannah Fahey, dancers Jennifer de Brun and Laura Lavelle and musicians including Diane Daly, James Blake, Godknows Jonas, Stephen Ryan, Andy Connolly, John Daly, David Blake, Patrick O'Brien, Peter Hanagan and Boris Hunka.
Lola Montez Cabaret takes place Friday 12th and Saturday 13th May at 8 pm at the Belltable, 69 O'Connell Street. Tickets are €12 and available from the Lime Tree Theatre box office at 061 953400.
About Music Generation Limerick City:
Music Generation Limerick City is a songwriting and mentorship programme that sees musicians working with young people across the city. The focus is on self-expression – helping young people to find their voice, providing the tools to develop it and a platform to share it.
See here for more information about Music Generation Limerick City.
To read more stories about cabaret in Limerick, click here.